Spring/Summer 2020 Resource Catalog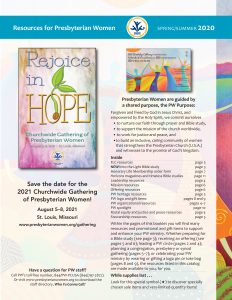 The PW resource catalog provides ordering information for all available PW resources. The Spring/Summer 2020 edition features a complete selection of 2020–2021 PW/Horizons Bible study resources, 2020 Birthday Offering resources (including giving envelopes for reaching donors outside circles), Honorary Life Membership order form, PW Logo Gift and apparel items, and much more.
Download the Resource Catalog.*
*Catalog updated May 6, 2020.