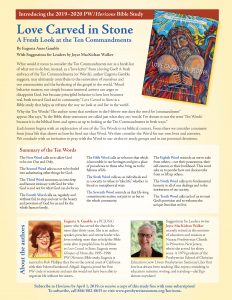 Download the order form to our upcoming Bible Study: Love Carved in Stone by Eugenia Anne Gamble; Suggestions for Leaders writer Joyce MacKichan Walker
At any given time, a number of PW/Horizons Bible studies are in the works! But it's not just the author who's working; it's groups and individuals just like you too.
Whether you suggest an author field test a Bible study manuscript or encourage a group to use the study, the PW/Horizons Bible studies couldn't happen without you.
To learn more about our field testing process, click here.
To learn more about upcoming Bible studies, contact Betsy Ensign-George.