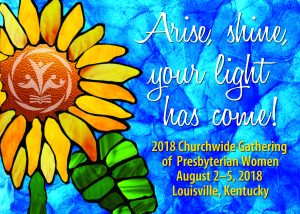 Presbyterian Women's next Churchwide Gathering was held August 2–5, 2018 in Louisville, Kentucky!
Whether you'd like to revisit your time at the Gathering or want to learn more, here are a few highlights.
"Arise, shine, your light has come!" (based on Isaiah 60:1) was the theme for the 2018 Gathering. Held every three years, PW's Churchwide Gathering is an event that celebrates and can deepen your engagement in all that Presbyterian Women does. Participants enjoy workshops, tours, forums, resource gathering (and shopping!), plenary sessions with inspiring speakers, worship and more. PW's triennial Business Meeting took place just before the Churchwide Gathering (August 1–2), where budget, leadership and programmatic emphases for the next triennium were decided.
As you share what you experienced or want to recreate the Gathering theme for your next PW event, here are a few ways to relive or interpret the Gathering—
The Gathering app
The Gathering app is a handy, portable reference for all things Gathering! It features downloads, photos, speaker bios and much more.
If you have Yapp on your smart phone—the provider of the 2015 Gathering app—simply open the app and information for the 2018 Gathering will appear!
If you don't already have Yapp on your smart phone, go to your app store to download Yapp for Business. Once Yapp downloads, open it. Please select to receive notifications from the app. This will allow you to receive announcements (such as location changes!) while at the 2018 Churchwide Gathering. Tap the "Add An Existing App" button and enter PWgathering, then hit go! The app will install automatically. Once you see the sunflowers, tap the image and you are connected!
To ask a question or to learn more about Churchwide Gathering, contact Susan Jackson Dowd.