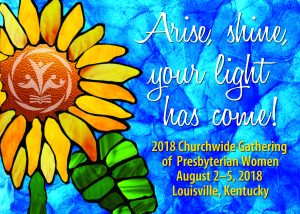 Presbyterian Women's next Churchwide Gathering will be held August 2–5, 2018 in Louisville, Kentucky! Won't you join us?
Register now for the 2018 Churchwide Gathering! (This link will take you to a separate website.)
Reserve a room at the Galt House. (This link will take you to a separate website.)
"Arise, shine, your light has come!" (based on Isaiah 60:1) is the theme for the Gathering. Held every three years, PW's Churchwide Gathering is an event that celebrates and can deepen your engagement in all that Presbyterian Women does. Participants enjoy workshops, tours, forums, resource gathering (and shopping!), plenary sessions with inspiring speakers, worship and more. PW's triennial Business Meeting will take place just before the Churchwide Gathering (August 1–2), where budget, leadership and programmatic emphases for the next triennium are decided.
Planning for 2018 Churchwide Gathering is well under way, so stay tuned for the Gathering speakers, program highlights, opportunities for connection and renewal, and so much more! You won't miss a single detail if you sign up for Gathering emails (one a month!) with reflections, free downloads, fun ideas and more. Sign up for emails on the bottom right-hand corner of this page!
Download (and share!) the 2018 Churchwide Gathering registration booklet. Mark it up with your preferences for even easier online registration.
Download the first issue of Daily Horizons, which has a list of opportunities to consider before the Gathering and upon your arrival.
The Gathering is less than a year away, so now is the time to plan your attendance and encourage your PW sisters to join you! After you've registered, consider
To ask a question or to learn more about Churchwide Gathering, contact Susan Jackson Dowd.