Presbyterian Women Moderator States Plan for Moving Forward
January 2, 2019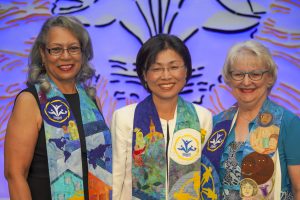 To kick off the start of its fourth decade this summer, PW made history again by installing its first Korean moderator, JyungIn "Jenny" Lee, along with Jo Ann Burrell as vice moderator for Mission Relationships and Joy Durrant as vice moderator for Justice and Peace Issues. The three women will serve in their positions for the next three years.
Lee noted that PW has been described as the most adaptable organization in the denomination. She credits the group with being revolutionary in bringing to the forefront such issues as racism, sex trafficking and other critical matters facing communities around the world. In 2005 PW became a member of the United Nations Commission on the Status of Women and in July 2018 was granted accreditation to the United Nations Economic and Social Council.
Asked what's the one thing she would like to see accomplished during her term as moderator, Lee said, "The word 'unity' keeps coming up and to my mind. The country is so divided, only unity and reconciliation with our past and with our neighbors will help. We must realize that we are one in Christ and we need to be united in Christ, united in the word, to move the word forward to make this world better and to move the gospel forward."
Lee believes PW can also change the look of the denomination. "PW has the potential and the ability to be more inclusive and to help the church be more inclusive," she said. "The Presbyterian Church (U.S.A.) is made up of more than 60 percent women and that's us. We are Presbyterian Women."
Click here to read the original article in its entirety as posted by Gail Strange of the Presbyterian News Service.