Presbyterian Women are busy! See for yourself! Check back often to find the most current PW news and events.
PW NewsBytes (formerly the Quarterly Newsletter)
PW NewsBytes brims with "news you can use" from Presbyterian Women Churchwide! Just like the name suggests, PW NewsBytes is fully digital, which is good stewardship (of both finances and trees) and makes for easy sharing and a more connected PW community.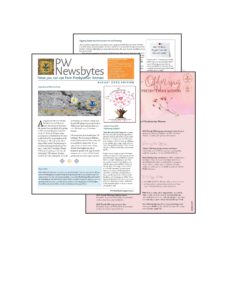 Download the August 2023 NewsBytes.
Newsletter editors are welcome to copy and share any bytes helpful to their audience!
Contact Presbyterian Women to receive PW NewsBytes via email.
Download previous NewsBytes: June 2023, March 2023, Fall 2022, Spring 2022, Fall 2021, Spring 2021, Winter 2020
For additional stories, you might also want to read our blogs.
The calendar below features Presbyterian Women Churchwide events and information on PW in the Synod events received by national staff. Have news or an event to share? Contact Presbyterian Women.
Recent News
View All News
Upcoming Events
View All Events