Horizons is the magazine (and Bible study) by and for Presbyterian Women. It's the resource for helping you explore where faith and life connect. Focusing on issues of faith—from the interplay between literature and theology to violence against women—Horizons gives you insights from women around the world and inspiration to live boldly. Within the pages of Horizons, you will find a wealth of information you need to live in faith as a Presbyterian Woman. Inside you will find mission stories, ideas for justice and peace work, information about Presbyterian Women and our denomination, the Presbyterian Church (U.S.A.), devotions, Bible study resources (to support the annual PW/Horizons Bible study) and a short Bible study on the issue's theme! Horizons is just for you because Horizons is about you and your sisters in faith, amazing Presbyterian Women!
Print subscriptions include six issues a year and the annual Bible study. Print subscribers also receive free digital access to the magazine!
Subscribe or renew a subscription to Horizons.
If you're already a subscriber, thank you and good choice! Remember, your subscription comes with access to a digital version of the magazine.
Also available is the complete list of Horizons magazines available to order! Click here to download a PDF of the complete list of Horizons magazines.
Current Issue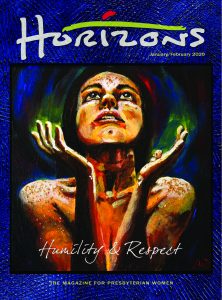 January/February 2020
Humility and Respect
Toni Morrison's novels offer pro-found (and lyrical) insights on life and the way people relate to one another. In Song of Solomon, Hagar is nearly driven mad by her unrequited love for Milkman. Milkman's friend, Guitar, tries to pull Hagar back to reality, saying "You're turning over your whole life to him. Your whole life, girl. And if it means so little to you that you can just give it away, hand it to him, then why should it mean any more to him? He can't value you more than you value yourself" (306). The quest to achieve a healthy self-image is indeed a lifelong balancing act. In this issue, contributors explore the many ways we engage with the world and people in it. Sometimes, that means respecting ourselves enough to realize that we have valuable contributions to offer.
Upcoming Issues
2020
March/April – Always Reforming
May/June – The Great PW Read
July/August – Ecology
September/October – Faith & Politics
November/December – Privilege & Power
Download writer's guidelines for contributing to one of these issues.
To ask a question or to learn more about Horizons Magazine, contact Sharon Dunne Gillies.