Horizons is the magazine (and Bible study) by and for Presbyterian Women. It's the resource for helping you explore where faith and life connect. Focusing on issues of faith—from the interplay between literature and theology to violence against women—Horizons gives you insights from women around the world and inspiration to live boldly. Within the pages of Horizons, you will find a wealth of information you need to live in faith as a Presbyterian Woman. Inside you will find mission stories, ideas for justice and peace work, information about Presbyterian Women and our denomination, the Presbyterian Church (U.S.A.), devotions, Bible study resources (to support the annual PW/Horizons Bible study) and a short Bible study on the issue's theme! Horizons is just for you because Horizons is about you and your sisters in faith, amazing Presbyterian Women!
Print subscriptions include six issues a year and the annual Bible study. Print subscribers also receive free digital access to the magazine!
Subscribe or renew a subscription to Horizons.
If you're already a subscriber, thank you and good choice! Remember, your subscription comes with access to a digital version of the magazine.
Also available is the complete list of Horizons magazines available to order! Click here to download a PDF of the complete list of Horizons magazines.
Current Issue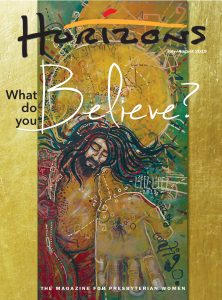 July/August 2019
What Do You Believe?
There are a dozen variations on the "What do you believe?" question. In a quest to understand how another person sees the world or experiences a certain moment, we might say, "What do you think?" or, as Oprah would say, "What do you know for sure?" I know it's raining now. I think it will rain tomorrow. I believe the rain will stop before the broccoli molds. Knowledge is about facts. Thoughts are about opinions. Belief, however, is all about hope and trust in the things that we can't know for sure.
The contributors to this issue explore this challenging topic of belief. Ella F. Busby looks to scripture for inspiration in our most desperate of moments. Layton E. Williams offers a thoughtful analysis of how and why disagreements and arguments can lead us to more authentic community—a community where we don't all have to believe the same thing! Laura Mariko Cheifetz looks at the Flint water crisis and asks what we believe about honesty as well as caring for one another and the planet. Beth Herrinton-Hodge highlights the core beliefs of Presbyterians, and what we believe about our relationship to God and others. And Cheri Harper revisits the question of what we believe is significant about women's groups like Presbyterian Women.
Know that Presbyterian Women is a community, a space where you can say "I believe" or "I believe; help my unbelief!" May the pages that follow strengthen your commitment to sharing your deepest beliefs and listening to others' beliefs. And may they strengthen you as a believer in Christ's power and a member of a community of believers.
Upcoming Issues
2019
July/August – What Do You Believe?
September/October – Be Still and Listen
November/December – USA Mission Experience/Today's Leaders
2020
January/February – Humility and Respect
March/April – Always Reforming
May/June – The Great PW Read
July/August – Ecology
September/October – Faith & Politics
November/December – Privilege & Power
Download writer's guidelines for contributing to one of these issues.
To ask a question or to learn more about Horizons Magazine, contact Sharon Dunne Gillies.