Horizons is the magazine (and Bible study) by and for Presbyterian Women. It's the resource for helping you explore where faith and life connect. Focusing on issues of faith—from the interplay between literature and theology to violence against women—Horizons gives you insights from women around the world and inspiration to live boldly. Within the pages of Horizons, you will find a wealth of information you need to live in faith as a Presbyterian Woman. Inside you will find mission stories, ideas for justice and peace work, information about Presbyterian Women and our denomination, the Presbyterian Church (U.S.A.), devotions, Bible study resources (to support the annual PW/Horizons Bible study) and a short Bible study on the issue's theme! Horizons is just for you because Horizons is about you and your sisters in faith, amazing Presbyterian Women!
Beginning in 2021, a print subscription to Horizons will include five issues of the award-winning magazine and the annual Bible study. Learn more.

If you're already a subscriber, thank you and good choice! Remember, your subscription comes with free digital access to the magazine.
Subscribe or renew a subscription to Horizons.
Also available is the complete list of Horizons magazines available to order! Click here to download a PDF of the complete list of Horizons magazines.
Current Issue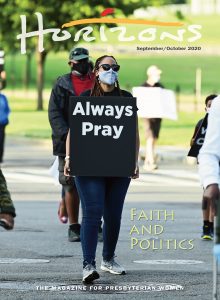 September/October 2020
Faith and Politics
Across the street and across the globe, our daily lives have been upended by the coronavirus. Whether it's by city or state mandate, advice from our healthcare providers, direction from our employers or at the behest of our sessions, it's reasonable to say that our lives look much different today than in February. The early months—February and March—found us stunned, wondering how long it would be until we returned to normal.
Now, six months and counting, our perspective on normal has shifted.
Scripture cautions us to not look back in nostalgia for what was but instead look forward to what could be. "Do not say, 'Why were the former days better than these?' For it is not from wisdom that you ask this" (Ecc. 7:10).
In the words of writer and activist Sonya Renee Taylor, "We will not go back to normal. Normal never was. Our pre-corona existence was not normal other than we normalized greed, inequity, exhaustion, depletion, extraction, disconnection, confusion, rage, hoarding, hate and lack. We should not long to return, my friends. We are being given the opportunity to stitch a new garment. One that fits all of humanity and nature."*
Our garment as a society is stitched through politics. For many, the word "politics" brings to mind speeches, elections, notions of red and blue in opposition to one another. But politics, as contributors to this issue explore, is simply about issues that impact the community and the planet. And if we're going to create a garment that "fits all of humanity and nature," what better place to draw inspiration than from Jesus, who upended his society's notions of who deserved care and respect?
The following pages include articles and art from people who are or were "in politics"—part of elected government for their community—but also contributions from individuals who care for their communities in a variety of ministries that seek to stitch a garment that fits each of God's children and each part of God's beloved creation. Together, with God's help, let's put our hearts and minds to ushering in a new normal, a good new normal.
* Sonya Renee Taylor, interview with Brené Brown, Unlocking Us, podcast audio, September 16, 2020; https://brenebrown.com/podcast/brene-with-sonya-renee-taylor-on-the-body-is-not-an-apology.
Upcoming Issues
2020
November/December – Privilege & Power
2021
January/February – Facing Uncertainty as People of Faith
March/April – Health
Summer – Mission/Go and Do Likewise
September/October – Youth and Young Adults
November/December – Rejoice in Hope/2021 PW Churchwide Gathering
Download writer's guidelines for contributing to one of these issues.
To ask a question or to learn more about Horizons Magazine, contact Sharon Dunne Gillies.