Horizons is the magazine (and Bible study) by and for Presbyterian Women. It's the resource for helping you explore where faith and life connect. Focusing on issues of faith—from the interplay between literature and theology to violence against women—Horizons gives you insights from women around the world and inspiration to live boldly. Within the pages of Horizons, you will find a wealth of information you need to live in faith as a Presbyterian Woman. Inside you will find mission stories, ideas for justice and peace work, information about Presbyterian Women and our denomination, the Presbyterian Church (U.S.A.), devotions, Bible study resources (to support the annual PW/Horizons Bible study) and a short Bible study on the issue's theme! Horizons is just for you because Horizons is about you and your sisters in faith, amazing Presbyterian Women!
A print subscription to Horizons includes five issues of the award-winning magazine and the annual Bible study.

If you're already a subscriber, thank you and good choice! Remember, your subscription comes with free digital access to the magazine.
Subscribe or renew a subscription to Horizons.
Download a flier to subscribe to Horizons. Also available is the complete list of Horizons magazines available to order! Click here to download a PDF of the complete list of Horizons magazines.
Current Issue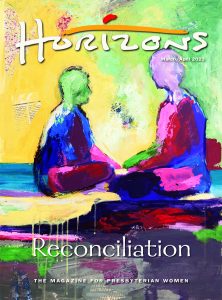 March/April 2023
Reconciliation
Reconciliation. This 14-letter word may bring with it 14,000 thoughts and questions.
What does it mean to reconcile?
Is an acknowledgment of a wrong sufficient for reconciliation? How many wrongs?
How do we as Christians grapple with and actively address the consequences of wrongs from our actions, inactions or carelessness? How about wrongs that we may be unwittingly complicit in, such as the violations committed by previous generations that continue to benefit some and hinder others? How do we grapple with our own complicity in systems that we did not build but still benefit from (even if unaware)? How do we as Christians who have not benefited from unjust systems respond to calls to reconcile when our own wounds are unhealed and our concerns for safety are just? Do we trust? What does genuine reconciliation look like for us?
Upcoming Issues
2023
January/February – Ending Violence Against Women and Children
Download writer's guidelines for contributing to one of these issues.
To ask a question or to learn more about Horizons Magazine, contact Sharon Dunne Gillies.