Horizons is the magazine (and Bible study) by and for Presbyterian Women. It's the resource for helping you explore where faith and life connect. Focusing on issues of faith—from the interplay between literature and theology to violence against women—Horizons gives you insights from women around the world and inspiration to live boldly. Within the pages of Horizons, you will find a wealth of information you need to live in faith as a Presbyterian Woman. Inside you will find mission stories, ideas for justice and peace work, information about Presbyterian Women and our denomination, the Presbyterian Church (U.S.A.), devotions, Bible study resources (to support the annual PW/Horizons Bible study) and a short Bible study on the issue's theme! Horizons is just for you because Horizons is about you and your sisters in faith, amazing Presbyterian Women!
Print subscriptions include six issues a year and the annual Bible study. Print subscribers also receive free digital access to the magazine!
Subscribe or renew a subscription to Horizons.
If you're already a subscriber, thank you and good choice! Remember, your subscription comes with access to a digital version of the magazine.
Also available is the complete list of Horizons magazines available to order! Click here to download a PDF of the complete list of Horizons magazines.
Current Issue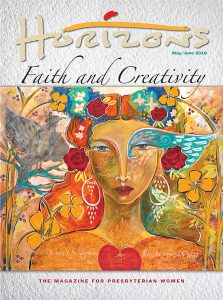 May/June 2018
Faith and Creativity
At times, creating or even practicing creative pursuits can feel impossible. Sometimes, we can't muster the creative energy—that temperamental muse just hasn't shown up. Other times, we focus so much on "have-to's"—laundry, deadlines, advocacy, presentation—that picking up the paintbrush, guitar, needles or clay feels like we're procrastinating.
In The Fifth Book of Peace (New York: Vintage, 2003), Maxine Hong Kingston says, "Children, everybody, here's what to do during war: In a time of destruction, create something. A poem. A parade. A friendship. A community. A place that is the commons. A school. A vow. A moral principle. One peaceful moment" (402).
Even in a time of war we should create?
The authors in this issue say absolutely!
Whatever creative gifts you have (and whether flourishing or sprouting), we hope that this issue inspires you to create with the faith through which you, part of God's creation, add beauty to the world.
Upcoming Issues
2018
January/February – 2017 Global Exchange to Indonesia

March/April – 30 Years of PW!

May/June – Faith and Creativity

July/August – Compassion & Empathy

September/October – Trending Faith, Timeless Faith

November/December – Gathering/Christianity's Global Faces
Download writer's guidelines for contributing to one of these issues.
To ask a question or to learn more about Horizons Magazine, contact Sharon Dunne Gillies.