Horizons is the magazine (and Bible study) by and for Presbyterian Women. It's the resource for helping you explore where faith and life connect. Focusing on issues of faith—from the interplay between literature and theology to violence against women—Horizons gives you insights from women around the world and inspiration to live boldly. Within the pages of Horizons, you will find a wealth of information you need to live in faith as a Presbyterian Woman. Inside you will find mission stories, ideas for justice and peace work, information about Presbyterian Women and our denomination, the Presbyterian Church (U.S.A.), devotions, Bible study resources (to support the annual PW/Horizons Bible study) and a short Bible study on the issue's theme! Horizons is just for you because Horizons is about you and your sisters in faith, amazing Presbyterian Women!
Print subscriptions include six issues a year and the annual Bible study. Print subscribers also receive free digital access to the magazine!
Subscribe or renew a subscription to Horizons.
If you're already a subscriber, thank you and good choice! Remember, your subscription comes with access to a digital version of the magazine.
Also available is the complete list of Horizons magazines available to order! Click here to download a PDF of the complete list of Horizons magazines.
Current Issue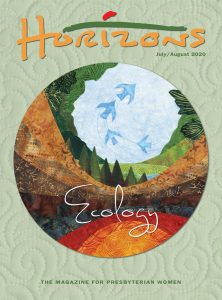 July/August 2020
Ecology
The Horizons Editorial Committee chose "Ecology" as a theme for this issue in 2018 because, they said, it was past time to focus on the environment and our sacred connection to it. What better theme than ecology, studying the way living beings relate to one another and their environment? And, now, given how the first half of 2020 unfolded, what more timely and relevant theme? We continue to live into the new reality ushered in by the coronavirus. Scientists and doctors stress hand washing, mask wearing and physical distancing to keep ourselves healthy, but also to ensure that we do not unknowingly spread the virus to others. We know we are bound to one another and that we are God's children, but beyond that, there's so much we just don't know about living with this pandemic.
The contributors to this issue explore the ways we are tied to one another, how the health of one impacts all. The artists and writers reflect on how we can wield power as individuals or groups to bring about meaningful change—a powerful reminder in this time when it feels simultaneously like there's so much we can't do, but so much we need to do and must do. May the following pages remind you of your beloved community and your vital place in it.
Upcoming Issues
2020
September/October – Faith & Politics
November/December – Privilege & Power
Download writer's guidelines for contributing to one of these issues.
To ask a question or to learn more about Horizons Magazine, contact Sharon Dunne Gillies.