Horizons is the magazine (and Bible study) by and for Presbyterian Women. It's the resource for helping you explore where faith and life connect. Focusing on issues of faith—from the interplay between literature and theology to violence against women—Horizons gives you insights from women around the world and inspiration to live boldly. Within the pages of Horizons, you will find a wealth of information you need to live in faith as a Presbyterian Woman. Inside you will find mission stories, ideas for justice and peace work, information about Presbyterian Women and our denomination, the Presbyterian Church (U.S.A.), devotions, Bible study resources (to support the annual PW/Horizons Bible study) and a short Bible study on the issue's theme! Horizons is just for you because Horizons is about you and your sisters in faith, amazing Presbyterian Women!
Print subscriptions include six issues a year and the annual Bible study. Print subscribers also receive free digital access to the magazine!
Subscribe or renew a subscription to Horizons.
If you're already a subscriber, thank you and good choice! Remember, your subscription comes with access to a digital version of the magazine.
Also available is the complete list of Horizons magazines available to order! Click here to download a PDF of the complete list of Horizons magazines.
Current Issue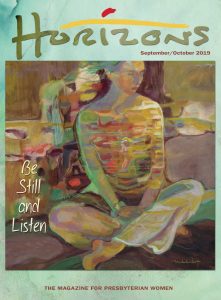 September/October 2019
Be Still and Listen
Raise your hand if you like discomfort.
No one?
Raise your hand if you like boredom.
Still no one?
While we can't see the show of hands, it's pretty safe to assume that most people aren't eagerly lining up to learn about three easy steps to bring more discomfort into their lives. We live in a time when it's all too easy to hear news about violence and tragedy, and that alone is a big source of discomfort, sadness or rage. It's also all too easy to avoid the resulting despair with a comfortable alternative—books, television, calling a friend.
However, the uncomfortable truth is that our discomfort and even our boredom have value. If we can sit with those less than desirable feelings for just a bit, we might find ourselves on the path to feeling a little better, being more caring, finding a deeper connection to God and discovering ways we can share God's love with the world.
In this issue, writers and artists will invite you to stillness and authentic listening. May this issue inspire you and equip you with the tools to look forward to stillness. May it brace you for pushing through discomfort and boredom. And may it strengthen you, a beloved part of Presbyterian Women's community who witnesses to the promise of God's kingdom.
Upcoming Issues
2019
November/December – USA Mission Experience/Today's Leaders
2020
January/February – Humility and Respect
March/April – Always Reforming
May/June – The Great PW Read
July/August – Ecology
September/October – Faith & Politics
November/December – Privilege & Power
Download writer's guidelines for contributing to one of these issues.
To ask a question or to learn more about Horizons Magazine, contact Sharon Dunne Gillies.