Horizons is the magazine (and Bible study) by and for Presbyterian Women. It's the resource for helping you explore where faith and life connect. Focusing on issues of faith—from the interplay between literature and theology to violence against women—Horizons gives you insights from women around the world and inspiration to live boldly. Within the pages of Horizons, you will find a wealth of information you need to live in faith as a Presbyterian Woman. Inside you will find mission stories, ideas for justice and peace work, information about Presbyterian Women and our denomination, the Presbyterian Church (U.S.A.), devotions, Bible study resources (to support the annual PW/Horizons Bible study) and a short Bible study on the issue's theme! Horizons is just for you because Horizons is about you and your sisters in faith, amazing Presbyterian Women!
Print subscriptions include six issues a year and the annual Bible study. Print subscribers also receive free digital access to the magazine!
Subscribe or renew a subscription to Horizons.
If you're already a subscriber, thank you and good choice! Remember, your subscription comes with access to a digital version of the magazine.
Current Issue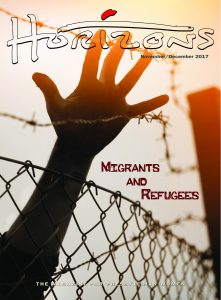 November/December 2017
Migrants and Refugees
As God's people, we have lots of prayers to offer and ministry to make happen for our sisters and brothers—many of whom are very young—who are seeking a better life, or, perhaps, just life. May these pages offer insight and clarity as we "get up" to walk alongside the migrants and immigrants among us (as well as advocate for the too many who are a world away in refugee camps or dire situations). "Let mutual love continue," indeed.
Upcoming Issues
November/December 2017 – Migrants and Refugees
Download writer's guidelines for contributing to one of these issues.