Horizons is the magazine (and Bible study) by and for Presbyterian Women. It's the resource for helping you explore where faith and life connect. Focusing on issues of faith—from the interplay between literature and theology to violence against women—Horizons gives you insights from women around the world and inspiration to live boldly. Within the pages of Horizons, you will find a wealth of information you need to live in faith as a Presbyterian Woman. Inside you will find mission stories, ideas for justice and peace work, information about Presbyterian Women and our denomination, the Presbyterian Church (U.S.A.), devotions, Bible study resources (to support the annual PW/Horizons Bible study) and a short Bible study on the issue's theme! Horizons is just for you because Horizons is about you and your sisters in faith, amazing Presbyterian Women!
Print subscriptions include six issues a year and the annual Bible study. Print subscribers also receive free digital access to the magazine!
Subscribe or renew a subscription to Horizons.
If you're already a subscriber, thank you and good choice! Remember, your subscription comes with access to a digital version of the magazine.
Also available is the complete list of Horizons magazines available to order! Click here to download a PDF of the complete list of Horizons magazines.
Current Issue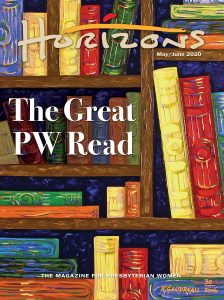 May/June 2020
The Great PW Read
Reading is a form of prayer, a guided meditation that briefly makes us believe we're someone else, disrupting the delusion that we're permanent and at the center of the universe. Suddenly
(we're saved!) other people are real again, and we're fond of them," said writer George Saunders.
For a pastime that is generally solitary, reading has an amazing power to connect people. Being introduced to (or reminded of) other people's stories, experiences and ideas can be the spark that ignites our ability to treat others with love . . . or at least a little more understanding than what we began the day with. Particularly in these unprecedented times of social distancing, where we keep ourselves a safe distance away from others, we need that connection with others, that form of prayer that reminds us of all the other people in the world.
We connect to not just those represented in the books or articles, but to other readers. Reading something really inspiring, eye-opening or perspective-shifting makes us want to share it with others (even if that sharing needs to happen over the phone rather than over a table at a restaurant). That enthusiasm for discussing what we read is precisely why you are holding an issue of Horizons dedicated to reading. There are many best-seller lists, knowledge-able librarians and booksellers, but what about a source for books that speak to PW and the PW Purpose? Hence, this issue, "The Great PW Read"!
Upcoming Issues
2020
July/August – Ecology
September/October – Faith & Politics
November/December – Privilege & Power
Download writer's guidelines for contributing to one of these issues.
To ask a question or to learn more about Horizons Magazine, contact Sharon Dunne Gillies.