Horizons is the magazine (and Bible study) by and for Presbyterian Women. It's the resource for helping you explore where faith and life connect. Focusing on issues of faith—from the interplay between literature and theology to violence against women—Horizons gives you insights from women around the world and inspiration to live boldly. Within the pages of Horizons, you will find a wealth of information you need to live in faith as a Presbyterian Woman. Inside you will find mission stories, ideas for justice and peace work, information about Presbyterian Women and our denomination, the Presbyterian Church (U.S.A.), devotions, Bible study resources (to support the annual PW/Horizons Bible study) and a short Bible study on the issue's theme! Horizons is just for you because Horizons is about you and your sisters in faith, amazing Presbyterian Women!
Beginning in 2021, a print subscription to Horizons will include five issues of the award-winning magazine and the annual Bible study. Learn more.

If you're already a subscriber, thank you and good choice! Remember, your subscription comes with free digital access to the magazine.
Subscribe or renew a subscription to Horizons.
Also available is the complete list of Horizons magazines available to order! Click here to download a PDF of the complete list of Horizons magazines.
Current Issue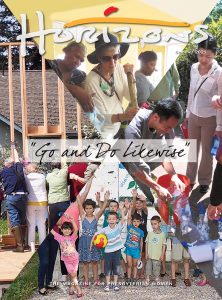 Summer 2021
"Go and Do Likewise"
Presbyterian Women" has long been synonymous with mission. The earliest groups of Presbyterian women formed in the 1780s because they recognized need in the world and felt called to help. Scripture offered a vision of wholeness that was not yet a reality; people were hungry, in need, falling through the cracks. Presbyterian women's responses took many forms.
They raised money for particular causes, from helping feed children in their communities to financially supporting the call of Presbyterian mission workers around the world. They put their hands to work, sewing dresses, serving meals. They comforted, they advocated. And today, Presbyterian Women still do all of these things, and more.
Upcoming Issues
2021
January/February – Facing Uncertainty as People of Faith
March/April – Health and Wholeness
Summer – Mission/Go and Do Likewise
September/October – Rejoice in Hope/2021 PW Churchwide Gathering
November/December – TBD
Download writer's guidelines for contributing to one of these issues.
To ask a question or to learn more about Horizons Magazine, contact Sharon Dunne Gillies.