Horizons is the magazine (and Bible study) by and for Presbyterian Women. It's the resource for helping you explore where faith and life connect. Focusing on issues of faith—from the interplay between literature and theology to violence against women—Horizons gives you insights from women around the world and inspiration to live boldly. Within the pages of Horizons, you will find a wealth of information you need to live in faith as a Presbyterian Woman. Inside you will find mission stories, ideas for justice and peace work, information about Presbyterian Women and our denomination, the Presbyterian Church (U.S.A.), devotions, Bible study resources (to support the annual PW/Horizons Bible study) and a short Bible study on the issue's theme! Horizons is just for you because Horizons is about you and your sisters in faith, amazing Presbyterian Women!
Print subscriptions include six issues a year and the annual Bible study. Print subscribers also receive free digital access to the magazine!
Subscribe or renew a subscription to Horizons.
If you're already a subscriber, thank you and good choice! Remember, your subscription comes with access to a digital version of the magazine.
Also available is the complete list of Horizons magazines available to order! Click here to download a PDF of the complete list of Horizons magazines.
Current Issue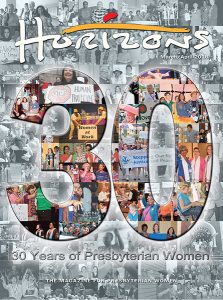 March/April 2018
30 Years of Presbyterian Women
You may be thinking, "Wait . . . Presbyterian Women is only 30?" Well, yes and no. Today's Presbyterian Women organization was born in 1988. The Presbyterian Church in the United States and the United Presbyterian Church in the USA reunited in 1983; the women's organizations in these two denominations—Women of the Church and United Presbyterian Women, respectively—merged in 1988. But even those two predecessor organizations are only part of the story; the tradition of groups of Presbyterian women organizing has a more-than-200-year heritage.
Today's PW proudly continues the rich tradition of our predecessor organizations and the faithful women who made this world a better place for God's people and all of God's creation. Every time we give to a Thank or Birthday Offering, support a mission co-worker, add a penny to the Least Coin collection, attend a session meeting, participate in Bible study, stand in the pulpit or serve on a board, we have many sisters in faith to thank, and many in the future who will be grateful for our witness.
Upcoming Issues
2018
January/February – 2017 Global Exchange to Indonesia

March/April – 30 Years of PW!

May/June – Faith and Creativity

July/August – Compassion & Empathy

September/October – Trending Faith, Timeless Faith

November/December – Gathering/Christianity's Global Faces
Download writer's guidelines for contributing to one of these issues.
To ask a question or to learn more about Horizons Magazine, contact Sharon Dunne Gillies.