Horizons is the magazine (and Bible study) by and for Presbyterian Women. It's the resource for helping you explore where faith and life connect. Focusing on issues of faith—from the interplay between literature and theology to violence against women—Horizons gives you insights from women around the world and inspiration to live boldly. Within the pages of Horizons, you will find a wealth of information you need to live in faith as a Presbyterian Woman. Inside you will find mission stories, ideas for justice and peace work, information about Presbyterian Women and our denomination, the Presbyterian Church (U.S.A.), devotions, Bible study resources (to support the annual PW/Horizons Bible study) and a short Bible study on the issue's theme! Horizons is just for you because Horizons is about you and your sisters in faith, amazing Presbyterian Women!
Beginning in 2021, a print subscription to Horizons will include five issues of the award-winning magazine and the annual Bible study. Learn more.

If you're already a subscriber, thank you and good choice! Remember, your subscription comes with free digital access to the magazine.
Subscribe or renew a subscription to Horizons.
Also available is the complete list of Horizons magazines available to order! Click here to download a PDF of the complete list of Horizons magazines.
Current Issue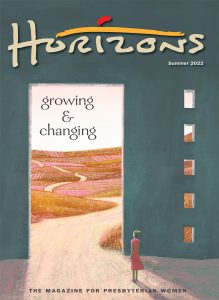 Summer 2022
Growing and Changing
Change can be difficult for a multitude of reasons—perhaps it's unwanted, unnecessary or sudden change. Perhaps we've just achieved a kind of balance with the way things were, and are faced with having to recalibrate again. Perhaps we're worn out by the truth of the axiom "The only thing that never changes is that everything changes"—and that includes us. We're constantly growing and changing, as is the world around us.
Through these stories and images—whether of change sought out or forced change—may you draw strength from the nudges of the Holy Spirit, the bold witness of Jesus Christ and the enduring love of God.
Upcoming Issues
2021
September/October – Foremothers, Grandmothers and a Legacy of Care
November/December – Nurturing Our Children
2023
January/February – Ending Violence Against Women and Children
Download writer's guidelines for contributing to one of these issues.
To ask a question or to learn more about Horizons Magazine, contact Sharon Dunne Gillies.