Horizons is the magazine (and Bible study) by and for Presbyterian Women. It's the resource for helping you explore where faith and life connect. Focusing on issues of faith—from the interplay between literature and theology to violence against women—Horizons gives you insights from women around the world and inspiration to live boldly. Within the pages of Horizons, you will find a wealth of information you need to live in faith as a Presbyterian Woman. Inside you will find mission stories, ideas for justice and peace work, information about Presbyterian Women and our denomination, the Presbyterian Church (U.S.A.), devotions, Bible study resources (to support the annual PW/Horizons Bible study) and a short Bible study on the issue's theme! Horizons is just for you because Horizons is about you and your sisters in faith, amazing Presbyterian Women!
Print subscriptions include six issues a year and the annual Bible study. Print subscribers also receive free digital access to the magazine!
Subscribe or renew a subscription to Horizons.
If you're already a subscriber, thank you and good choice! Remember, your subscription comes with access to a digital version of the magazine.
Current Issue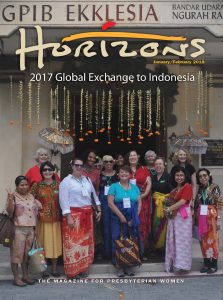 January/February 2018
2017 Global Exchange to Indonesia
In the United States, we identify in so many ways—race, ethnicity, languages spoken, gender identity, sports allegiances, political affiliation, denominational and church membership, snowbird or sunbird . . . . But in Indonesia—despite it's being made up of thousands of islands where hundreds of languages are spoken—people consider themselves primarily Indonesian. Certainly race, language and religion play into how Indonesians live their lives and express themselves. But the call to live in harmony with one another is one of the most significant forces in their lives. Take inspiration from our faithful sisters in Indonesia, and as we start 2018, look for ways that you, too, can build bridges of understanding.
Upcoming Issues
2018
January/February – 2017 Global Exchange to Indonesia

March/April – 30 Years of PW!

May/June – Faith and Creativity

July/August – Compassion & Empathy

September/October – Trending Faith, Timeless Faith

November/December – Gathering/Christianity's Global Faces
Download writer's guidelines for contributing to one of these issues.
To ask a question or to learn more about Horizons Magazine, contact Sharon Dunne Gillies.