Horizons is the magazine (and Bible study) by and for Presbyterian Women. It's the resource for helping you explore where faith and life connect. Focusing on issues of faith—from the interplay between literature and theology to violence against women—Horizons gives you insights from women around the world and inspiration to live boldly. Within the pages of Horizons, you will find a wealth of information you need to live in faith as a Presbyterian Woman. Inside you will find mission stories, ideas for justice and peace work, information about Presbyterian Women and our denomination, the Presbyterian Church (U.S.A.), devotions, Bible study resources (to support the annual PW/Horizons Bible study) and a short Bible study on the issue's theme! Horizons is just for you because Horizons is about you and your sisters in faith, amazing Presbyterian Women!
Print subscriptions include six issues a year and the annual Bible study. Print subscribers also receive free digital access to the magazine!
Subscribe or renew a subscription to Horizons.
If you're already a subscriber, thank you and good choice! Remember, your subscription comes with access to a digital version of the magazine.
Current Issue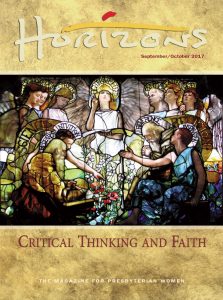 September/October 2017
Critical Thinking and Faith
Environmentalist and writer Winona LaDuke said, "Someone needs to explain to me why wanting clean drinking water makes you an activist and why proposing to destroy water with chemical warfare doesn't make a corporation a terrorist." What a powerful statement. As context, this sentence was part of her response to the much-debated fourth phase of the Keystone pipeline. The proposal for this segment of pipeline, Keystone XL, has been in and out of headlines for nearly a decade; it prompted a veto under one U.S. president and a permit under the next president. Keystone XL involves a number of interests and issues—job creation, indigenous rights, diplomacy, safety, environmental concerns, economic growth and more. Or in other words, it's an issue we should be talking about frankly, openly and respectfully.
This issue of Horizons presents a series of tools to inspire and equip you to think critically and engage faithfully with any matter, especially those that feel too big, too emotionally charged to take on. Presbyterian Women are thinkers, listeners, and doers. So this issue isn't teaching you a new thing. It's about our ever-expanding understanding of God's world, our ever-deepening relationships with God's people (especially the ones whose worldviews differ from our own), and our ever-growing relationship with God and God's vision for the world.
Upcoming Issues
November/December 2017 – Migrants and Refugees
Download writer's guidelines for contributing to one of these issues.