Horizons is the magazine (and Bible study) by and for Presbyterian Women. It's the resource for helping you explore where faith and life connect. Focusing on issues of faith—from the interplay between literature and theology to violence against women—Horizons gives you insights from women around the world and inspiration to live boldly. Within the pages of Horizons, you will find a wealth of information you need to live in faith as a Presbyterian Woman. Inside you will find mission stories, ideas for justice and peace work, information about Presbyterian Women and our denomination, the Presbyterian Church (U.S.A.), devotions, Bible study resources (to support the annual PW/Horizons Bible study) and a short Bible study on the issue's theme! Horizons is just for you because Horizons is about you and your sisters in faith, amazing Presbyterian Women!
Beginning in 2021, a print subscription to Horizons will include five issues of the award-winning magazine and the annual Bible study. Learn more.

If you're already a subscriber, thank you and good choice! Remember, your subscription comes with free digital access to the magazine.
Subscribe or renew a subscription to Horizons.
Also available is the complete list of Horizons magazines available to order! Click here to download a PDF of the complete list of Horizons magazines.
Current Issue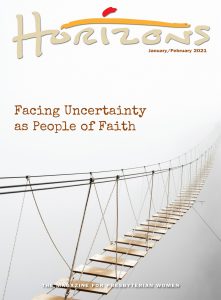 January/February 2021
Facing Uncertainty as People of Faith
When the Horizons Editorial Com-mittee met in March 2020, we weren't certain of much. It was the second week that most of the U.S. was taking precautions to slow the spread of the coronavirus. As a country, we were trying to understand who was an "essential worker," how to rearrange our lives and days to stay safe, and wondering if it might be as much as three months before we could resume with life as we knew it. As a committee, we were trying to predict what ideas would feel relevant almost a year in the future. With all these questions swirling, the committee thought that a January/February 2021 exploration of how we had dealt with so much unknown would be heartening. Surely we'd be speaking in the past tense and with the gift of hindsight by that point!
Spoiler—we're not speaking in past tense yet. And you've probably seen or heard someone reference how the expression "hindsight is 2020" must be an ironic message from a time traveler.
Although not a welcome lesson, the last year has given us the opportunity to, at least, accept how much we don't know. We've learned how to keep moving forward and (re)learned what gives us strength. As people of faith, our strength is from God, Emmanuel, who is always with us, always listening to our prayers—our prayers for healing, relief, justice, reform, wisdom and strength. Or in the words of Isaiah, "do not fear, for I am with you, do not be afraid, for I am your God; I will strengthen you, I will help you, I will uphold you with my victorious right hand" (49:10).
In the following pages and in the following year, we pray you take courage, knowing you are a beloved part of the community of Presbyterian Women and of God's good creation.
Upcoming Issues
2021
January/February – Facing Uncertainty as People of Faith
March/April – Health
Summer – Mission/Go and Do Likewise
September/October – Youth and Young Adults
November/December – Rejoice in Hope/2021 PW Churchwide Gathering
Download writer's guidelines for contributing to one of these issues.
To ask a question or to learn more about Horizons Magazine, contact Sharon Dunne Gillies.