Horizons is the magazine (and Bible study) by and for Presbyterian Women. It's the resource for helping you explore where faith and life connect. Focusing on issues of faith—from the interplay between literature and theology to violence against women—Horizons gives you insights from women around the world and inspiration to live boldly. Within the pages of Horizons, you will find a wealth of information you need to live in faith as a Presbyterian Woman. Inside you will find mission stories, ideas for justice and peace work, information about Presbyterian Women and our denomination, the Presbyterian Church (U.S.A.), devotions, Bible study resources (to support the annual PW/Horizons Bible study) and a short Bible study on the issue's theme! Horizons is just for you because Horizons is about you and your sisters in faith, amazing Presbyterian Women!
Beginning in 2021, a print subscription to Horizons will include five issues of the award-winning magazine and the annual Bible study. Learn more.

If you're already a subscriber, thank you and good choice! Remember, your subscription comes with free digital access to the magazine.
Subscribe or renew a subscription to Horizons.
Also available is the complete list of Horizons magazines available to order! Click here to download a PDF of the complete list of Horizons magazines.
Current Issue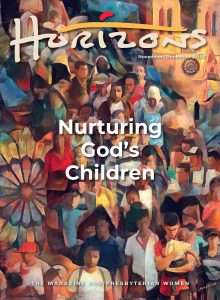 November/December 2022
Nurturing God's Children
"Mom, which high school do you want me to go to?"
Surprised that my then-10-year-old—who excelled at living in the moment—was thinking multiple years into the future, it took me a minute to orient myself to this conversation. In my silence, he explained that as he and his fifth-grade classmates were discussing where they would attend middle school the following year, a number of his classmates had not just school plans in mind, but career paths. He named professions and educational tracks, enrichment plans and extracurricular activities that his friends learned of through their parents or older siblings.
"I want you to go to the school that feels right to you," I finally managed to respond. That answer apparently struck him as noncommittal or vague because he said, "But what do you want for me, really?"
Through these pages, consider stories from the Bible that show God caring for and nurturing God's children—the ultimate parenting and interpersonal relationships book.
Upcoming Issues
2021
November/December – Nurturing Our Children
2023
January/February – Ending Violence Against Women and Children
Download writer's guidelines for contributing to one of these issues.
To ask a question or to learn more about Horizons Magazine, contact Sharon Dunne Gillies.