Horizons is the magazine (and Bible study) by and for Presbyterian Women. It's the resource for helping you explore where faith and life connect. Focusing on issues of faith—from the interplay between literature and theology to violence against women—Horizons gives you insights from women around the world and inspiration to live boldly. Within the pages of Horizons, you will find a wealth of information you need to live in faith as a Presbyterian Woman. Inside you will find mission stories, ideas for justice and peace work, information about Presbyterian Women and our denomination, the Presbyterian Church (U.S.A.), devotions, Bible study resources (to support the annual PW/Horizons Bible study) and a short Bible study on the issue's theme! Horizons is just for you because Horizons is about you and your sisters in faith, amazing Presbyterian Women!
Beginning in 2021, a print subscription to Horizons will include five issues of the award-winning magazine and the annual Bible study. Learn more.

If you're already a subscriber, thank you and good choice! Remember, your subscription comes with free digital access to the magazine.
Subscribe or renew a subscription to Horizons.
Also available is the complete list of Horizons magazines available to order! Click here to download a PDF of the complete list of Horizons magazines.
Current Issue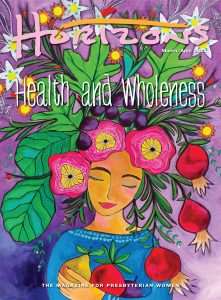 March/April 2021
Health and Wholeness
Although Christians are assured of a life eternal, we, like our savior, are embodied. Death and suffering may not be the end, but they are part and parcel of what it means to be human. Even Jesus "began to weep" (John 11:35) when he learned of the illness and death of his friend, Lazarus. In his ministry, Jesus did not turn away from people experiencing illness, no matter how serious or stigmatized their condition was.
In this issue, contributors explore what it means as individuals, as members of congregations, as part of Presbyterian Women, and as a society to work toward less suffering and more support for all. Writers and artists share their visions of what we can do to promote health and wholeness for ourselves and our communities. Samantha Paige Davis spotlights the work of the PC(USA) task force studying the disparities experienced by Black women and girls and suggests ways we can push for justice. Shanea Leonard explains what reproductive justice means, what the church has said about this topic for all genders, and how healthy communities are vital to individual health.
Upcoming Issues
2021
January/February – Facing Uncertainty as People of Faith
March/April – Health and Wholeness
Summer – Mission/Go and Do Likewise
September/October – Youth and Young Adults
November/December – Rejoice in Hope/2021 PW Churchwide Gathering
Download writer's guidelines for contributing to one of these issues.
To ask a question or to learn more about Horizons Magazine, contact Sharon Dunne Gillies.