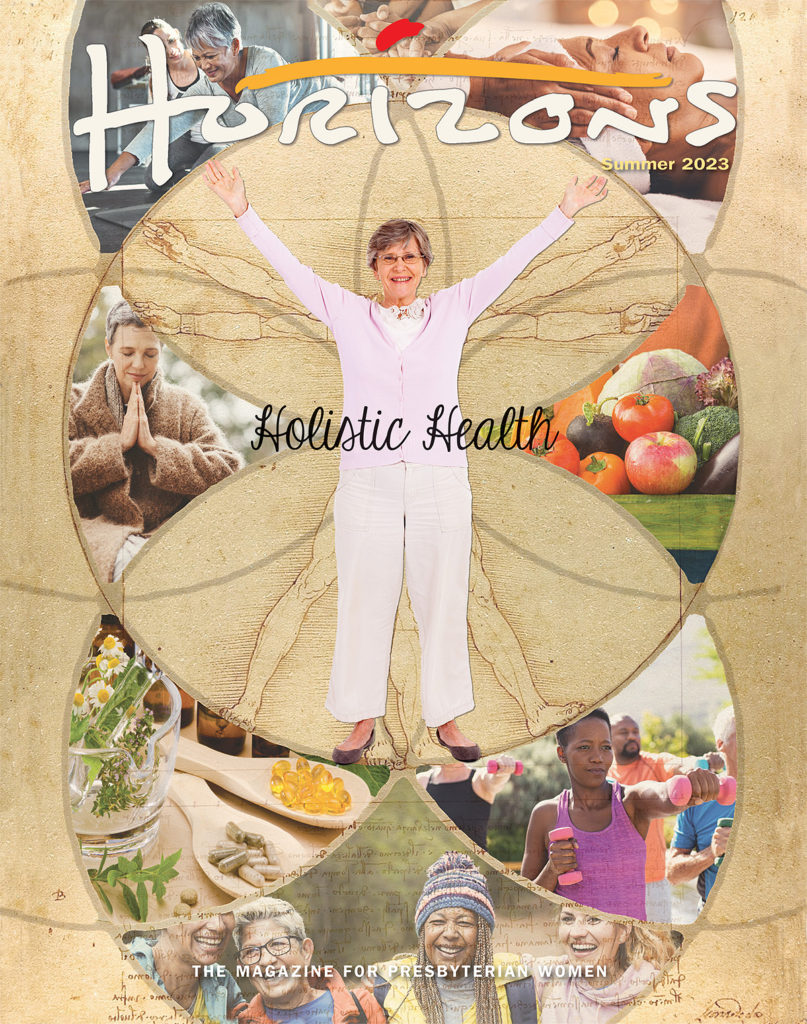 Summer 2023
Holistic Health
For many years, the term "holistic health" made me think of herbal teas, yoga and a rejection of western medicine . . . in a not exactly postive way. When a loved one suggested I treat my migraine with lavender oil and a day of embracing the pain and noticing whether it had jagged, irregular edges or a rounded perimeter, I felt completely misunder-stood. There was work to be done, children to take to school, dogs who noisily reminded me they wanted to go outside. Obviously, the only the thing that would work was a pill and the perfect dose of caffeine.
Today, I recognize the advice with a little more nuance. Rather than hurtling my body from one place to another, with my mind on the next place, I try to keep my mind where my feet are (as the meditation guidance suggests). I recognize the warning signs of a migraine and take a moment to address the anxiety or lack of care I'm giving my body. After I've taken my medicine, I can notice the cool tingle of the lavender oil on my temples, giving me something else to focus on than the throbbing behind my eye. I ask for help with the day's to-do list, and am grateful to be part of a network that asks for and offers help.
That health is many faceted became even more clear during 2020. With the goal of slowing the Covid-19 pandemic, we kept physical distance from one another. And regardless of if we managed to stay physically healthy, many struggled with feeling emotionally or socially isolated. So we learned how to celebrate and grieve together while a safe distance apart. We worshiped online and outside. We used smart phones and computers to stay in touch. We wore masks to protect not just ourselves, but those around us at higher risk for complications whom we may unknowingly infect.
In this issue, contributors explore what it means (and why it matters) to be whole and healthy—or if not yet there, to make it our priority to seek wholeness and health. But wait! This isn't just about self-care but care for all! As Christians, as Presbyterian Women, we offer the present of presence (as Christ's hands and feet) in helping others live their best lives.
The writers and artists on the following pages consider the many aspects of health—communal, physical, mental, social, emotional and spiritual well-being. They focus on timeless components of health, like Jesus' healing miracles, and time-specific, like the rising rates of depression and anxiety among young people. Their insights are invitation to care for ourselves (and to extend this invitation to others) so that we—individually and as a community—may more fully and freely connect with God, God's creation and with one another.
Already a subscriber? Log-in to read this issue.
Features
Health as Shalom: A Theological Understanding of Wholeness
Karen and Travis Webster offer a theologically grounded understanding of health, rooted in concepts of wholeness and well-being. They reflect on the importance of connection—to God and to one another—for our health.
Reactivity, Responsiveness and Spiritual Practice
Rev. Diane Pennington draws insights from psychology, biology and her work as spiritual director to consider how we collectively experienced Covid-19 as trauma. She suggests mind and body practices to help us heal so we can open fully to God's presence and call on our lives.
Surround Sound and Sights: Understanding Life for Today's Young People and Offering Support
With technology ever-present (and often distressing), young people today are experiencing higher levels of anxiety and depression than previous generations. Gina Yeager-Buckley describes the realities shaping the world of young people and suggests thoughtful ways for adults in the church to offer loving support and presence.
PW Resources
2023 Thank Offering Dedication Service
Embracing the "We" in Empowering Love
Betsy Berry and Janice Grimes
2023 Thank Offering Recipients
Anna H. Bedford Bible Study Resource
Rev. Susan Carter Wiggins offers reflections and questions for use in studying Lessons One and Two of the 2023–2024 PW/Horizons Bible study, Sacred Encounters: The Power and Presence of Jesus Christ in Luke-Acts, by Olive Mahabir.
Departments
Devotion
Mind, Body, Spirit and Community
Cecilia Amorocho Hickerson
Unpacking the Theme: Scripture Study
I Believe—Help My Unbelief
Dee Dee Risher
After the Offering
Opening Books, Opening Doors
Amanda Flayer
What One PW Is Doing
Pilgrimage to the Holy Land
Adina Yacoub
Mosaic
News and Information about Presbyterian Women and the Presbyterian Church (U.S.A.)
Books
Pages Worth Turning
Faithful Parenting
Thriving Together
Melanie Marsh
Working for Justice and Peace
Safety and Equity for Women and Girls the World Over

Supporting Mission
Generosity Benefitting Caring
Candy King
Stories from the Ages
A Drop or a Step at a Time
Hillary Moses Mohaupt