Horizons: March/April 2023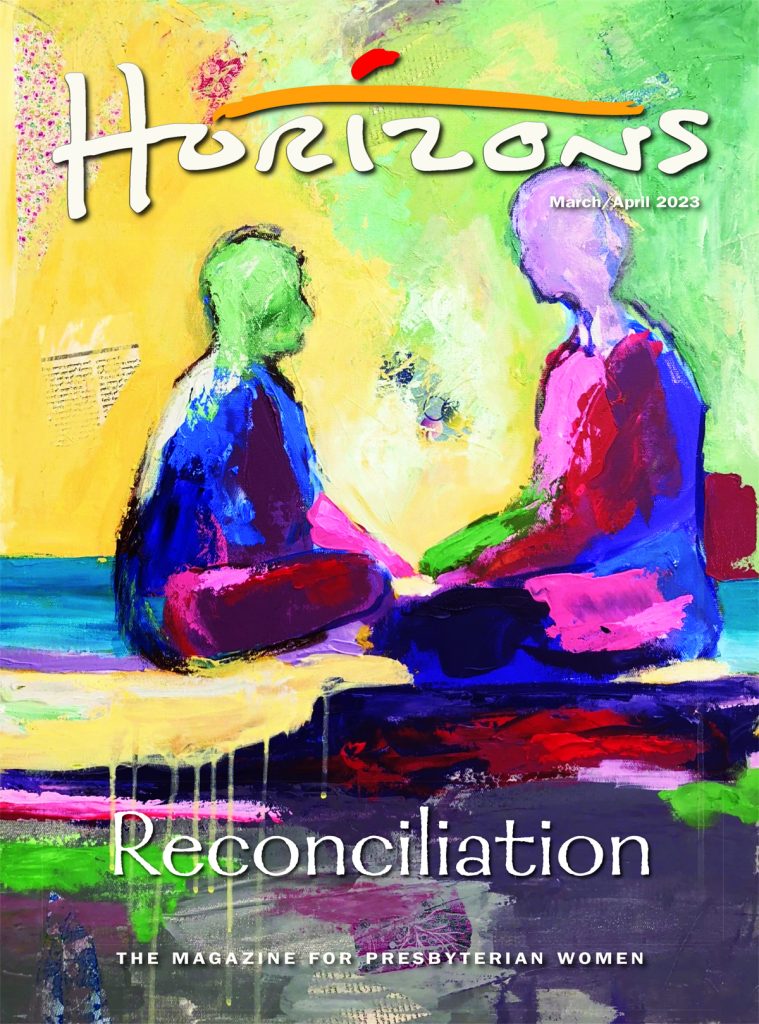 March/April 2023
Reconciliation
Reconciliation. This 14-letter word may bring with it 14,000 thoughts and questions.
What does it mean to reconcile?
Is an acknowledgment of a wrong sufficient for reconciliation? How many wrongs?
How do we as Christians grapple with and actively address the consequences of wrongs from our actions, inactions or carelessness? How about wrongs that we may be unwittingly complicit in, such as the violations committed by previous generations that continue to benefit some and hinder others? How do we grapple with our own complicity in systems that we did not build but still benefit from (even if unaware)? How do we as Christians who have not benefited from unjust systems respond to calls to reconcile when our own wounds are unhealed and our concerns for safety are just? Do we trust? What does genuine reconciliation look like for us?
Building a beloved community (see our PW Purpose) takes purposeful work and prayer and commitment —and sometimes, oftentimes, discomfort. But working toward the wholeness of all people is our charge. "Go and do likewise," Jesus tells us (Lk. 10:37). Like the Good Samaritan we are to live in such a way that we actually notice our neighbor and respond to their hurt or plight with kindness, compassion and genuine care—even if there is a cost to us. The first stanza of the hymn, "Today We All Are Called to Be Disciples," sums it up in this way:
"Today we all are called to be Disciples . . . , to help to set the captive free, make plowshare out of sword, to feed the hungry, quench their thirst, make love and peace our fast, to serve the poor and homeless first, our ease and comfort last."*
Reconciliation, alas, is uninterested in our ease and comfort. Reconciliation requires us to open our minds and hearts and ears to the truth of the world, to confess, and to commit to the difficult and arduous work required toward healing and wholeness. "Our ease and comfort last." Or as Amanda Barbee says in her article, "In order to be reconciled, we must die to self, die to allegiances to political parties or citizenship, and surrender our hearts and minds to the goodness and rightness of God. It's not easy being Christian." Reconciliation requires us to acknowledge a wrong and move toward a unity of the church that is "a sign of God's grace and a beacon of hope to those outside the church," suggests Cynthia Holder Rich. In her article, Cynthia directs us to a confession, the Belhar Confession, to "move toward faithful change" as the church acknowledges and repudiates the Doctrine of Discovery and its cruel and lasting impact on Indigenous peoples. "We can turn to live in new obedience, opening new possibilities for life for everyone made in the holy image of God."
* "Today We Are Called to Be Disciples," Glory to God, #434
Already a subscriber? Log-in to read this issue.
Features
Of Land Acknowledgements, the Belhar Confession and Reconciliation
Cynthia Holder Rich reflects on the intents and origins of land acknowledgements. She looks to the Presbyterian Church (U.S.A.)'s newest confession—The Belhar Confession—and its roots in South Africa's apartheid era for ways that the practice of land acknowledgements can be a first step of many to bring about inclusion and justice for all.
Rebuilding: Reconciliation and Race
Rev. Dr. Amantha Barbee emphasizes the need for recognizing the impact of white supremacy on people of the global majority. She describes the historical and current impacts of this form of racism and considers how the boundless love and grace of God, difficult conversations and meaningful reparations can help us reconstruct our relationships with one another.
In Full Bloom
Carissa Herold unveils "Build a Bouquet," a new campaign that both celebrates the many ministries and individuals that make Presbyterian Women vibrant and strengthens the organization through financial gifts.
Did She Just Say That?
Ryan Roth-Klinck offers guidance for navigating conversations that could all too easily end relationships. Pulling from insights in spiritual direction, Ryan outlines skills we can all develop to nurture relationships, even and especially with people who we believe we have nothing in common.
PW Resources
Called into Community, Called for Service
A Service of Installation for PW Leaders
Janice Catron
2022 Honorary Life Membership Recipients
Anna H. Bedford Bible Study Resource
Danelle Crawford McKinney offers reflections and questions for use in studying Lesson Nine of the 2022–2023 PW/Horizons Bible study, Celebrating Sabbath: Accepting God's Gift of Rest and Delight by Carol M. Bechtel.
Departments
Devotion
Drawn Close and Sent Forth
Cecilia Amorocho Hickerson
Unpacking the Theme: Scripture Study
Becoming a New Creation
Rev. Dr. Wendy Neff
After the Offering
Seeds of a Visit
Mosaic
News and Information about Presbyterian Women and the Presbyterian Church (U.S.A.)
Supporting Mission
Witnessing Ministries of Christ
Ruth Hazelton
Books
Pages Worth Turning
Faithful Parenting
Apologies and Repentance
Melanie Marsh
Working for Justice and Peace
What Kind of Christianity?
Stephanie M. Patterson
Stories from the Ages
Of Heroes and Strangers
Hillary Moses Mohaupt