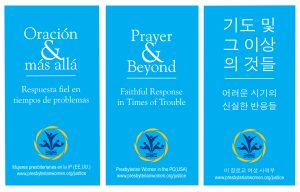 This resource serves as a reminder of God's presence even in the most difficult times. Prayer & Beyond reminds us that though we experience hardship and disasters, in God, we find the courage and the strength to face the difficult times and to persevere.
Download Prayer & Beyond to print, cut and fold into a leaflet:
Watch the video version of Prayer & Beyond.
Limited quantities of Prayer & Beyond are available in print (in English, Spanish or Korean) from the PW Shop.