Nurtured by Women, Advocating for Women
November 17, 2016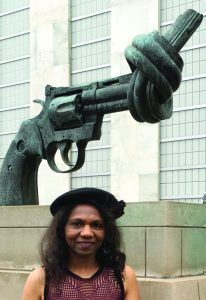 Last fall, Sharon Wakamoto, moderator for PW in the Presbytery of Los Ranchos, emailed the members of the PWP Coordinating Team, of which I am a member. She encouraged us to join the Presbyterian delegation to the 60th Session of the UN Commission on the Status of Women (CSW). I had always been reluctant to visit New York City, but I couldn't pass up the chance to visit the United Nations. Sharon and Jeri Rodewald, who also is active in PW in the Synod of Southern California and Hawaii, encouraged me to apply for scholarships from the presbytery, synod PW and PW Leadership Development Grant program. I did and received $2,700 total assistance.
With such generosity, I struggled with questions such as: Am I worthy of this investment? What can I do to justify the expense? Each time I prayed, I was powerfully affirmed, so on the evening of March 10, I arrived at LaGuardia Airport, pumped and prepared to attend the 60th Session of the United Nations Commission on the Status of Women (CSW60).
My time in New York included many firsts—like eating raw oysters and petit financiers at Grand Central Terminal in Manhattan. Other firsts are difficult to capture—like the whirlwind of my first United Nations experience. I was part of the official delegation of 35 women (and two men) representing Presbyterian Women and the PC(USA). During my time at CSW, I reconnected with old friends, made many new ones, and learned about issues facing women around the world. But, most important, I learned new lessons about what it means to follow Jesus.
During hundreds of Commission meetings, side events and NGO Forum events, representatives of governments and NGOs gave reports on a wide variety of topics related to the priority theme of this Commission, "Women's empowerment and it's link to sustainable development," and the review theme, "The elimination and prevention of all forms of violence against women and girls." Panels addressed topics ranging from gender responsive data collection to the importance of women at the peacemaking table. They all spoke, in one way or another, to how barriers for women must be removed for humankind to make progress. Most important, they discussed women's vital role in sustainable development.
I heard data that astonished me. Did you know that the largest group of women in the world—that is, 24 percent—consists of women over 49? One of the panelists during the Commission meeting on data gaps related to violence against women said, "We look in the mirror and we see ourselves, then we look at the data and we are not there."* Many countries, it turns out, don't collect data about girls and women below the age of 15 or over the age of 49! We must see, hear from and understand all women's experiences to eliminate violence and other forms of discrimination against women.
There have been many tangible fruits of my CSW experience. Since CSW, I have been volunteering with my local chapter of the United Nations Association. We are collaborating with Cities for CEDAW (UN's Convention on the Elimination of All Forms of Discrimination Against Women) to bring this treaty to all the cities in Orange County, where I live. Cities for CEDAW is trying to get 100 cities to pass a resolution. This will then bring the treaty to the attention of the U.S. Senate. It is an easy way to lend your voice and support to the UN.
I am grateful that Presbyterian Women and the PC(USA) participate in CSW. Hearing about my experiences, three of my friends have said that they would love to go with me to CSW next year! It is my prayer that my synod will have a team of four—two younger and two older women—who learn and share about CSW together. I am deeply grateful to the Presbytery of Los Ranchos, Presbyterian Women of the Synod of Southern California/Hawaii, Presbyterian Women Churchwide, and my church, St. Mark Presbyterian, for investing in my spiritual growth.
*Chair's summary, "Addressing data gaps and methodology issues," 60th Session, UN Commission on the Status of Women, March 17, 2016.