How it all came together: Reminiscing about Horizons
May 9, 2014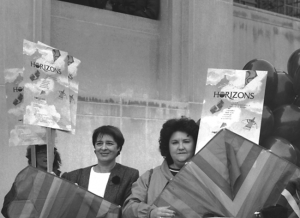 Written in 2008 for the 20th anniversary of Presbyterian Women
On October 29, 1988, the day the Presbyterian Center in Louisville was to be dedicated, I found myself walking toward the Center carrying a huge "bouquet" of red balloons. It was a chilly gray day. Few people were on the streets, it being a Saturday morning, but those who saw the balloons brightened up. A wave here, a smile there and a tap on the horn of a passing car raised my spirits. "What a wonderful way to begin this day," I thought.
As I turned the corner, many more people came into view. I walked up the steps at 100 Witherspoon Street, skirting the
Louisville Orchestra, weaving among staff people, avoiding dignitaries, until I was standing with others from our office. Thus, Horizons magazine and Bible study made its presence known.
Separated since the United States' Civil War, two Presbyterian churches reunited in 1983 to become the Presbyterian Church (U.S.A.). In subsequent years, the General Assembly decided to establish its offices in Louisville, Kentucky. Likewise, many organizations in the two churches came together. The women were no exception. Presbyterian Women would be the name of the new organization. Horizons would be the name of its publication. Thus, a tradition of more than 120 years continued—that of women [of the church] publishing their own journal. For many years prior to union, both the northern and southern women had published jointly the Bible study, each using a different format. In 1988, it became the Horizons Bible study, integrally related to the magazine, and the purpose of Presbyterian Women became Horizons' reason for being.
Horizons proved to be a felicitous name. Instead of the balloon, we used the kite as a way of establishing our identity. An airborne kite, vulnerable yet strong, lifts our eyes to the horizon. Its structure is often two ordinary but light pieces of wood, held together in the form of a cross. The wood must be bent so its paper surface faces into the wind; otherwise, the kite flops on the ground. The metaphor seemed fitting. In the first issue, I had written:
So it is appropriate that we mark the beginning of Presbyterian Women and its new publication, Horizons, with kites. We, too, are ordinary folk brought together for the uncommon purpose of catching the wind of the Holy Spirit and pulling against these earthly bonds as we bend to live for others. The cross is there for us either to fight against and be dashed about or to rely upon and be lifted. The cross reminds us of God's willingness to enter the suffering and estrangement of our lives and those about us in order to bring forth life, health and joy (Sightings, July/August 1988, Horizons, ifc).
However, before the first issue of Horizons was published, decisions had to be made regarding staff. I had been editor of Concern, the publication of United Presbyterian Women. I had no assurance that I would be asked to be editor of the new publication. It was an unsettling time for me. I knew the women of the southern stream had to have confidence in me. I was invited to be interviewed. After all the questions had been answered, we sat quietly. Finally, one woman said, "Well, isn't there one thing more we must do?" "What is that?" someone asked. "Offer Barbara the position." Everyone laughed and I was formally invited to be editor. I accepted.
Then it was my turn to hire the staff. With a small committee, I conducted numerous interviews. The original staff included two associate editors, Ann Yeargin and Anna Bedford. Ann retired in 1993, remaining in Louisville, where she became active in Habitat for Humanity, traveled to Europe most years and attended Crescent Hill Presbyterian Church.
Anna commuted between Little Rock, Arkansas, and Louisville. After leaving Horizons in 1997, she became communications director for Heifer Internaitonal in Little Rock and retired in 2000. She and her husband Jerry travel extensively. She became an elder at First Presbyterian Church and a member of the board of trustees of Johnson C. Smith Seminary. She continues to do various tasks for the publication.
The associates for administration and promotion respectively were John Peters and Kathy Copas. After working for Horizons, John became manager of operations for the Presbyterian Historical Society in Philadelphia. He studied oil painting at the Pennsylvania Academy of Fine Arts and began painting interior scenes of homes and still lifes.
Kathy, our "Energizer bunny," stayed with the publication three years, then served as associate director of the Social Justice and Peacemaking unit of the PC(USA). When the church restructured, Kathy started her own communications business in New Albany.
Art consultant Paul Nonnast and Aavidar Graphics prepared copy for printing. Five months after Paul retired in 1993, he passed away. In the early 2000s, Paul's work, much of it done in his younger years, was appraised and sent to museums and universities interested in preserving fine illustration and graphic design.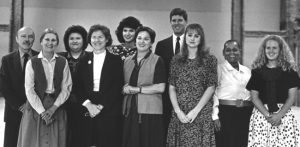 We also employed two administrative assistants, Martha Bartlett Abarca and Robin Stewart. Martha described herself to visitors as the office's "universal joint" (that part of the car essential to its running). After Horizons, she earned Master of Arts degree and began teaching art in the Louisville public school system. Tragically, she died in her early 30s.
The subscription specialist was Jeannette McBride Hunter. After arriving in Louisville, she asked to me to officiate at her marriage to James. She retired in 1999 when her job was outsourced. She passed away in 2006.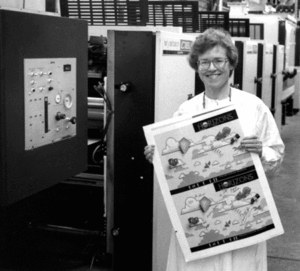 As for me, I retired in 1998. I have traveled and done some freelance writing and editing. I was particularly pleased when I was asked to write the history of women's ordination in the Presbyterian Church. (See Chapter Seven of Celebrating Our Call: Ordination Stories of Presbyterian Women, Geneva Press, 2006.) I am active in my church and the presbytery.
The publisher of Horizons was BSC Litho, Harrisburg, Pennsylvania. For many years, Gerry Conway was their representative to us. When it came time for the first issue of Horizons to be printed, several of us traveled to Harrisburg. With much anticipation, we walked into a cavernous industrial space. Deafened by the noise of the giant presses and all their accompanying machines for cutting, assembling and packing, we were taken to the huge press set to run the cover of the magazine. Technicians adjusted the ink and register as the first covers made their appearance. And then, with tremendous speed, the huge paper rolls began to unwind and long streams of paper whished through the press, picking up ink that imprinted a cover filled with kites. We cheered as the first perfect covers made their appearance. They were presented to us as souvenirs. We congratulated everyone and signed our names to each others' copies.
Some weeks later, Horizons was introduced to Presbyterian Women at the 1988 Churchwide Gathering, at Purdue University. Cleda Locey was elected moderator of PW, Biff Hogue was named chair of the Horizons board and Marilyn Clark was named treasurer of PW and Horizons. We had our publication, our printer and distributor, our staff and brand-new offices in Louisville. All seemed right with the world, 20 years ago, in 1988.