Key to social change for women all over the world
May 31, 2016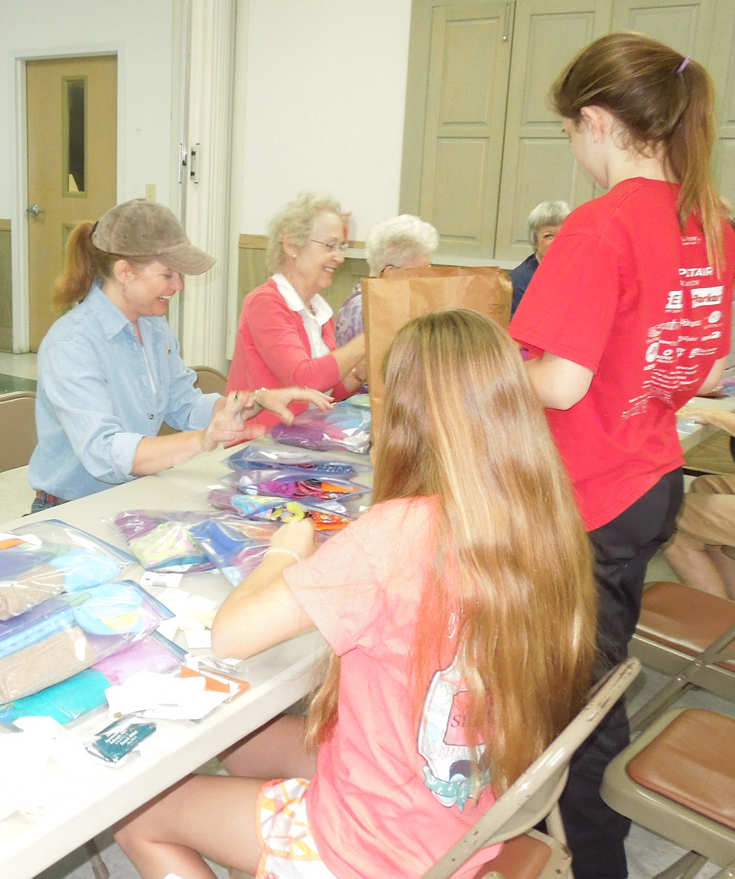 By Candy King
The Days for Girls (DFG) project at Dorchester Presbyterian began a year ago when I noticed a shield and liner on the Justice and Peace table at the Churchwide Gathering in Minneapolis. I took some information home and researched online by going to www.daysforgirls.org. I learned that [in many parts of the world, where fresh water, sanitation and supplies are scarce or nonexistent] girls miss school during their periods. Because girls in these situations do not have access to or disposal for paper products, Days for Girls kits contain washable liners and shields. Each kit lasts about three years.
I presented the idea to Dorchester's PW group in the fall of 2016. We set a goal of producing 100 kits. Another Charleston area PC(USA) congregation, St. Andrews Presbyterian, helps us on other mission projects, so they were eager to participate in this project. Mary Oliver from St. Andrews made 700 serged flannel liners for the project. Several ladies at our church who do not participate in Presbyterian Women were so enthusiastic about the project that they became actively involved in sewing and purchasing items.
The website tells exactly how to sew the pads and liners, with tutorials and a list of resources of where to buy in bulk. This is not a creative sewing project, except when choosing fabric patterns. Everything has been researched and needs to be sewn using the DFG instructions. This was sometimes difficult for a group of women who are experienced with sewing; always, someone thought there would be a shorter and easier way. Shortly, we all followed the directions exactly. We did discover some of our own tips; for example, we found that the PUL (special waterproof fabric) can be purchased at our local fabric store (JoAnn's), in the baby section. It is used for diapers. The store also carries the size 20 snaps and snap tool, in the same section. If we collected people and percent-off coupons, we could purchase at 40 to 50 percent off (the PUL doesn't usually go on sale). The PUL (polyurethane laminate) is made of fabric with waterproof polyurethane laminate on the back. It cannot take pins because they would damage the waterproofing. We found that large paperclips were excellent to hold the parts together for sewing.
The panties and washcloths all should be dark colors. We ordered wholesale lots, available through DFG, so some of them (white and light ones) had to be dyed. The website tells where to purchase the dye. We hand-dyed in big plastic bins. Items had to be pre-washed before dying, with a special detergent from the dye company. Since we had a high efficiency washing machine, I called the dye company to ask if we were to use the same amount of detergent. We were told to use half the amount. The orange labels that are sewn on each bag are ordered from the Days for Girls website. They arrived quickly, with a note from a DFG volunteer thanking us for helping girls. The lady who ordered the panties called DFG several times with questions, and they were very helpful.
We finished our goal of 100 kits in March of 2016 and assembled them on a mission workday. The website lists a map with all of the DFG chapters across the U.S. The closest chapter to Charleston, SC, is Atlanta, GA. I emailed the address listed, and they were enthusiastic about receiving our 100 kits. They even offered to meet us halfway to Atlanta, since the boxes would be way too heavy to mail. It so happens we have two members who travel to Atlanta, so the boxes were transported and transferred, and soon will be headed to Malawi.
Our ladies have shared their experience with Days for Girls in the presbytery and beyond, so other churches in Charleston and in other states have become interested. Seacoast, a mega-church in our area, wants to start their own chapter. Dottie Kelley, who belongs to Palmetto Presbyterian in our area, has a mission to Haiti called Creations of Hope. She heard about Days for Girls and wants kits for girls in Haiti. At this time Haiti, is not listed on the Days for Girls map for kit distribution. Perhaps it soon will be!
Just from Dorchester's 100-kit project, the word is spreading. The DFG website has a wealth of information, but I am always available for questions. We don't have any current goals for more kits, as we have other continuous mission projects, but are always available to help other groups.
About the Author: Candy King is the PWC moderator, Dorchester Presbyterian Church, Summerville, South Carolina.