PW group "intertwines" art and service
May 31, 2016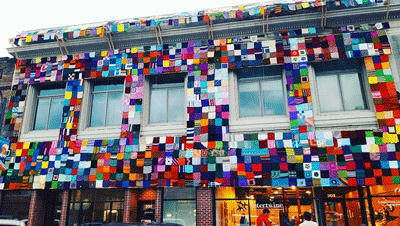 Presbyterian Women of St. Charles Avenue Presbyterian Church in New Orleans formed a needlework group three years ago, and look what they are doing! They are knitting to help the homeless, and their work is displayed on the side of a 130-year-old building in Ames, Iowa.
Mary Ann Mott, coordinator for the needlework group, says "We just show up and teach one another." They do more than teach one another. While needlework is the focus, women in the Thursday morning sessions have loved one another through the loss of a husband, the
The first year they made caps for newborns at East Jefferson General Hospital and donated them at Christmas. The second year, the group created handmade washcloths and supplied personal toiletries for residents of Raintree House—a program that provides services to at-risk adolescent girls—and presented them to the girls at Thanksgiving. For this, their third year, the group chose a project to help the homeless. The project, called Intertwine, was recommended by Kathy Randall, and it meant becoming part of an effort to put art to work for the community of Ames, Iowa (a place near and dear to PW hearts, since it was the site of the first PW Churchwide Gathering in 1988).
The proposal was simple—knit or crochet a 12- x 12-inch square as a work of art, and submit as part of a greater effort for art expression and homelessness awareness. The squares would be joined together for a May 2016 display, then the squares would be dry cleaned and fashioned into blankets to be donated to homeless and women's shelters.
Mary Ann Mott, Norma McClure, Carol Staiano, Mary Ruth Shanks and Frieda Palmgren represented the St. Charles Avenue PW needlework group with colorful, skillful submissions. Ann Byerly and Kathy Randall also contributed squares, for a total of eight from St. Charles Avenue PC.
Intertwine, a community-wide effort to "yarn-bomb" the facade of Design on Main, was the inspiration of Jennifer Drinkwater, assistant professor of art and visual culture at Iowa State University (and Lee Randall's cousin). Ouida Drinkwater wrote of the project, "It was so fun watching people walk by and looking up and stopping dead in their tracks . . . and taking photos! Inside the gallery was a wall of papers you filled out so people could see where the knitters were from. Jennifer was so proud of the numerous squares she got from all of you."
The completed project is impressive. It took nine months to assemble. Squares came from 14 states. The ages of needle-workers ranged from 8 to 93 years! Three-thousand plus volunteer hours went into its construction, resulting in more than 1,000 knitted or crocheted panels that were sewn into 37 larger segments. The display will be taken down June 4 so the squares will still be in good shape for blanket assembly and distribution.
Thank you to all who cared and shared!
About the Author: Kathy Randall is the current moderator of the Presbytery of South Louisiana and former PW Church Gathering coordinator.