A Coalition of Care to End Trafficking
February 10, 2017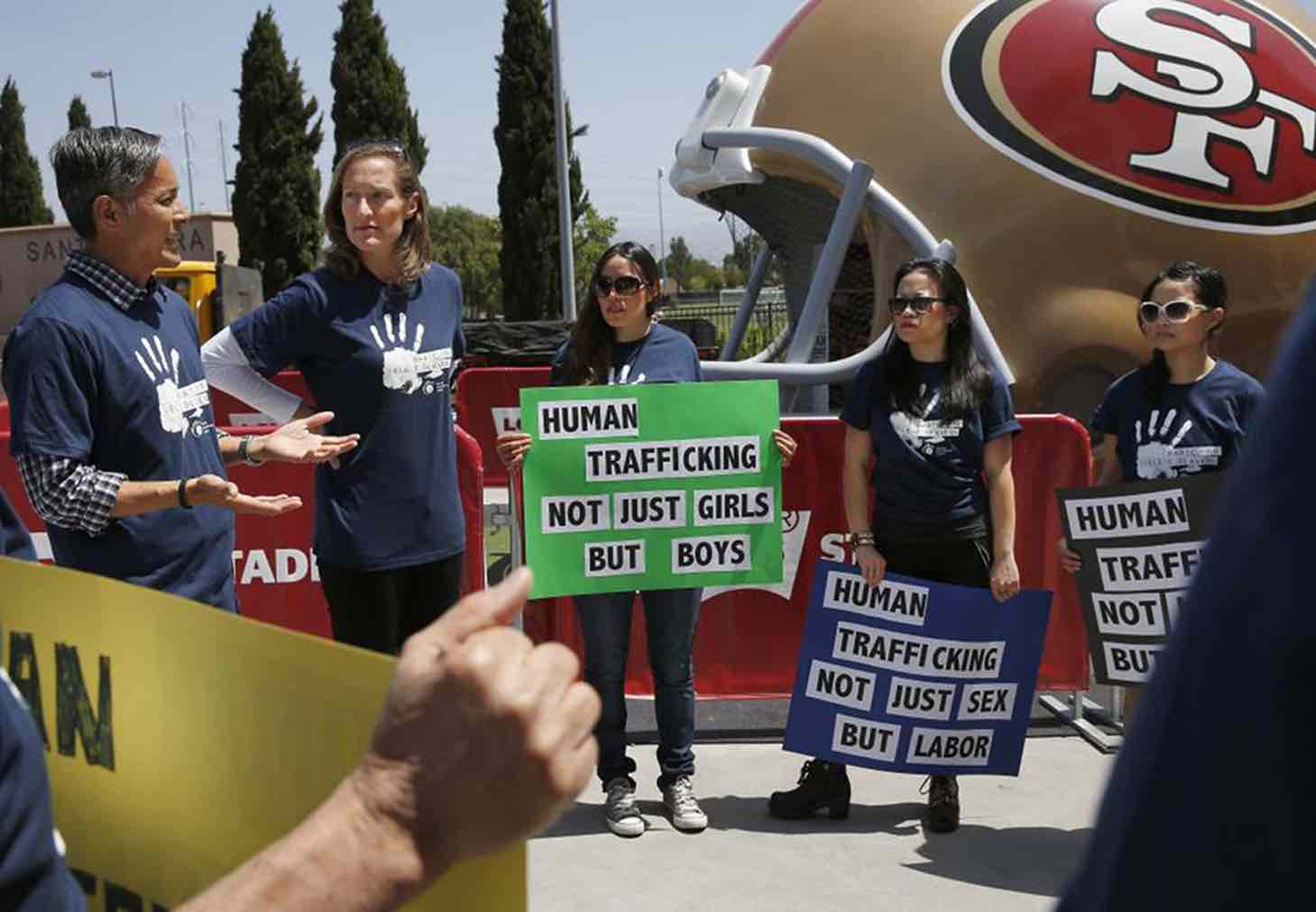 On May 9, 2015, 1,500 people gathered in Levi's Stadium in Santa Clara, California, to address one of the most egregious injustices of our time—human trafficking. The occasion was the Bay Area Anti-Trafficking Coalition's Freedom Summit. This biannual conference coordinates work to end human trafficking.
For years, many people and groups around the San Francisco Bay Area have been taking action to fight trafficking. In 2011, Betty Ann (Boeving) Hageanau and I decided to develop a unified, strategic response to human trafficking throughout the Bay Area. We knew a coalition could maximize impact by sharing resources, developing best practices and avoiding duplicated efforts. Ever since, the Bay Area Anti-Trafficking Coalition (BAATC) has been working to facilitate collaboration and build awareness to end human trafficking. The biannual Freedom Summit is a one-day event to help strengthen collaborations, showcase speakers and service organizations, and empower advocates.
At Freedom Summit 2015, many of the attendees connected with one or more of BAATC's 50-plus partner agencies, building a deeper and wider anti-trafficking network. The venue was significant, since just eight months later, Levi's Stadium would host Super Bowl 50. When a town hosts such a large sporting event, there is opportunity to raise awareness about human trafficking with a much wider audience. So, in the months prior to Super Bowl 50, BAATC helped lead an unprecedented effort to build capacity, facilitate collaboration and spread awareness.
Defining Human Trafficking
Human trafficking is a form of modern-day slavery. While the term often elicits images of chains and shackles, physical confinement is not necessary for a person to be a victim of human trafficking. In order for a situation to be defined as human trafficking, three elements are present: action, means and purpose.
There must be an "action," usually described as the trafficker controlling the trafficking victim. The "means" by which the trafficker does this are force, fraud or coercion. Finally, the "purpose" is exploitation, i.e., the trafficker is making money or other illicit gain from the victim. Traffickers are resourceful in manipulating their victims, in order to maintain control over them. They may use physical torture, crafty deception, threats to family, psychological conditioning and/or debt manipulation. The victim is treated as a commodity to be exploited, rather than as a human being with dignity.
One important caveat: if a minor is sold for commercial sex, "force, fraud, or coercion" is not required for the minor to be considered a trafficking victim. Anyone under 18 is too young to legally consent to sex, so if they are being paid, someone is trafficking them.
Bay Area and Beyond
As in many communities around the United States, human trafficking occurs in the Bay Area in several forms, including sex trafficking and labor trafficking. People are often brought to the United States under the pretense of restaurant jobs, but they end up working in residential brothels. Others come with the promise of modelling work, but find themselves working in illicit massage parlors.
Sex trafficking still happens on the streets, but it is increasingly moving to the internet, as well. Labor trafficking is found in industries all around us, including custodial services, restaurants, nail salons, sales crews, construction, agriculture and skilled nursing facilities. Also, cases of trafficked domestic workers have emerged all over the country, involving enslaved individuals who are euphemistically referred to as "housekeepers" or "nannies." Typically, these victims come to the U.S. to work in someone's home, but are not paid, are confined to the house, are not given food or a bed, are sometimes physically or sexually abused, and are controlled through lies, threats, isolation and the confiscation of their legal documents.
Other labor trafficking victims are brought to the United States after borrowing money to pay a large (and illegal) recruiting fee. Exploited workers labor under inhumane work conditions and live in substandard or overcrowded housing. They incur further debt, (over)paying overseers for food, medical care and housing. Meanwhile, they pay exorbitant interest on their loans. This system of debt bondage—where their debt grows faster than their pay—traps workers. Wherever there is a demand for low-cost labor and a lack of rigorous monitoring, we see the danger of labor trafficking.
While many of the examples above include individuals who are brought to the United States, many human trafficking victims are American-born citizens. In California, a study by the state attorney general looked at cases of minors who were sex trafficked, and found that 72 percent of them were born in the United States. Additionally, it's not just girls who are sex-trafficked; boys also are victims of sex trafficking. It is important to recognize that trafficking victims are both international and domestic, male and female, from all socioeconomic levels, from all ethnicities, all races and all faith backgrounds.
Intervention and Aftercare
The problem of human trafficking is so complex, the response to it is complex, as well. We often categorize the response into three areas to help individuals consider ways that they are called to engage in this work: intervention, aftercare and prevention.
Victims of trafficking have difficulty leaving their situations because of a lack of safe options, lack of knowledge about their legal rights, and trauma stemming from treatment. Some people who are trafficked form a "trauma bond" with their traffickers, which makes it difficult for them to leave their situation, however horrible it is. In fact, many survivors return to their traffickers after they are removed from their enslavement, sometimes repeating this pattern many times before they are able to remain permanently free. Therefore, intervention is a way to help those who are in trafficking situations by reaching out to them and helping them to know that they have options and that they can even receive services while they are still in the grips of their trafficker.
Aftercare is the restoration of dignity to survivors. After being exploited, abused and isolated, survivors have many needs, including immediate needs like clothing, emergency housing and medical care. They often require legal services and long-term therapy to recover from their ordeal. Survivors may not have been able to go to school and may need education and job training so that they can support themselves. There is a great need for all of these services, best tended to by trained providers and organizations.
Prevention
While care for survivors is vital, preventing individuals from being trafficked is also foundational to ending trafficking. Prevention includes many things, particularly, helping those who are most vulnerable to avoid trafficking situations. While anyone can be trafficked, certain individuals are more vulnerable than others. Vulnerable populations include those in the child welfare system, those who have experienced previous child abuse, runaways, people who are homeless, individuals involved in gangs and people with substance abuse problems. Traffickers themselves are often from disadvantaged communities, have generational trafficking or prostitution in their families, or have experienced abuse themselves.
Prevention work includes ensuring that at-risk populations have their basic needs met—for example, running a homeless shelter; offering housing, clothing or educational support to youth on the street; ministering to those involved in gangs; providing families for foster children. These are all ways to help prevent individuals from becoming trafficking victims. Promoting legislation to help protect trafficking victims and punish perpetrators—both at the local and federal levels—is also a part of prevention work. All voters should be educated about trafficking-related legislation and communicate with legislators these bills.
When we speak of preventing sex trafficking, we must acknowledge that there would be no sex trafficking if there were no people buying sex. Communities around the world are addressing the issue of demand in varied ways. Finally, all of us who are consumers are part of the demand for labor trafficking, because many of the goods and services that we buy on a daily basis have slavery somewhere in their supply chain. However, thanks to ethical businesses, concerned consumers can buy goods and services created without slavery.
One final aspect of prevention is greater public awareness. BAATC believes that we can create a "trafficking watch," similar to the official or unofficial neighborhood watches in many neighborhoods. A trafficking watch needs every citizen to know just three things—what human trafficking is, what the red flags are and who to call. This would not only potentially identify more trafficking situations, it would also send a message to traffickers that they cannot do business in the area because they will be caught.
As we consider our personal call to be a part of standing against the injustice of human trafficking, everyone has a part to play. Everyone has a unique way to use their skills, passions and spheres of influence to make a difference. Every step that we take to eradicate this horrendous crime is a step toward freedom for one individual who is suffering under the exploitation of a trafficker. Working together, we can work for freedom and right this wrong.
Brian Wo is director of partnerships for the Bay Area Anti-Trafficking Coalition.