An Unexpected Gift
May 19, 2021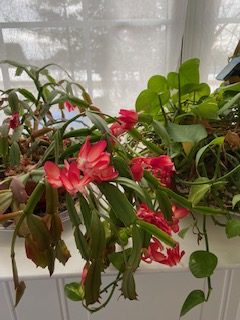 By Lisa Gray
Well, look what my Thanksgiving Cactus did! It bloomed an extra time! Yes, that is snow you see in the background. During a 2021 snowfall, my Thanksgiving Cactus bloomed a second time, just a few months after its initial blooms. The extra bloom doesn't happen every year, it's an unexpected treat.  
Another unexpected gift for me were the Covid relief checks from the government. Many individuals and families needed this money. So many people are out of work, living on decreased incomes, caring for or supporting additional family members or living on social security checks. I pray some of their financial pain is alleviated.
Those of us who have not lost our jobs (or salary) or have a stable pension have been truly fortunate to receive this "extra bloom" of cash. May I suggest that if these payments are extra rather than essential, some or all of this unexpected money be donated?
Presbyterian Women's Annual Fund used to be called the Mission Pledge. The Annual Fund makes possible (in whole or in part) the wonderful resources and programs that your group and other PW groups enjoy. Many PW in the Synods, Presbyteries, Congregations pledge an amount from their budgets to PW Churchwide. With women not meeting as usual and many not collecting pledges, donating a stimulus check can help PW continue to grow its many ministries.
Will you join me in supporting PW's flowering growth with a gift to PW's annual fund?    
Lisa Gray serves as the chair of PW's Stewardship Committee.