Celebrating the life and legacy of Barbara Roche
May 19, 2021
Founding editor of Horizons magazine Barbara Roche died on May 8, 2021 at age 86. She was born in Long Beach, California, in August 1934 to Agnes Louise Elford Roche and Claire Peter Roche. She grew up in Ruth, Nevada, then attended Stanford University, where she received her bachelor's degree. Barbara went on to earn a master of divinity from Princeton Theological Seminary in 1960, and a doctorate of ministry in 1984 from San Francisco Theological Seminary.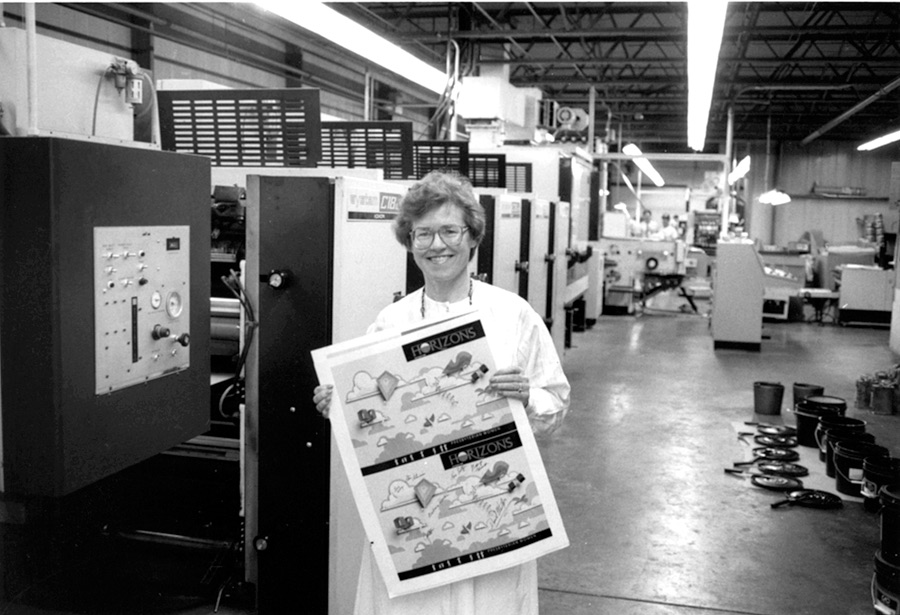 Prior to the 1988 establishment of the Presbyterian Church (U.S.A) and Presbyterian Women, Barbara served as the editor of Concern—the publication of United Presbyterian Women in the former Presbyterian Church in the United States. She served for 10 years as the editor of Horizons.
Following her retirement in 1998, Barbara continued her extensive travels, was active at Central Presbyterian Church in Louisville, Kentucky, and shared her gift with words through freelance writing and editing. In 2008, she wrote an article for Horizons about her memories of the publication's establishment, which happened as Presbyterian Women was taking shape. In that article, she said, "Horizons proved to be a felicitous name. . . we decided to use kites as a way of establishing our identity. An airborne kite, vulnerable yet strong, lifts our eyes to the horizon and beyond. Its structure is often two ordinary light pieces of wood in the form of a cross. . . . So it is appropriate that we mark the beginning of Presbyterian Women and its new publication, Horizons, with kites. We, too, are ordinary folk brought together for the uncommon purpose of catching the wind of the Holy Spirit and pulling against these earthly bonds we bend to live for others. The cross is there for us either to fight against and be dashed about or to rely upon and be lifted. The cross reminds us of God's willingness to enter the suffering and estrangement of our lives and those about us in order to bring forth life, health and joy."*
Barbara's obituary includes an anecdote that speaks to her deep love of travel and connecting with God's people. "While at Princeton she put one finger on the globe and another finger half-way around the world and applied for an ecumenical scholarship to spend a year at United Theological College in Bangalore, India. Thus began a life-long love of travel . . . including a trip to Antarctica when she was 80."
Barbara is survived by her sister, Georgia Gleason (James); a niece Katharine Gleason (Patrick) and a nephew Patrick Gleason (Evelyn); two grandnephews James Gurian and Irvin Garay, a grandniece Anna Gurian; and many loyal friends. She is also survived by her much-loved cat, Cooper.
Memorial contributions can be made to Ghost Ranch, 280 Private Rd, Abiquiu, NM 87510; Princeton Theological Seminary, 64 Mercer St, Princeton, NJ 08542; and Central Presbyterian Church, 318 W. Kentucky St. Louisville, KY 40203.
*Barbara Roche, "Catching the Wind: Reminiscing About the Beginning of Horizons," Horizons, January/February 2008, 20–22.