Celebrating Sabbath Lesson Three
September 14, 2022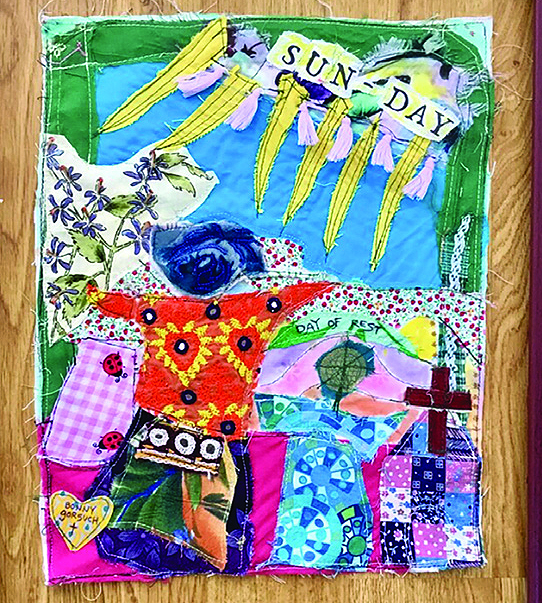 Lesson Three: Sabbath and Sunday
Primary Scripture: Luke 4:16–22 and Acts 16:11–15
"Sunday's Fun Day, Charlie Brown!"
When I first saw the exuberant artwork featured on the cover of this year's PW/Horizons Bible study (Flowers by Ekua Holmes), I was reminded of another book cover from my childhood. The fact that the book came out in 1965 dates me, I suppose, but the image still makes me smile. The cover features Lucy and Snoopy dancing a jig on a sunny hillside, while Charlie Brown looks on. The book, of course, is by Charles M. Schulz, and its title is, Sunday's Fun Day, Charlie Brown.
Is that true for you, I wonder? Is Sunday "fun day," and if so, is God OK with that?
I think God is more than "OK" with that. I think God's gift of Sabbath is a gift given to all creation. And whether we celebrate on Saturday or Sunday or some other day, it's intended as a time of rest and delight.
I recently discovered a hymn by Carolyn Winfrey Gillette that expresses God's exuberant Sabbath gift in a compelling way. It's called, "O God, You Made the Sabbath Day.*" The first two verses encourage us to see Sabbath as blessing—not burden:
O God, you made the Sabbath day,
Your gift, your law, your healing way.
You also made, within each heart
A longing for this day apart.
You gave your children, long-oppressed,
Your freeing gift of Sabbath rest.
You give us Sabbath freedom, too:
Our lives are more than work we do!
That last line has gut-punching potential, doesn't it? "Our lives are more than work we do!" How often do we fall into the trap of defining ourselves by how much we get done, or by what kind of work we do? Now look at the third verse. It reflects the fact that our modern world leaves little room for the "sacred rhythm" of a weekly Sabbath.
Life's sacred rhythm seems long gone;
The world, unblinking, carries on.
Your Spirit calls us! Slow our pace
That we may hear your word of grace.
This call is for Christians—though many of us seem to have forgotten about it. The Acts 16 passage featured in lesson three of the Horizons study gives us a glimpse of a group of Christian women celebrating Sabbath "down by the riverside." The lesson also highlights how Sabbath celebration was later shifted to Sunday for Christians. The last verse of Winfrey Gillette's hymn references this shift and emphasizes the JOY that is central to Sabbath celebration:
Christ Jesus lives! He makes us new!
On Sundays now, we worship you.
With hearts uplifted, joy restored,
Your church goes out to serve you, Lord.
Is that an accurate description of your Sabbath? Is it a time when your heart is uplifted? Your joy restored? Or are you standing on the sidelines like Charlie Brown on the cover of Sunday's Fun Day? What would it take to get you to join in the exuberant dance? What would it take to help you believe that Sunday's Fun Day, Charlie Brown?
Carol M. Bechtel
author of the 2022-2023 PW/Horizons Bible Study
******
Additional resources to use with this lesson:
Suggested Hymn: "O God, You Made the Sabbath Day" by Carolyn Winfrey Gillette – used with permission of the author who asked us to include the information that follows.
Link to the hymn text with music: O God, You Made the Sabbath Day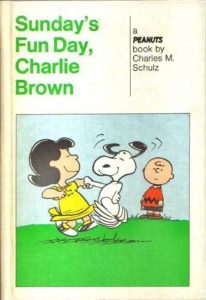 Book cover for Sunday's Fun Day, Charlie Brown by Charles M. Schulz
Fair Use Copyright Disclaimer:
This site contains copyrighted content not authorized for use by the owner, but its use falls under the guidelines of fair use (see Section 107 of the Copyright Act). The nature of this use is solely for non-profit educational purposes.
Presbyterian Women in the PC(USA), Inc. publishes an annual Bible study. Celebrating Sabbath: Accepting God's Gift of Rest and Delight is the study for this year. Purchase a Celebrating Sabbath bible study book and study along with us.

Call 800/533-4371 and order product #HZN22100 or order online

This blog is the third in a series of nine blogs written by the study's author Carol M. Bechtel. PW will post a blog each month through April 2023.