Celebrating Sabbath Lesson Nine
March 2, 2023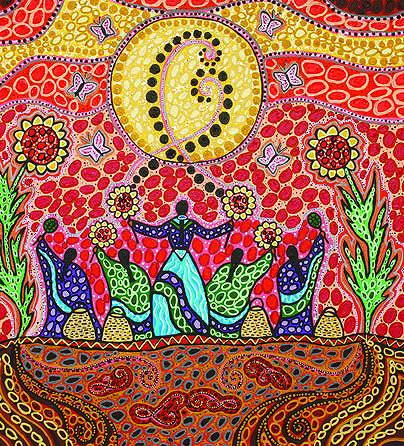 Lesson Nine: Sabbath and Community
Primary Scripture: Acts 2:42–47
"We're All in This Together"
Congratulations on reaching the end of the Celebrating Sabbath study! I hope this is not the end of your sabbath celebrations, however. On the contrary—I hope it's only the beginning of a life-long celebration.
Are you wondering how or whether you are going to sustain your new Sabbath practices? Part of what will make Sabbath a "habit of your heart" will be community. Maybe you've found sabbath companions along the way as part of this study. Or maybe you've had to get creative about finding Sabbath companions online. But whatever your situation, Sabbath is meant to be shared.
For many years I was part of a water aerobics class that met at the college nearby. We called ourselves the "Mer-matrons." We were women from all walks of life, but three times a week we showed up at the pool—as eager for the friendship we shared as for the exercise. People "drifted" in and out as they had to, of course, but none of us missed if we could help it. We laughed about the fact that even when we were tempted to skip a session, we'd come anyway because it was easier just to go than to make excuses for not going. In short, we knew we'd be missed.
I tell this story to illustrate the way group dynamics can help to reinforce the habits we've, hopefully, begun to develop over the course of this study. If you have at least one friend who will miss you if you don't "show up" for Sabbath celebration, it can make all the difference.
As Christians we have a harder time with this than our sisters and brothers in the Jewish community. Other than going to church, we don't get much encouragement to make Sabbath celebration an "order of the day" on our agenda. And goodness knows, the world around us won't give us much help either.
Maybe that's why I was so taken with a video I found online. "Wendy's Sabbath" is a short (9-minute) piece produced by the PBS series Point of View (POV, Season 31, Episode 20). It tells the story of a group of Jewish senior citizens who meet at their local Wendy's every week for a meal that marks the beginning of Sabbath. I love the joy, the anticipation, and the simplicity of their celebration. (They're celebrating at Wendy's, which is a good reminder that it doesn't need to be fancy!) I tell their story because I think its another way we can learn from Jewish friends who have been making Sabbath part of the regular rhythm of their life.
So, community is crucial for sustaining Sabbath habits. But Sabbath habits can also create community. Here is the single best illustration of this that I can think of.
Just by slowing our pace we begin to notice all the things—and the people—that we're missing when we travel in the fast lane. Instead of being obstacles, they become companions. Life becomes less about getting there quickly, and more about awe. Community happens. Relationships flourish.
In the last chapter of our study, I describe my own journey as moving from an attitude of being "mildly resistant" to that of being "fiercely protective" of my Sabbath celebration. After all these months of traveling among you, I can also say that your excitement has made me even more committed to both Sabbath and the beautiful community that is Presbyterian Women. I've shared with some of you that I have a hope—a prayer, really—that ten, twenty, or more years down the road, some of you will have stories to tell about how your own Sabbath journey has continued to bless your life. I also hope you'll send me your ideas and your stories! We are all in this together, after all.
Thank you for allowing me to share and experience the blessing of Shabbat Shalom, Sabbath peace, with you!
Carol M. Bechtel
author of the 2022-2023 PW/Horizons Bible Study
******
Additional resources to use with this lesson:
Suggested Hymn: "Farewell/Shalom, Good Friends" Glory to God 540. This hymn is a beautiful song to use to close a Sabbath dinner. It's even more beautiful sung as a round. Try it!
Additional Music: "Be Still" by Wendell Kimbrough is a song I've introduced to many PW groups this past year. Here is a link to where you can purchase PDFs for the lead sheet as well as piano and cello accompaniment. It is registered with Christian Copyright Licensing International (CCLI) if you'd like to explore using it in your congregation.
This blog is the final in a series of nine blogs written by the study's author Carol M. Bechtel. Thank you for celebrating Sabbath with PW.

Presbyterian Women in the PC(USA), Inc. publishes an annual Bible study. Celebrating Sabbath: Accepting God's Gift of Rest and Delight is the study for this year. Purchase a Celebrating Sabbath bible study book and study along with us. Call 800/533-4371 and order product #HZN22100 or order online

Celebrating Sabbath is on sale! Click here for more information.