Into the Light promotional flier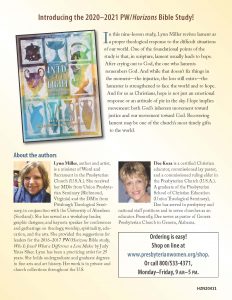 This promotional flier introduces the 2020–2021 Horizons Bible study, Into the Light: Finding Hope Through Prayers of Lament, by P. Lynn Miller with suggestions for leaders by Dee Koza. The first side includes information about the study; the second side includes a preview of the art from each lesson (also by Lynn!) and a list of the various editions and supplemental resources.
Download the Into the Light flier.
This flier is also available as a hard copy. Click here to order it from the PW Shop.