Microloans with a Big Impact  
June 29, 2020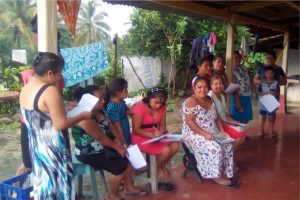 By Mimi Michael
With relatively little seed money in the form of a microloan, women in the developing world can gain some financial stability. With microloans like the ones organized by the Guatemala Microloan Project, women gain not only stability, but a community of support and guidance on how to strengthen their small businesses.
The Guatemala Microloan Project is a joint project of Presbyterian Women from the National Evangelical Presbyterian Church of Guatemala's Suchitepéquez and Sur Occidente Presbyteries, and the PC(USA)'s Presbytery of Western North Carolina. Women from the three presbyteries envisioned the project in 2013, and sought a partner in Guatemala to support women during the microloan process. The presbyteries eventually partnered with ADEHGUA, a Guatemalan nonprofit with experience in community development and implementing economic support programs for women in poverty, to provide training and to administer the project.
To organize a microloan group, ADEHGUA begins by asking a leader of a church's women's group to gather women who may be interested in applying for a microloan. An information session then takes place to explain participation requirements and procedures for a microloan group. If enough women show interest, ADEHGUA schedules pre-credit training that covers a feasibility assessment, business training, project management and administration. The microloan group then chooses a name and elects a board of directors. Participants sign important documents, including a payment agreement and a commitment to participate in all project activities.
The first meetings and loan cycle took place in 2015. Thirty-two women received loans of $125 in that six-month cycle, starting businesses that included selling food and tortillas; growing corn; raising chickens or pigs; selling clothing, firewood, charcoal; and tire repair. These groups meet at least monthly to share experiences and ideas, to provide accountability, and to support to each other. All of the women repaid their loans, plus interest. Following repayment of the loan, women can qualify, with group approval, for larger loans in subsequent cycles. Nearly all of the women, plus nearly 30 more, applied to participate in the second cycle. Women can stay in the project for up to 10 cycles or 5 years.
During 2015–2018, the Guatemala Microloan Project included groups of 15–20 women in four different communities. Eager to make grants available to as many women as possible, Presbyterian Women from the Presbytery of Western North Carolina (PWNC) applied for a Thank Offering grant. In 2018, they were awarded $15,815. To date, this Thank Offering grant has enabled the formation of two new microloan groups.
Because of close connections in Guatemala, Westminster Presbyterian Church (Portland, Oregon) and Covenant Presbyterian Church (Palo Alto, California) have also joined the partnership. Their financial support will help cover a portion of the administrative costs for both current and new groups.
In September 2018, an information session was held in Sintaná. Pre-credit training began the first week of October and women received their microloans. The group selected the name "Coffee Flower Women Entrepreneurs," which honors the predominant crop in the region and boldly declares themselves as business founders!
Sixteen women in El Progreso have organized as "Women Workers with Hope." This group has completed their training and received their first microloan checks in October 2018. During the training, women commented that they had never been to a workshop where they talked about the value of women and the recognition of their work. These are new experiences for them and they enjoy talking about it.
Our goal continues to be supporting Guatemalan women as they grow in self-esteem, hope and freedom, and to help them develop sources of economic income for themselves and their families.
Mimi Michael is a member of the PWNC Microloan Task Force.