Horizons: January/February 2016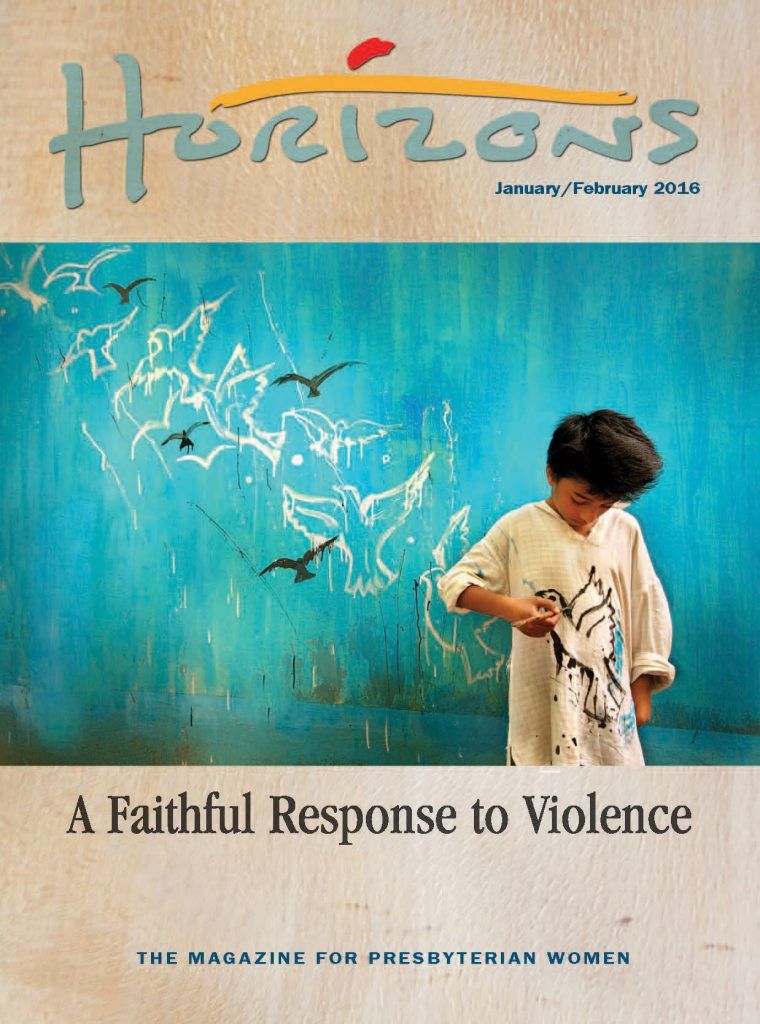 Violence in many forms (against entire races, sibling-on-sibling, cultural, physical, emotional) has been around since Cain and Abel. But it helps to remember that there are always those willing to speak up and end the violence. There always have been, and there always will be. In this issue, you'll learn about forms of violence that affect all people, but also unique forms perpetrated against women, people of color and other minority groups. But more than anything, you'll learn how to faithfully respond to the problem of violence. There are networks to join, resources through which to learn more, actions to take and always, a prayer to offer in the knowledge that God is always with us.
Features
Violence, Violence Everywhere
Alonzo Johnson reflects on the pervasiveness of violence and the forces that keep us from protesting against it or stopping it . . . until our faith takes over. Drawing inspiration from Jesus' preaching and witness, Alonzo shows that proclaiming and living peace isn't just a possibility, it's an essential part of our faith.
Microaggressions: The Understated Power of a Hidden Violence Against Women
Angela Yarber examines how subtly degrading comments can chip away at people's confidence, soul and even wholeness. Looking particularly at comments directed toward women, Angela explores how seemingly insignificant statements reveal deep-seated beliefs about women's roles, and how they might limit what women achieve.
Violence and Discrimination Against Women in India
Sushma Ramswami highlights the historical, cultural and religious forces that limit women's opportunities in India. She also describes the work that the Church of North India is doing to ensure safety and wholeness for women, as well as to expand women's participation in society.
A Faithful Response to Violence Against Women: Guatemala's Women Empowered by Faith
Emily Wilkes describes what she learned in Guatemala about dismantling a culture of violence against women. Emily participated in a travel study seminar that looked at Guatemala's faith-based and nonprofit initiatives to end violence against women.
Healthy Spirituality Thwarted: Understanding and Recovering from Spiritual Abuse
Karen Wanjico describes what the term spiritual abuse means, how individuals can recover from it and what faith communities and individuals can do to support other people's recovery from spiritual abuse.
Speaking and Hearing the Truth: Maine–Wabanaki REACH Facilitating Healing
Arla Patch details the cultural violence perpetrated against native people in the United States, then profiles how a truth and reconciliation commission helped heal that hurt in Maine.
A Sandwich, A Sanctuary, A Community: The Reformed Church of Hungary and Church of Scotland Welcome Refugees
Derek Macleod celebrates the work of churches in Hungary to provide meaningful, faithful welcome to Syrian and Iraqi refugees fleeing violence.
Deep Roots, Deep Conflict: Understanding the Tensions and Ties Between Russia and Ukraine
Burkhard Paetzold explores the layers of history and identity that have created a deep, yet conflicted, relationship between Russia and Ukraine.
PW Resources
Birthday Offering Recipients
Birthday Offering Dedication Service
Bible Study Resource
Irene Pak offers a reflection and questions for use in studying Lessons Seven and Eight of the 2015–2016 Horizons Bible study, Come to the Waters, by Judy Record Fletcher.
Departments
Devotion
The Peace of Christ
Cecilia Amorocho Hickerson
After the Offering
More Housing, More Safety
Mary Cook Jorgenson
Stories from the Ages
Women of Certain Ages
Hillary Moses Mohaupt
Working for Justice and Peace
Hearts in Anguish
Yvonne Hileman
Supporting Mission
Vengan a Las Aguas en Cuba: PW's Come to the Waters Study in Cuba
Kathy Randall
Mosaic
News and Information About Presbyterian Women and the Presbyterian Church (U.S.A.)
Books
Pages Worth Turning
Building Community
A Sewing and Knitting Community
Carol Gruber
Faithful Parenting
Moving Past Anger to Non-violence
Amy Starr Redwine
Strengthening the PC(USA)
A Shared Prayer
Larissa Kwong Abazia