Horizons: July/August 2017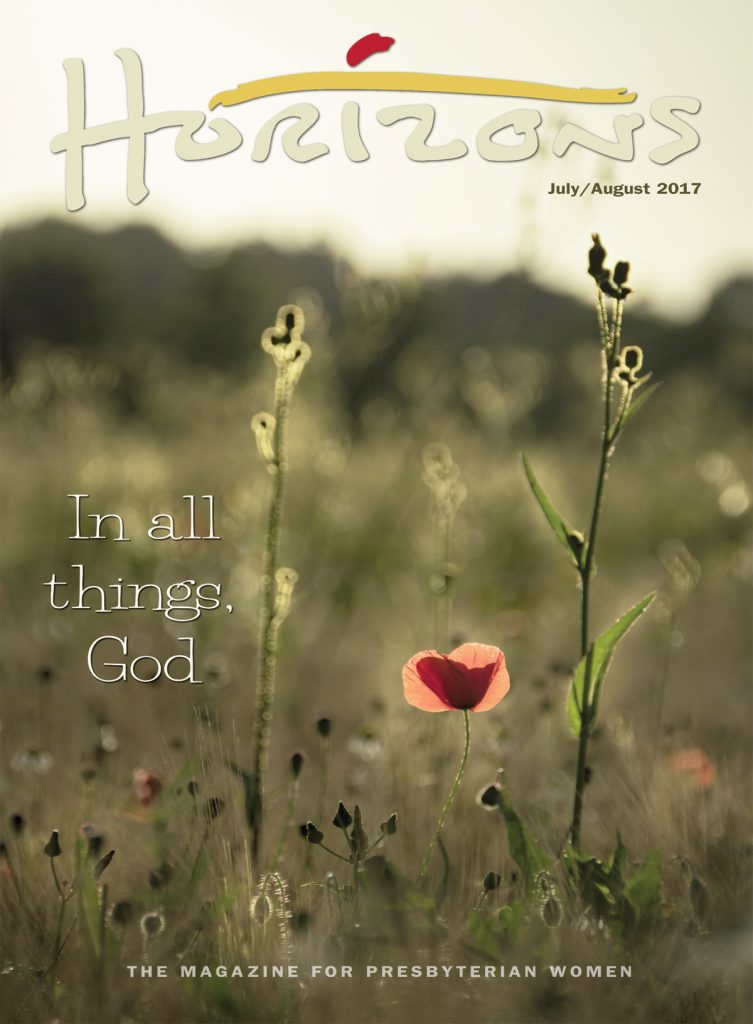 In all things, God
We all know our faith lives don't happen exclusively in the pews on Sunday morning. Despite knowing that God is always with us, it's hard to always feel God with us. It's easy to feel God in the sanctuary, when we're awash with the hymns and rituals of our faith. It's harder to feel God's presence when we're knee-deep in the mundane—another weed to pull, another staff meeting, another rally, another floor to sweep, another application to complete, another email to write.​
All too often, we separate the spiritual from the secular. Yet Ephesians 4:6 tells us that God is "above all and through all and in all." 
The contributors to this issue, representing a variety of skills and passions, explore how God and God's vision for us is ever-present, flowing through every part of our beautiful, gritty, sticky, demanding, baffling, frustrating, glorious world. We might describe ourselves as mathematicians or writers or advocates, but we're all part of the mystery and marvel of God's interconnected creation. We just need to pay attention and feel God's presence.​
So whether you just came from the garden, the doctor's office, church or the airport, settle in to celebrate God in all things.
Already a subscriber? Log in to read this issue.
Features
"Behold, I Show You a Mystery": Finding Community and Biblical Echoes in Modern Mystery Novels
Joyce MacKichan Walker loves to think theologically, but doesn't stop when she puts down the Bible. In this article, she shares her love of Louise Penny's mystery novels, which are replete with theological themes and biblical allusions.
To the Moon and Back: Presbyterian Woman and NASA Engineer Christine Darden
Dawn Araujo-Hawkins highlights the career and witness of Presbyterian Christine Darden. As a black woman working as an engineer at NaSa in the 1960s, she was a rarity. But with her intelligence, determination and faith, she made unique contributions to NaSa and continues to boldly witness and encourage today.
Women Around the Globe: The 61st United Nations Commission on the Status of Women
Wanda Beauman reflects on her experience at the 61st UN Commission on the Status of Women and the themes that emerged during participation and discussions.
Read article.
PW Resources
Call to the Gathering
2017 Thank Offering Recipients
2017 Thank Offering Dedication Service
Bible Study Resource
Patricia K. Tull offers reflections and questions for us in studying Lessons One and Two of the 2017–2018 PW/Horizons Bible study, Cloud of Witnesses: The Community of Christ in Hebrews by Melissa Bane Sevier
Departments
Devotion
Acts of Creation
Cecilia Amorocho Hickerson
Unpacking the Theme: Scripture Study
Living a Revolutionary Love
Amy Kim Kryemes-Parks
After the Offering
What a Difference a Thank Offering Grant Makes
Carol Winkler
What One PW Is Doing
Day for Girls
Candy King
Stories from the Ages
Some Thoughts and Some Instructions
Hillary Moses Mohaupt
Working for Justice and Peace
Brilliant but Troubled: Between Mental Illness and Incarceration
Susan Barlow
Supporting Mission
Mission in Mexico Grows Faith
Ruth Fraser
Mosaic
News and Information About Presbyterian Women and the Presbyterian Church (U.S.A.)
Books
Pages Worth Turning
Building Community
A Community of Writers
Carol Gruber
Faithful Parenting
Nurturing Gifts in and for God's People
Amy Starr Redwine
Strengthening the PC(USA)
A Faithful Reaction
Carol Winkler