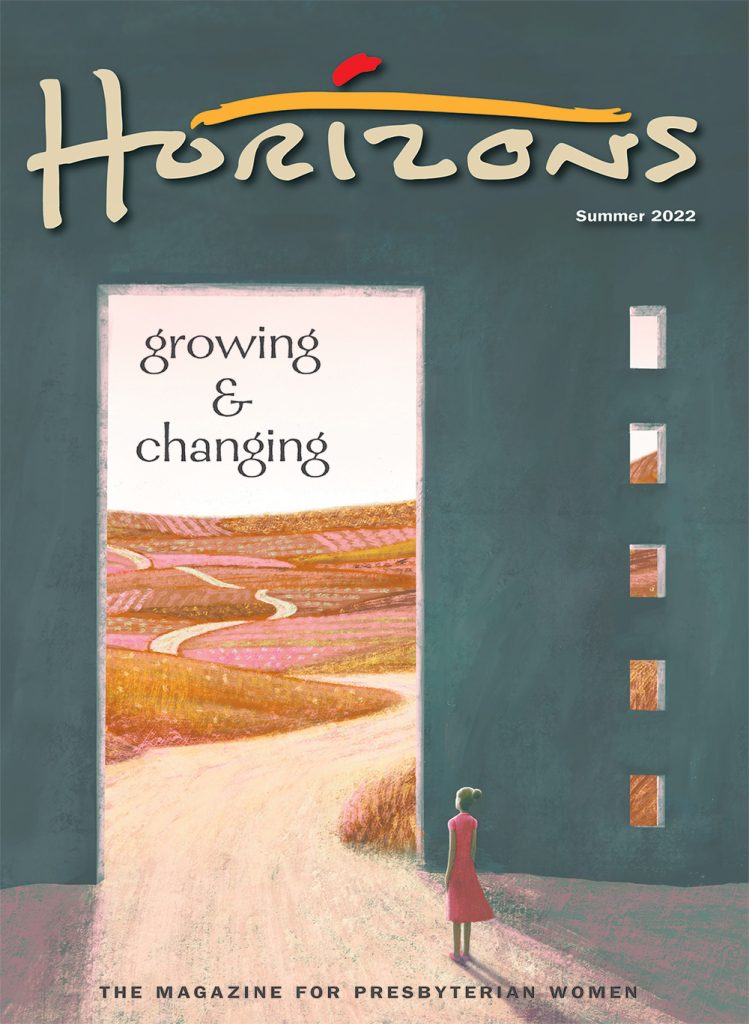 Summer 2022
Growing and Changing
"I want it to be the same and I want it to be different," sobbed a child. A balloon artist had just twisted a few pink balloons into a dolphin for one child and asked the next child if they wanted a dolphin or something else. The child's weeping and Gordian knot answer halted the playful chatter of a few moments ago. The artist's eyes darted from the sobbing child, to the child's sibling, to the adult with them.
I've long forgotten many details of the balloon animal conundrum, but "I want it to be the same and I want it to be different" has come to mind at many pivotal moments of change.
Change can be difficult for a multitude of reasons—perhaps it's unwanted, unnecessary or sudden change. Perhaps we've just achieved a kind of balance with the way things were, and are faced with having to recalibrate again. Perhaps we're worn out by the truth of the axiom "The only thing that never changes is that everything changes"—and that includes us. We're constantly growing and changing, as is the world around us.
In this issue, writers and artists share pivotal moments of growth and change—sending children to school, recognizing a gap in support for a  particular community, moving, learning, sharing and more. You'll learn how a mission for children in Romania used their skills and network to offer support to Ukrainian refugees. You'll find out why two PW groups cautiously returned to in-person meetings, eager to stretch their engagement and build community. You'll learn about ways to support siblings in Christ who are feeling alone after a difficult two years.
Through these stories and images—whether of change sought out or forced change—may you draw strength from the nudges of the Holy Spirit, the bold witness of Jesus Christ and the enduring love of God.
Already a subscriber? Log-in to read this issue.
Features
We Belong to God
Kathy Dale McNair shares insights and statistics about people impacted by the epidemic of loneliness, and describes ways faith communities can offer support.
For Times Such as This
Carol Schempp describes the evolution of the Romanian organization NOROC, beginning with their "Big-Hearted Grannies" program to cuddle newborns all the way to how they are using their space and personnel to meet immediate needs of Ukrainian refugees.
PW Resources
2022 Thank Offering Recipients
2022 Thank Offering Dedication Service
Anna H. Bedford Bible Study Resource
Danelle Crawford McKinney offers reflections and questions for use in studying Lessons One and Two of the 2022–2023 PW/Horizons Bible study, Celebrating Sabbath: Accepting God's Gift of Rest and Delight by Carol M. Bechtel.
Departments
Devotion
Growing Wings
Cecilia Amorocho Hickerson
Unpacking the Theme: Scripture Study
The Outpouring
Rev. Shavon Starling-Lewis
What One PW Is Doing
The Seed Waiting To Be
Lisa Gray
Faithful Parenting
Growing and Changing
Melanie Marsh
Building Inclusive Community
Growing and Gentrification
Micah Rose Emerson
Books
Pages Worth Turning
After the Offering
Supporting Stillman
Rhonda Mawhood Lee
Working for Justice and Peace
Beyond Pink and Blue
Sharon Dunne Gillies
Supporting Mission
Re-envisioning Community Care for Children
Christi Boyd
Mosaic
News and Information about Presbyterian Women and the Presbyterian Church (U.S.A.)
Stories from the Ages
The Very Hungry (and Very Tired) New Parent
Hillary Moses Mohaupt