Horizons: January/February 2019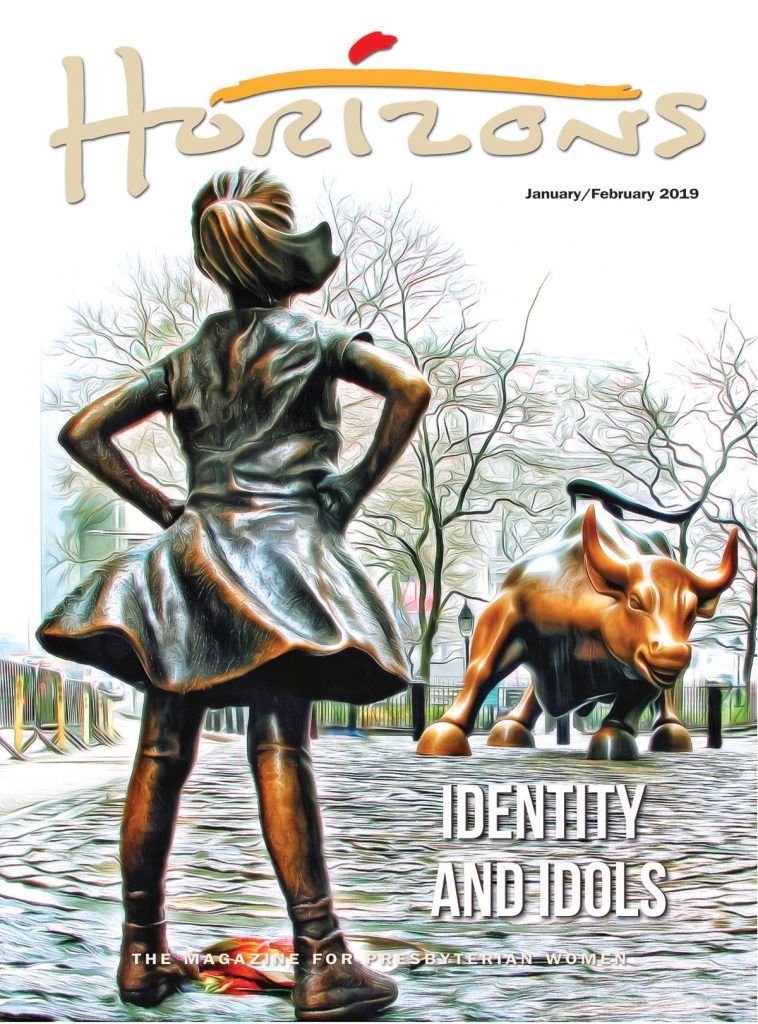 Identity and Idols
When Horizons explored Identity in the March/April 2017 issue, the topic struck a chord. There's just so much to say, paint, sing or sculpt about who we are, how we relate to others and what we are called to do. That's why we have chosen to explore this topic once again! In this issue, our contributors celebrate our amazing diversity of identities and what we have in common-namely, being children of God.
As people who "in life and in death belong to God" (Brief Statement of Faith), we have an identity that transcends gender identity, favorite dessert, race, Myers-Briggs© personality type, language, sports allegiance, nationality or any other way that we identify ourselves. The Ten Commandments begin with a reminder from God—"I am the LORD your God"—and then instruct that we shall have no gods other than God. Before any guidance about how to engage with others, we are reminded that God is our foundation.
So when we are ready to consider who we are in relation to others, we need to address that identity critically. Upcoming Bible study author Eugenia Gamble explores what the Old and New Testaments teach us about idolatry—about forgetting that God is our foundation—and reflects on how our focus on worldly power blinds us to God's enduring presence and the power of steadfast faith. Or as the image on the cover questions, what does it take to stare down worldly power? Are we willing to feel small, afraid or alone, because we have faith that in God we are none of those things?
God's power, imagination, and presence are limitless, as contributors to this issue celebrate. Eric Barreto suggests a way of looking at our identities that allows us to glimpse God's boundless imagination. Rebecca Davis celebrates the life and legacy of Katie Geneva Cannon, who worldly powers wouldn't have considered a leader, but who became the first African American woman ordained in the Presbyterian Church and a leading voice in reading the Bible from a womanist perspective. Louise Van Poll interviews Presbyterian Women and learns about the many ways that we hear, understand and experience the Ten Commandments, but the one commonality we all experience there.
Whoever you are, wherever you are, whichever dessert or sport you prefer, settle into these pages with the knowledge that you are God's beloved and a member of God's beloved community.
The cover image of a little girl standing her ground is quite striking. The bull of Wall Street conjures images of growth and prosperity. But the little girl is as powerful in her stance as the bull is resolute in his. As women of faith, we may find ourselves relating to this young person every time we take a stand against a worldly pursuit when that pursuit exploits God's children or world. So what does this have to do with an issue that explores identity? Everything! Our identity in Christ unites us and gives us the firmest of foundations. Everything else—our age, ethnicity, favorite sports team—is still a cause for a celebration. Within these pages, we celebrate our diversity as we are mindful or our shared identity.
Already a subscriber? Log-in to read this issue.
Features
Taking Another Look at the Big 10
Louise Van Poll interviews Presbyterian Women from across the country about their experiences with and thoughts about the Ten Commandments. Enjoy their candid insights as they reflect on how these words of instruction and guidance from God simultaneously challenge and hearten them.
Difference Is a Gift
Eager to live into the vision God has for the world, Eric Barreto looked to the Book of Acts for a template. But he found something better—a new way of looking at differences and a glimpse of a God who loves without boundaries.
A Mentor, A Scholar, A Change Agent: Honoring Katie Geneva Cannon
Rebecca Davis celebrates the life and legacy of Katie Geneva Cannon, the first African American woman ordained in the Presbyterian Church, who introduced many in the church to womanist theology and expanded our understanding of scripture.
PW Resources
Bible Study Resource
Roula Alkhouri offers reflections and questions for use in studying Lessons Seven and Eight of the 2018–2019 PW/Horizons Bible study, God's Promise: I Am with You by Amy Poling-Sutherlun.
2019 Birthday Offering Dedication Service
2019 Birthday Offering Recipient List
2018 Horizons Index
Departments
Devotion
Known as a Christian
Cecilia Amorocho Hickerson
Unpacking the Theme: Scripture Study
Looking for a God that Sparkles: Idolatry and Images in the Bible
Eugenia A. Gamble
After the Offering
Microloans with a Big Impact
Mimi Michael
Supporting Mission
Disaster Recovery with Presbyterian Women in Puerto Rico
Danilie C. Hilerio Villanueva
What One PW Is Doing
Weaving Together Ideas for Action
Beverly Roselieb
Faithful Parenting
Growing and Knowing
Amy Starr Redwine
Stories from the Ages
Take the Break
Hillary Moses Mohaupt
Mosaic
News and Information About Presbyterian Women and the Presbyterian Church (U.S.A.)
Books
Pages Worth Turning
Strengthening the PC(USA)
Beyond Never and Always
Cindy Kohlmann