Horizons: January/February 2022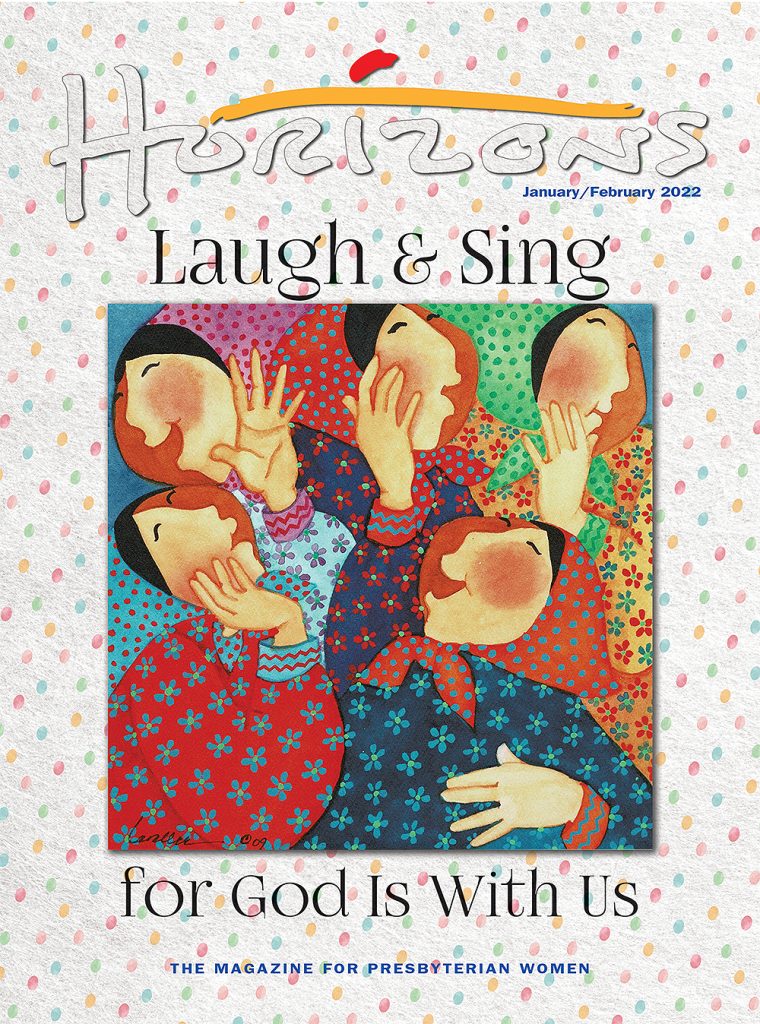 January/February 2022
Laugh and Sing for God Is With Us
Laughing? Singing? Two years into a global pandemic, the encouragement to laugh and sing might seem, well, laughable. Even before Covid-19, it wasn't easy to remain joyous when injustice, natural disaster and our mortal nature mean we'll never have enough days with those we love in the world we love.
Just because it's not easy doesn't mean it's impossible. Perhaps you saw images online or in your church of pew signage to enforce social distancing? Inspired by Jeremiah 29:13, witty church staffers posted signs that read "'When you seek me, you will find me . . . .' Just not in this pew. Keep seeking." Depending on your sensibilities, that may inspire an eyeroll rather than a laugh. Even if the joke didn't land for you, it's heartening to know that someone realized a big X or "STOP" would feel bleak and used their humor and knowledge of scripture to try to bring some levity.
That "Let's do what we can" outlook feels rather timely given the last issue of Horizons. And of course, it's a pervasive spirit in Presbyterian Women. As each new day dawns, will we lament who or what we are missing? Or will we focus on what we still have? Or better yet, can we take a moment to acknowledge what we lack and then draw on our varied gifts to fill that gap? In this issue, contributors explore the ways that song and humor can enrich our lives, our worship and even our understanding of God. Whether through adding inclusive language to hymns, embracing our creativity, celebrating underappreciated stories or images, the creative force behind humor and song is a gift God wants us to use.
Presbyterian women know that God graciously and generously blesses us every day. That alone is enough reason to sing God's praises. Knowing that we can faithfully respond to God by using our gifts for the benefit of God's creation is a cause for glee.
Already a subscriber? Log-in to read this issue.
Features
Singing Prayers: The Legacy of Jane Parker Huber
Janet Huber Lowry reflects on how her mother's love of music shaped her children's lives and later enriched worship experiences for Presbyterians and beyond.
An Irreplaceable Part of God's Community: The Beyoncé Mass Shares Black Women's Stories
Yolanda Norton pulls back the curtain on the goals and impact of the Beyoncé Mass—a worship service designed with the voices and experiences of Black women at the center.
God the Parent . . . Who Has Just About Had It Up to Here!
Thomas C. Willadsen offers a light-hearted look at language and scripture, including insights into how our word choices and language shape our relationship with God.
PW Resources
Anna H. Bedford Bible Study Resource
Melva Lowry offers reflections and questions for use in studying Lessons Seven and Eight of the 2021–2022 PW/Horizons Bible study, What My Grandmothers Taught Me: Learning from the Women in Matthew's Genealogy of Jesus by Merryl Blair.
2022 Birthday Offering Recipients
2022 Birthday Offering Dedication Service
Departments
Devotion
Anyone Can Whistle
Cecilia Amorocho Hickerson
Unpacking the Theme: Scripture Study
Write Songs of Hope, Joy, Wonder and Peace
Aisha Brooks-Johnson
After the Offering
Food for Thought Garden at University of the Ozarks
Larry Isch
Working for Justice and Peace
Will You Commit to 16 Days?
Kathleen Keefer and Cheri Harper
Books
Pages Worth Turning
Building Inclusive Community
Connecting and Healing Through Laughter
Micah Rose Emerson
Mosaic
News and Information about Presbyterian Women and the Presbyterian Church (U.S.A.)
Supporting Mission
Mission Crafters
Karen Groman and Judith March Hardie
Stories from the Ages
Finding the Rhythm
Hillary Moses Mohaupt
Strengthening the PC(USA)
A Powerful Witness
Kathleen Keefer