Horizons: January/February 2018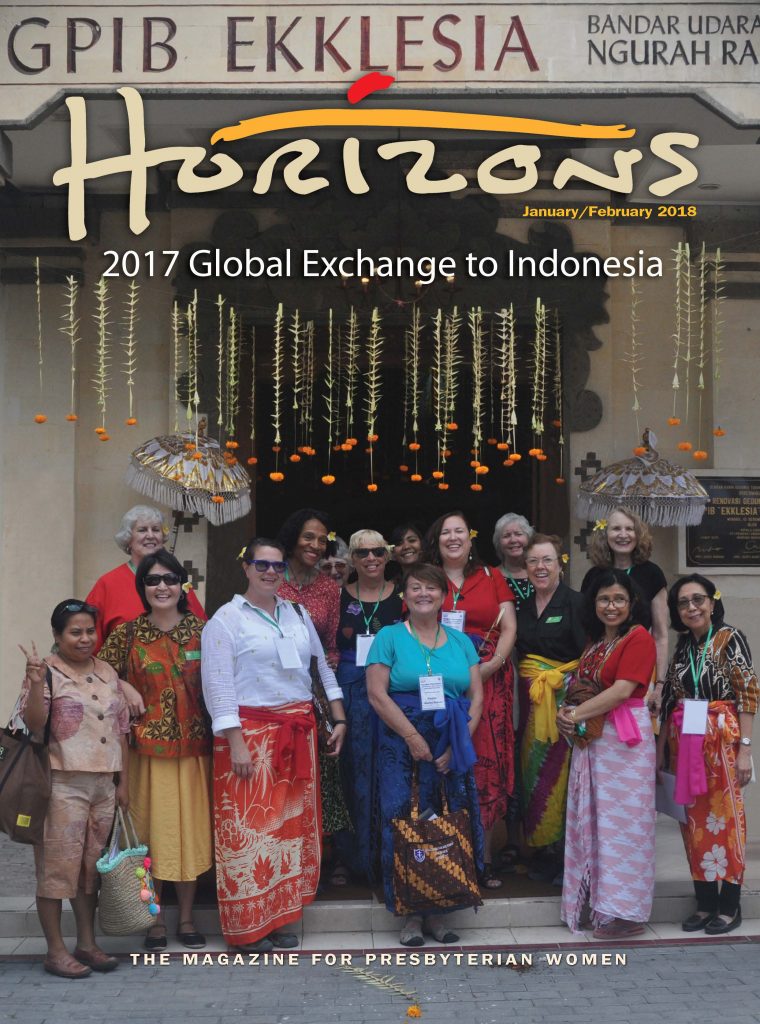 2017 Global Exchange to Indonesia
One of the books recommended for the Global Exchange participants as pretrip reading was Indonesia, Etc.: Exploring the Improbable Nation by Elizabeth Pisani. Improbable Nation? What a baffling title. Or, it's baffling until you learn about Indonesia; then, suddenly, it's the only title that makes sense.
In the United States, we identify in so many ways—race, ethnicity, languages spoken, gender identity, sports allegiances, political affiliation, denominational and church membership, snowbird or sunbird . . . . But in Indonesia— despite it's being made up of thousands of islands where hundreds of languages are spoken—people consider themselves primarily Indonesian. Certainly race, language and religion play into how Indonesians live their lives and express themselves. But the call to live in harmony with one another is one of the most significant forces in their lives.
In the following pages, you'll see and read about the broad diversity of Indonesia (and maybe find yourself marveling a bit as to how it all works!). From the many national influences that shaped Indonesia as a spot on the ancient trade routes to the major world religions practiced there, Indonesia really does defy most expectations of what unity looks like.
You'll also read reflections from the Global Exchange participants about who and what moved them. As with anywhere that determined women work toward a shared goal, you'll be inspired by the creative and faithful programs Indonesian women and men have established to meet the needs of God's people. You'll hear about moments when their Indonesian hosts went above and beyond, and then some, with their hospitality and graciousness.
All of this is not to say that Indonesia is a problem-free utopia where everyone is happy. As in our own country, cultural expectations, poverty and/or a lack of opportunities, keep some women from living the lives they dream of for themselves. Indonesia is also a country struggling with human trafficking, which thrives when people see only limited opportunities and possibilities for their futures.
But Indonesians are finding creative answers to these problems, hopeful alternatives in the face of bleakness. They're working on solutions together. When you hear from the Global Exchange participant in your synod, you'll likely hear that their time in Indonesia was not just with women from our partner church, but with Muslim and Hindu women, as well. Women from all faith traditions support good work together, regardless of who started the work or who needs the help. Take inspiration from our faithful sisters in Indonesia, and as we start 2018, look for ways that you, too, can build bridges of understanding.
Features
Sisters in Faith
Peggy Free reflects on the importance of the Global Exchange program, including the bonds (across oceans) that it makes possible.
Unity in Faith
Mienda Uriarte highlights the history behind Indonesia's current religious, ethnic and linguistic diversity, as well as how the country has succeeded in unifying its people across these differences.
Seeking Home: Combatting Trafficking and Finding Hope for Survivors
Carla Natan shares the story of Risda, a young girl who faced difficult choices in the face of poverty and need. She explores how the blight of human trafficking threatens and wounds the vulnerable and what Indonesia is doing to end it.
Regional and Relational: Addressing Migration and Human Trafficking in Asia
Cathy Chang profiles networks, programs and individuals working to end human trafficking around the world. She celebrates God's grace in bringing advocates, survivors and change agents together to ensure wholeness for all people.
The Mighty Witness of a Minority Presence: Indonesian Women Embodying Christ's Love
Ejodia Kakoensi describes the lives and work of women in the Indonesian churches, including their roles as leaders in the church, their prophetic voices in broader society and the way they work across denominational and religious lines to bring about justice.
Griya Jati Rasa Co-op: Justice, Peace, Relationships and Livelihoods
Farsijana Adeney-Risakotta details how microenterprises and cottage industries in Indonesia empower women and offer them financial stability. She also reflects on the ways that Indonesian churches and Duta Wacana Christian University support these small businesses.
Indonesia and the Future of Muslim-Christian Relations
Bernard Adeney-Risakotta muses on the current state of Muslim-Christian relations in Indonesia, how religious extremism impacts those bonds, and various models for how people of different faiths interact with another.
2017 Global Exchange to Indonesia
Read about the goals of the Global Exchange, learn more about Indonesia as a nation, and find contact information for the Global Exchange participant from your synod.
PW Resources
Bible Study Resource
Patricia K. Tull offers reflections and questions for us in studying Lessons Seven and Eight of the 2017–2018 PW/Horizons Bible study, Cloud of Witnesses: The Community of Christ in Hebrews by Melissa Bane Sevier
2018 Birthday Offering Dedication Service
2018 Birthday Offering Recipient List
Departments
Devotion
Building Bridges of Understanding
Neil Napitupulu
Unpacking the Theme: Scripture Study
Mutual Encouragement
Désirée M. Youngblood
After the Offering
A Home, A New Start
Helen McMasters
Books
Pages Worth Turning
Mosaic
News and Information About Presbyterian Women and the Presbyterian Church (U.S.A.)
Working for Justice and Peace
Courageous Voices of Women in Guatemala
Sandi Thompson-Royer
Strengthening the PC(USA)
Getting Out of the Pew
Carol Winkler