Horizons: July/August 2018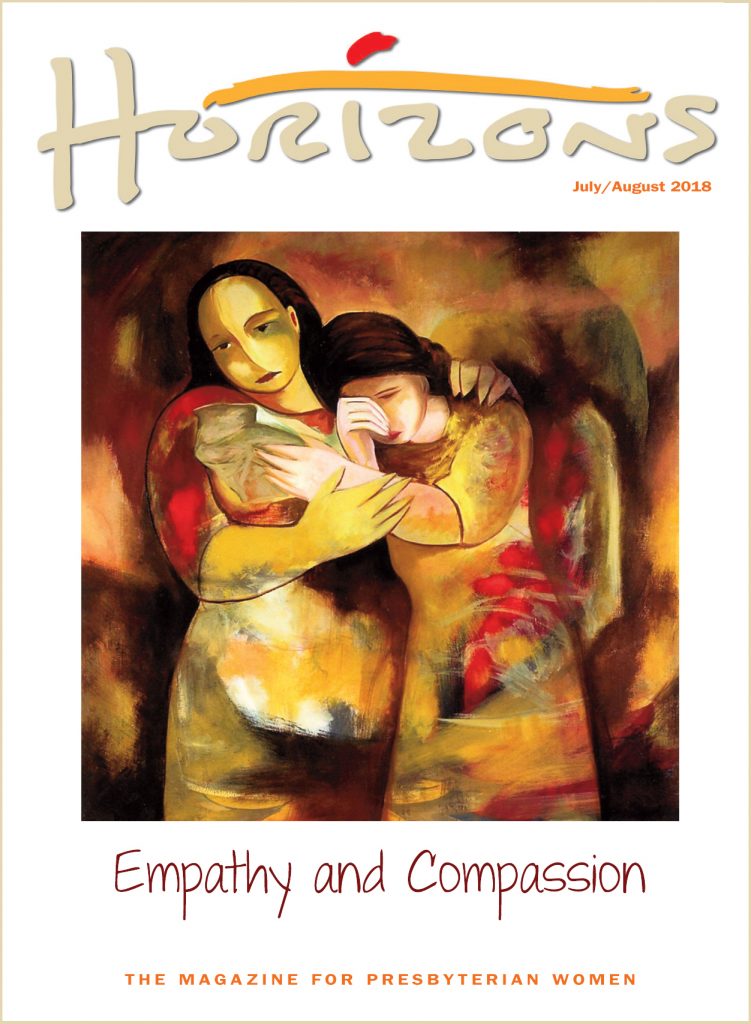 Empathy and Compassion
Amos had a lot to do at the zoo, but he always made time to visit his good friends."
Readers of Philip C. Stead and Erin E. Stead's A Sick Day for Amos McGee (New York: Roaring Book, 2010) quickly see that Amos does so much more than visit his friends. He reads stories with the owl, who is afraid of the dark. He sits quietly with the shy penguin who isn't part of any of the other playful penguin duos or trios. He runs a race with the tortoise, and Amos even claps as the lumbering reptile beats him over the finish line. Amos is a role model of compassion. He recognizes what each animal enjoys or needs, then settles in to enjoy the activity with the animal. (Spoiler: When Amos stays home sick one day, the animals treat him with equal care—to the point that it's hard to tell whether it's Amos or the animals who get more out of the activities.)
As the authors in this issue note, compassion isn't just a feeling, and compassion and empathy aren't the same thing. Empathy is understanding how another person feels or experiences the world. Compassion means using that understanding to offer meaningful, respectful support. It's not about adhesive bandages or quick fixes, but rather, it's about sustained attention and respect. In short, compassion is about living into the example that Jesus set.
Lynne Baab reflects what Jesus' interaction with the bent-over woman shows us about empathy and compassion, then offers ways to nurture empathy. Cori Esperanza gives examples of compassionate actions and, well, actions that miss the mark. Carol Wehrheim shares the large and small acts of compassion she and her husband received as he lived with Alzheimer's. Cathryn Surgenor and Hans Hallundbaek describe reconciliation villages that the Rwandan government has created to bring Tutsi and Hutu people together to heal from the genocide that scarred the country. Cassandra Williams reflects on why compassion doesn't just apply to people but also applies to animals and all of creation, and how showing compassion to all of creation can draw us closer to the God who loves and created each of us.
But this issue isn't just a list of ways you can be compassionate. It's a tool for the lifelong development of compassion and a celebration of how com-passion enriches everyone involved. Or as A Sick Day for Amos McGee suggests, compassion blurs the lines between giver and receiver and lets us rest in a space of loving presence.
Already a subscriber? Log-in to read this issue.
Features
Compassion and Restorative Action: Paying Attention Can Promote Flourishing
Cori Esperanza explores the relationship between empathy and compassion, and how a living, loving faith requires us to take compassionate action when we encounter people in the world who are suffering.
Caring for People with Alzheimer's
Carol Wehrheim shares the community she and her husband cherished and the care they both received during his years of living with Alzheimer's. She highlights ways that churches and individuals can be most helpful to those living with this difficult diagnosis.
Forgiving and Forgiven: Forging a New Path in Rwanda
Cathryn T. Surgenor and Hans Hallundbaek share the reconciliation work between Hutu and Tutsi people that they witnessed in Rwanda, more than 20 years after the genocide that tore apart the country. Reflecting on how the ideals they witnessed shape restorative justice ministries, they analyze the complexities of responsibility and forgiveness.
Emissaries of Compassion: Reclaiming the Vocation of Dominion
Having heard more than one instance of dominion being interpreted as domination, Cassandra Williams reflects on what the Bible tells us about caring for the earth and all of its inhabitants.
PW Resources
Bible Study Resource
Roula Alkhouri offers reflections and questions for use in studying Lessons One and Two of the 2018–2019 PW/Horizons Bible study, God's Promise: I Am with You by Amy Poling-Sutherlun.
2018 Thank Offering Recipient List
2018 Thank Offering Dedication Service
2018 Thank Offering Order Form
Departments
Devotion
Unity of Heart and Mind
Cecilia Amorocho Hickerson
Unpacking the Theme: Scripture Study The Compassion and Empathy of Jesus
Lynne M. Baab
Books
Pages Worth Turning
After the Offering
A Giving Opportunity with Deep Roots
Barbara Harden
Stories from the Ages
Nursing Compassion
Hillary Moses Mohaupt
Faithful Parenting
Separation and Suffering
Amy Starr Redwine
Working for Justice and Peace
The Heart of the Family: Reflections from General Assembly
Wanda Beauman
Mosaic
News and Information About Presbyterian Women and the Presbyterian Church (U.S.A.)
Strengthening the PC(USA)
A Relevant and Responsive Community
Jan Edmiston