Horizons: March/April 2021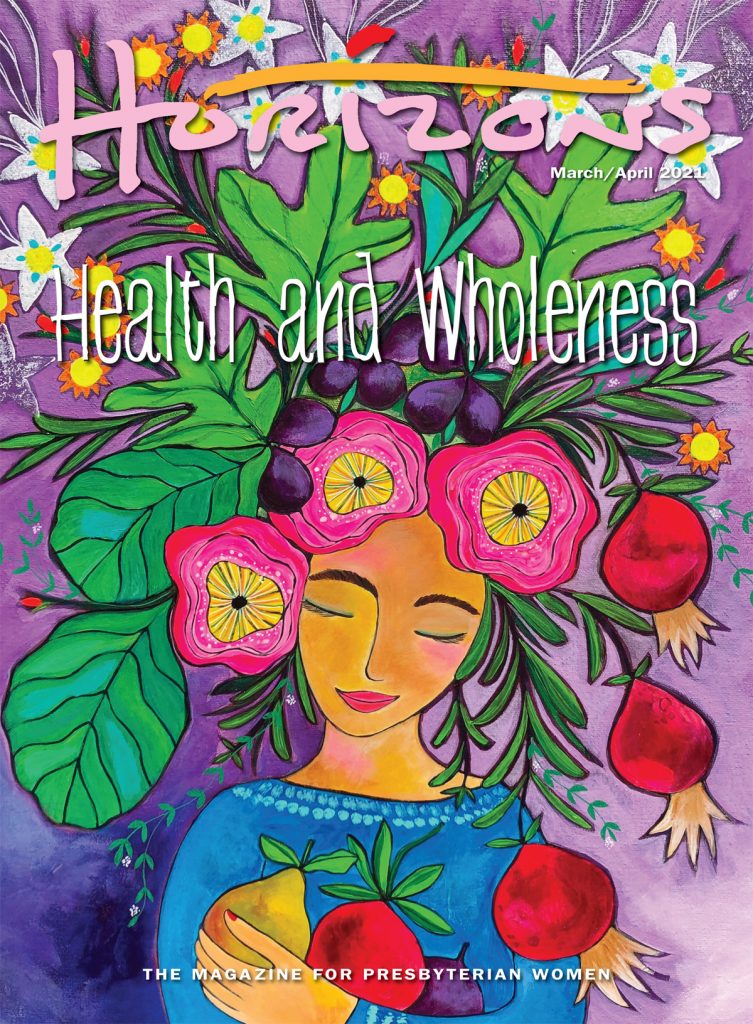 March/April 2021
Health and Wholeness
Although Christians are assured of a life eternal, we, like our savior, are embodied. Death and suffering may not be the end, but they are part and parcel of what it means to be human. Even Jesus "began to weep" (John 11:35) when he learned of the illness and death of his friend, Lazarus. In his ministry, Jesus did not turn away from people experiencing illness, no matter how serious or stigmatized their condition was.
Today, our illnesses tend not to be leprosy or possession by demons. Since Jesus' time, we've come to an understanding that health encompasses physical, mental, emotional, and spiritual well-being. And particularly in the last year, we've recognized we can't be healthy as individuals if others in our community are not healthy. COVID-19 brought sharper awareness to interconnected health and our role in protecting others' physical health, whether that be holding outdoor gatherings, connecting with friends and family online, wearing masks, or staying six feet apart. The last year also underscored how much our well-being hinges on justice. Whether the threat is racially-motivated violence, transphobia, homophobia, misogyny, or systemic racism in healthcare, these injustices end lives and threaten the well-being of God's children.
In this issue, contributors explore what it means as individuals, as members of congregations, as part of Presbyterian Women, and as a society to work toward less suffering and more support for all. Writers and artists share their visions of what we can do to promote health and wholeness for ourselves and our communities. Samantha Paige Davis spotlights the work of the PC(USA) task force studying the disparities experienced by Black women and girls and suggests ways we can push for justice. Shanea Leonard explains what reproductive justice means, what the church has said about this topic for all genders, and how healthy communities are vital to individual health.
There's no health focus too small to be life-changing, as Virginia Bell high-lights in her article about the ways that parish nursing supports everyday health for a congregation in Michigan. There's no societal norm that should be left unquestioned, as Susan Jackson Dowd describes in her article about Presbyterian Women's past, present, and future. Healing the sick and building a beloved community—with our neighbor or the planet—is our sacred inheritance as people of faith. 
Already a subscriber? Log-in to read this issue.
Features
An Ethic of Love: Understanding and Addressing Disparities Experienced by Black Women and Girls
Samantha Paige Davis describes five areas of focus on which the PC(USA) is being called to listen, learn and advocate to be in solidarity with Black women and girls.
Unpacking Reproductive Justice: What It Is, What It's Not and What
the Church Says
Shanea Leonard shares what reproductive justice entails and who it impacts (more than you may think on both counts!). They explore the ways in which choice regarding the creation of families has been denied to some people and what the Church says about reproductive justice.
Advocacy and Care: The Evolving Call of a Parish Nurse and Wellness Coordinator
Virginia Bell highlights how First Presbyterian Church in Ann Arbor benefits from the service and care of a parish nurse. 
Redefining Normal: A Brief History of Presbyterian Women Navigating Change
Susan Jackson Dowd offers a quick look at Presbyterian Women's history and the many instances in which Presbyterian women (individually and collectively) challenged assumptions about what was normal, to the benefit of the church and the world.
PW Resources
2020 Honorary Life Membership Recipients
Installation Service for Presbyterian Women Leaders
We Persevere
Vilmarie Cintrón-Olivieri
Anna H. Bedford Bible Study Resource
Joyce MacKichan Walker offers insights and questions for use in studying Lesson Nine of the 2020–2021 PW/Horizons Bible study, Into the Light: Finding Hope Through Prayers of Lament by P. Lynn Miller.
Departments
Devotion
Caring for Our Whole Selves
Cecilia Amorocho Hickerson
Unpacking the Theme: Scripture Study
Enough
Patrick D. Heery
Building Inclusive Community
Cameras On, Relationships Growing
Micah Rose Emerson
Books
Pages Worth Turning
Stories from the Ages
Holistic Health in the Time of COVID
Hillary Moses Mohaupt
Faithful Parenting
Care, Call, and Boundaries
Amy Starr Redwine
Working for Justice and Peace
Reading to Inform Justice Work—A Racial Equity Focus
Stephanie M. Patterson
Mosaic
News and Information about Presbyterian Women and the Presbyterian Church (U.S.A.)
After the Offering
Food for Thought
Karen H. Webster