Horizons: March/April 2017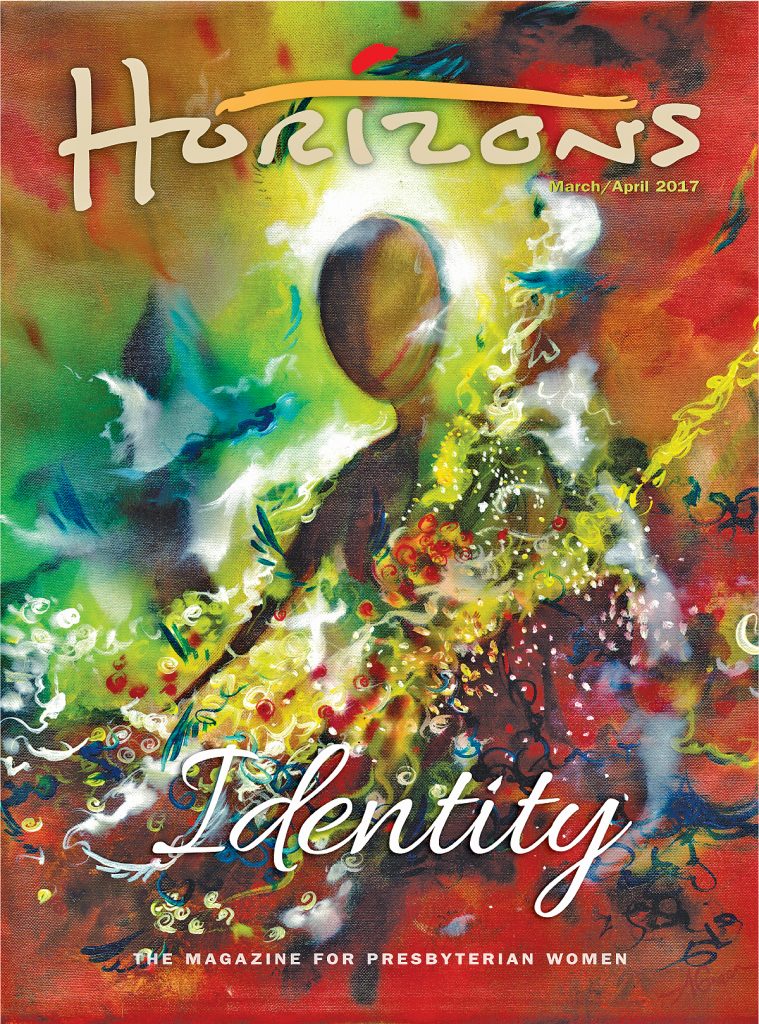 Identity
"Tell me about yourself."
This prompt, this invitation has been uttered in office buildings, church meet-ing rooms, classrooms, subways, golf courses, kitchens. Saying it means some-one is setting aside (or at least trying to set aside) preconceived ideas of who the other person is. Answering it means being brave, showing oneself up without any assurances that those preconceived ideas won't take over.
Certainly, there are easy ways to answer that question: "I just started my first teaching job." "I'm newly retired!" Or more personal: "I'm recently widowed." "I went to DC for the Women's March." Sometimes, the conversation fizzles out. But other times, especially with Presbyterian Women, the conversation takes off, unearthing the passions, vocations, past experiences and hopes that connect those talking.
This issue celebrates just some of the diversity you might encounter. We hope that these 40 pages are a start, that the writers' reflections on race and gender identity, on individual and group identity spark many conversations for you wherever you go. Most of all, may you feel the blessing that, regardless of any other identity label you choose, you are fore-most and forevermore, a child of God.
Already a subscriber? Log in to read this issue.
Features
"Tell Me Again. . .": Baptism as a First and Foundational Story
In our Christ faith, in our families and for our sense of selves, stories tell us who we are and where we came from. Rebecca Davis highlights the importance of including baptismal stories in the canon of beloved family stories.
Gender Identity and the Sacred: Widening the Church's Embrace
Gender and sexual identity has long been a taboo topic. Yet for churches and individuals committed to affirming all people, openness around these aspects of identity is essential. Angela Yarber outlines terminology, trends and opportunities for individuals and churches to consider in conversations and ministry.
DisGRACE: The Church Addresses Racism
Although race is a social construct, it plays a large part in how the world sees each of us and how each of us experiences the world. Irene Pak Lee and Mindy Douglas reflect on how Montreat's DisGRACE conference opened spaces for people of color and white people to talk about their unique experiences of systemic racism in the church and our country.
Read excerpt.
Who I Was, Who I Am
Hattie Kauffman thought she knew who she was—a successful Native American woman. Then, one day, she realized that all she thought she knew of herself and all she held dear fell away to make space for her real identity: child of God.
PW Resources
Bible Study Resource
Katie Mulligan offers reflections and questions for use in studying Lessons Nine of the 2016–2017 PW/Horizons Bible study, Who Is Jesus? What a Difference a Lens Makes, by Judy Yates Siker.
2016 Honorary Life Membership Recipients
Installation Service for Presbyterian Women
Better Together
Mamie Broadhurst
Download PDF
Departments
Devotion
Wondrously Worthy
Cecilia Amorocho Hickerson
Unpacking the Theme: Scripture Study
We Walk in Faith
Mihee Kim-Kort
After the Offering
Playing and Growing at "New House"
Kristen Harris-Bridwell
Stories from the Ages
The PW Identity—An Alphabetical Analysis
Hillary Moses Mohaupt
Supporting Mission
Global Exchange to Indonesia
Peggy Free
Working for Justice and Peace
Incarceration and Literacy
Nancy Long
Mosaic
News and Information About Presbyterian Women and the Presbyterian Church (U.S.A.)
Books
Pages Worth Turning
Building Community
Ecumenical, Welcoming, Growing
Carol Gruber
Faithful Parenting
With You God Is Well Pleased
Amy Starr Redwine
Strengthening the PC(USA)
Living the Beatitudes
Denise Anderson