Horizons: March/April 2018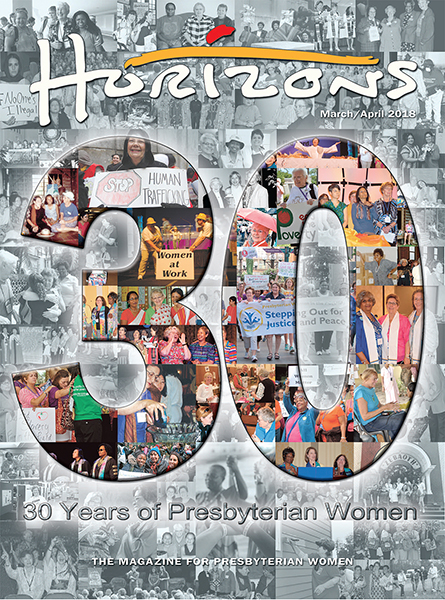 30 Years of Presbyterian Women
You may be thinking, "Wait . . . Presbyterian Women is only 30?" Well, yes and no. Today's Presbyterian Women organization was born in 1988. The Presbyterian Church in the United States and the United Presbyterian Church in the USA reunited in 1983; the women's organizations in these two denomina-tions—Women of the Church and United Presbyterian Women, respectively—merged in 1988. But even those two predecessor organizations are only part of the story; the tradition of groups of Presbyterian women organizing has a more-than-200-year heritage.
With that history revisited, let's take this moment to celebrate 30 years of Presbyterian Women as we know it now. The following pages highlight just part of what PW has seeded and achieved since 1988. The articles and timelines show what happened in PW Churchwide, but, as we all know, our organization is so much more than that. It is amazingly rich and connectional, from the local PW group on up.
Whether you're a PW in Abingdon Presbytery or in the Presbytery of the Yukon—or anywhere in between—you'll find something in this issue that speaks to the committed ministry of your group. Some of the priorities and ideas started in circles have made their way to and been adopted by PW Churchwide. Members of Presbyterian Women's Churchwide Coordinating Team (its national board) have taken some of these ideas back to their circles or PW in the Presbytery or PW in the Synod groups. Other ideas were started at the Churchwide level, then found fertile ground in specific PW in the Congregation, Presbytery or Synod groups.
All that to say, in the following pages, there's a good chance you'll see the seed, sapling or sequoia of a project that has a special place in your group's mission.
As you look through these pages and celebrate the witness of Presbyterian Women, take a moment—or an afternoon or a whole gathering!—to celebrate your PW. Who have been the leaders who energized your group? Who kept your group committed during difficult times?What ministry captured the attention of your group? What mission or advocacy work changed the way your group thought about its ministry? (While you're reflecting on that, consider making a 12″ x 12″ scrapbook page to honor that person or ministry, and bring it to the Gathering to add to the Cloud of Witnesses display!)
Today's PW proudly continues the rich tradition of our predecessor organizations and the faithful women who made this world a better place for God's people and all of God's creation. Every time we give to a Thank or Birthday Offering, support a mission co-worker, add a penny to the Least Coin collection, attend a session meeting, participate in Bible study, stand in the pulpit or serve on a board, we have many sisters in faith to thank, and many in the future who will be grateful for our witness.
Have a great story to share? Don't keep your PW's light under a bushel! Bring your story to life and light by sending it to sharon.gillies@pcusa.org or Sharon Dunne Gillies, 100 Witherspoon St., Louisville, KY 40202. Remember that we are connectional! Your flame of an idea or ministry may set aflame a ministry for another PW group.
Features
Madam Moderators: A Visit with PW Moderators, Past and Present
Yvonne Hileman shares the responses of PW's Churchwide Moderators to questions about their experiences as moderator. They share the joys and challenges of leading a national and diverse organization, and their hopes for our beloved organization's future.
An (Intentionally) Inclusive, Caring Community: PW's Commitments to Antiracism and Inclusion
Throughout its 30-year history, Presbyterian Women has intentionally worked toward building an inclusive, caring community, particularly one that welcomes women of all races and ethnicities. Learn about how the organization has sought out and celebrated gifts from all women.
Unity of the Spirit: Memoranda of Understanding Build Community
Sharon Dunne Gillies details how the memoranda of understanding signed at the 2015 Churchwide Gathering have led to growing partnerships and shared ministry between Presbyterian Women and women's organizations in the United States with roots in Presbyterian denominations from Cameroon, Ghana and Kenya.
Celebrating the "Radiant Christian Life": A History (in Progress!) of the Honorary Life Membership Program
Answering the questions of many enthusiastic historians, Yvonne Hileman offers a brief history of Honorary Life Memberships and traces the program's roots to traditions of PW's predecessor organizations.
30 Years of Presbyterian Women—A Timeline
Presbyterian Women has touched many hearts and many parts of the world in the last 30 years. Relive PW's programs, leaders and events from that time with photos and snippets that highlight our witness in the world.
PW Resources
2017 Honorary Life Membership Recipients
Installation Service for Presbyterian Women
Arise and Shine, Your Light Has Come Danilie C. Hilerio-Villanueva
Bible Study Resource
Patricia K. Tull offers reflections and questions for us in studying Lesson Nine of the 2017–2018 PW/Horizons Bible study, Cloud of Witnesses: The Community of Christ in Hebrews by Melissa Bane Sevier
Departments
Devotion
Messengers of Faith for 30 Years and Counting!
Cecilia Amorocho Hickerson
Unpacking the Theme: Scripture Study
Living God's Call a New Way
Janice Catron
After the Offering
One Drill Rig, Three Partners, Twenty-Seven Wells
Carol Long
Stories from the Ages
An Invitation, Many Conversations, Boundless Impact
Hillary Moses Mohaupt
Working for Justice and Peace
Seeking Shalom: Stitch by Stitch by Stitch
Carissa Herold
Mosaic
News and Information About Presbyterian Women and the Presbyterian Church (U.S.A.)
Books
Pages Worth Turning
Faithful Parenting
Here and Now
Amy Starr Redwine
Strengthening the PC(USA)
Celebrating 30 of a 230-Year Legacy
Susan Jackson Dowd