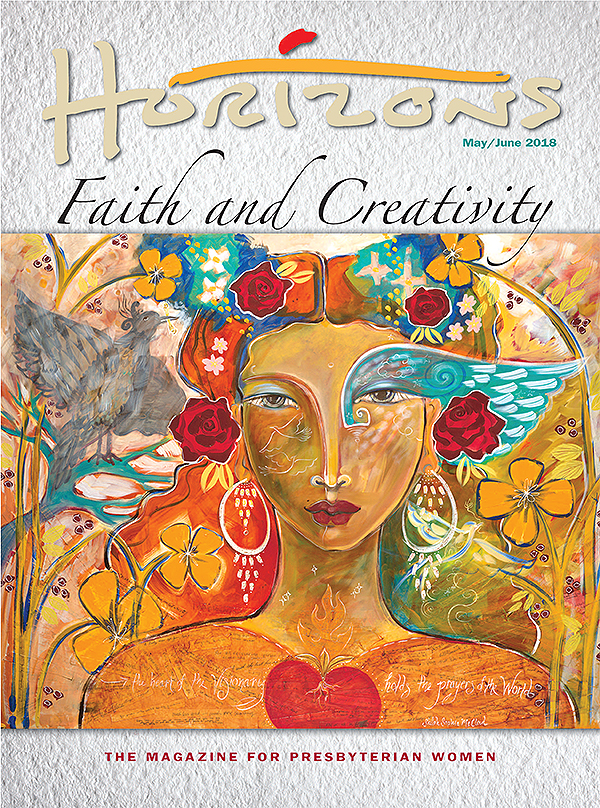 Faith and Creativity
At times, creating or even practicing creative pursuits can feel impossible. Sometimes, we can't muster the creative energy—that temperamental muse just hasn't shown up. Other times, we focus so much on "have-to's"—laundry, deadlines, advocacy, presentation—that picking up the paintbrush, guitar, needles or clay feels like we're procrastinating.
In The Fifth Book of Peace (New York: Vintage, 2003), Maxine Hong Kingston says, "Children, everybody, here's what to do during war: In a time of destruction, create something. A poem. A parade. A friendship. A community. A place that is the commons. A school. A vow. A moral principle. One peaceful moment" (402).
Even in a time of war we should create?
The authors in this issue say absolutely!
Lynn Miller argues that relegating creativity to only the arts does a disservice to all the other disciplines, and creativity in general. In times of war, it's the creative approaches to conflict that will ultimately bring about peace. So it's not that we should find time for creativity between all our other commitments. It's that we should approach all our commitments with a spirit of creativity and a willingness to try something new.
You'll read in "Supporting Mission" about how Healing Hearts curriculum is helping children in Congo recover from decades of conflict through stories, songs, games and crafts. And about how PW groups are helping fund this initiative and sending along handmade clothing to care for the whole child.
You'll read about how Linda Loving, called to be a pastor, couldn't shake the call of the theatre. When she stopped telling herself theatre was just a pastime, she found courage, freedom and connection with a medieval theologian and contemplative.
You'll see and hear about how Bible study and justice issues inform Presbyterian Women participant Lucy Janjigian to paint canvases that tell universal stories. You'll experience liturgical dance in a whole new way after Terri Dunevant shares her story of unlearning dance to free herself for liturgical dance.
And you'll hear from PW's churchwide moderator, Carol Winkler, about PW's long history of creatively and determinedly engaging the world. And how we'll continue doing so in our future.
Whatever creative gifts you have (and whether flourishing or sprouting), we hope that this issue inspires you to create with the faith through which you, part of God's creation, add beauty to the world.
Features
Creative Worldplay in the Life of the Church
Lynn Miller explores one type of creativity that people of all professions, temperaments and skills can try—creating an imaginary world. She then reflects on how this creative outlet impacts our understanding of our Creator God and our role in God's world.
Overcoming Teacher's Block: The Art of Creative Bible Teaching
Presbyterian Women love Bible study, but even our favorites practices can occasionally use a fresh approach! Christy Lang Hearlson offers three strategies for creative approaches to leading Bible study, and explores how such strategies enrich our study and understanding of the Bible.
All the World's a Stage: A Quest for Meaning and Transformation
Linda C. Loving shares how acting gave her a creative outlet and so much more. Once she stopped trying to silence the lure of the stage, she realized that acting was a call and a gift she could use to deepen her spirituality and inspire others to do the same.
Creative Translation: Interpreting Stories with Visual Arts
Sue Washburn traces Lucy Janjigian's path as an artist—from her first painting sessions after Bible study meetings to commissioned work that commemorates the Armenian genocide. Sue examines the universal stories Lucy tells as she translates individuals she meets to paint on canvas.
Dancing To, In and As Worship
Terri Dunevant didn't have experience with liturgical dance when she was asked to coordinate liturgical dance for an Easter service. Learn how she explored this form of art and worship, and how you can, too!
Connecting with Your Inner Creator
Whether you're ready to let your creativity loose or simply dip a toe into creative pursuits, Amy Kim Kyremes-Parks offers suggestions for four hands-on activities that will let you flex your creative muscles and offer handmade encouragement, prayers and support to people you love.
PW Resources
Mission Pledge, PW's Annual Fund
Cultivating Presbyterian Women
Carissa Herold
Departments
Devotion
Our Instruments of Praise
Cecilia Amorocho Hickerson
Unpacking the Theme: Scripture Study
Mothering God: Divine Maternal Language in Isaiah
Wil Gafney
Faithful Parenting
An Easter Awakening, In Darkness and Light
Amy Starr Redwine
Stories from the Ages
A Piece of the Pie
Hillary Moses Mohaupt
Working for Justice and Peace
What Now? Turning Inspiration into Action
Sue Rheem
Supporting Mission
Beyond the Dress
Christi Boyd
Mosaic
News and Information About Presbyterian Women and the Presbyterian Church (U.S.A.)
Books
Pages Worth Turning
Strengthening the PC(USA)
Our Place at the Table
Carol Winkler