Horizons: November/December 2021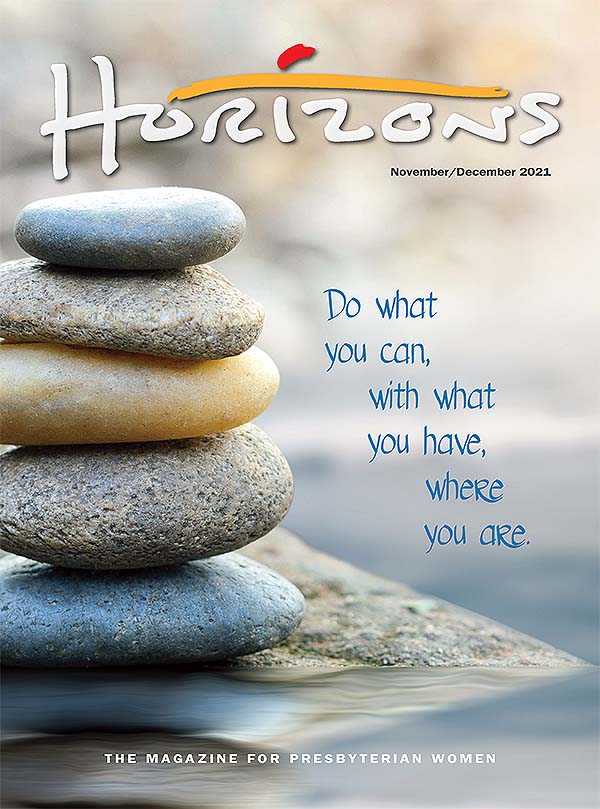 November/December 2021
Do what you can, with what you have, where you are.
How do you start over after a job loss, a divorce or just a lifetime of bad choices?
Where do you find the energy for day-to-day living when a serious illness, the loss of a loved one or a global pandemic demand all your attention?
What does it take to change your surroundings, change your life or just change your attitude?
In a world where billionaires now visit outer space for the fun of it, how can the average person hope to make a difference?
Do what you can, with what you have, where you are. 
In this issue, four writers share some of the ways they embody this approach—from physical healing to personal transformation, from problem solving to resourceful solutions. Plus, we have our annual Celebrate the Gifts of Women resource and one of the longest-running examples of doing what you can, with what you have, where you are: the Fellowship of the Least Coin.
Try posting this theme's adage on your mirror (or another often visited spot in your home) to inspire and challenge yourself in 2022—then tell us what you did by sending an email to Presbyterian Women's managing editor, Sharon Dunne Gillies, at Sharon.Gillies@pcusa.org.
Already a subscriber? Log-in to read this issue.
Features
Let Us Pray: Stop Pondering and Start Praying
SarahLee Morris suggests a variety of styles and settings for prayer. Her gentle encouragement and accessible practices may be just what you need to breathe new life into your personal prayer life!
Starting Over: Caring for Body, Mind and Spirit in Transition
Elaine Murray offers simple, but meaningful, ways to care for yourself during times of change. Her guidance is equally useful for navigating personal change during the transition back to "regular life" from Covid-19 restrictions.
Possibilities: When Life Is Filled with Choices, Which Choice Do You Make?
Kikanza Nuri Robins shares insights into decision-making and problem-solving processes. With her clear descriptions of common obstacles and less-common solutions, she can help you recognize how to get unstuck and move forward.
PW Resources
Celebrate the Gifts of Women: "And a Sword Will Pierce Your Own Soul Too"
Rhashell D. Hunter contributes a liturgy and program suggestions for your 2022 observance of Celebrate the Gifts of Women.
Fellowship of the Least Coin
Liza B. Lamis, executive secretary of the International Fellowship of the Least Coin, celebrates the unique ways that the FLC prayer movement continues to bring together individuals around the world, and shares projects receiving grants through our least coins.
Anna H. Bedford Bible Study Resource
Melva Lowry offers reflections and questions for use in studying Lessons Five and Six of the 2021–2022 PW/Horizons Bible study, What My Grandmothers Taught Me: Learning from the Women in Matthew's Genealogy of Jesus by Merryl Blair.
Departments
Devotion
Practicing Persistence
Cecilia Amorocho Hickerson
Unpacking the Theme: Scripture Study
In Praise of Sloth
Kathleen Long Bostrom
Faithful Parenting
The Love We Give
Amy Starr Redwine
Building Inclusive Community
Love When We Can
Micah Rose Emerson
Supporting Mission
PW in the Presbytery of Missouri River Valley Supporting Villagers in Uganda
Kathleen Keefer
Books
Pages Worth Turning
After the Offering
Center for Accompanying Adults with Disabilities Changes Lives in Russia
Ellen Smith
Working for Justice and Peace
Coming to Grips with Justice
Carole Wheeler, Rebecca Morales and Kathleen Keefer

Mosaic
News and Information about Presbyterian Women and the Presbyterian Church (U.S.A.)
Stories from the Ages
Grace, Gratitude and Grandparents
Hillary Moses Mohaupt
Strengthening the PC(USA)
PW's Purpose at Work
Kathy Reeves