Horizons: November/December 2022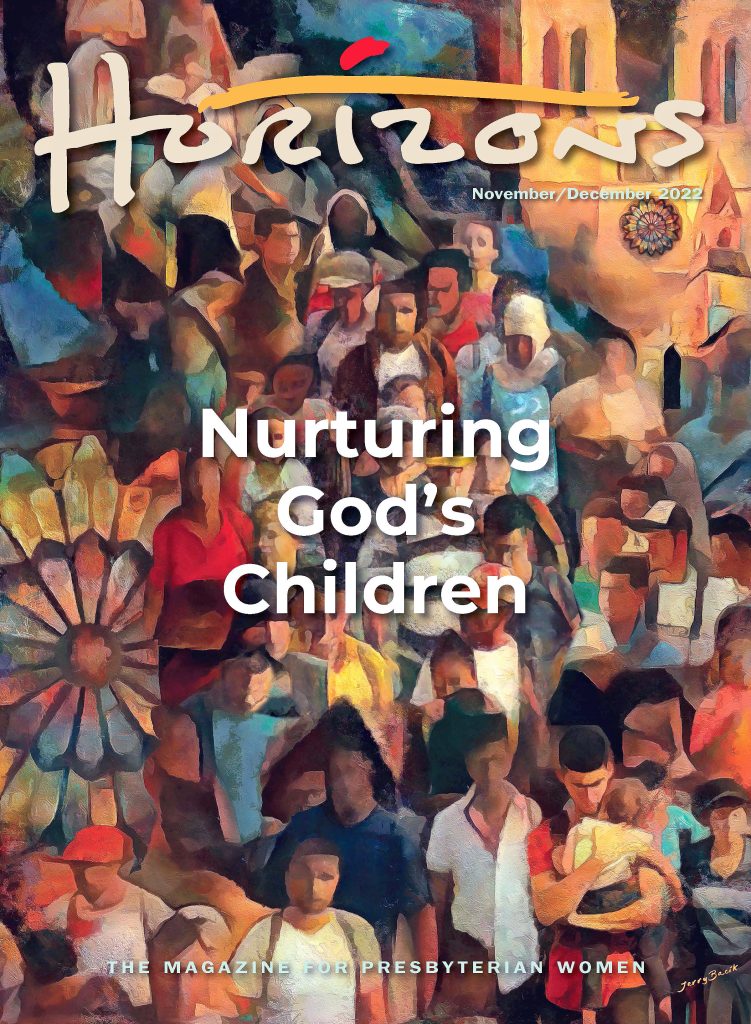 November/December 2022
Nurturing God's Children
Mom, which high school do you want me to go to?"
Surprised that my then-10-year-old—who excelled at living in the moment—was thinking multiple years into the future, it took me a minute to orient myself to this conversation. In my silence, he explained that as he and his fifth-grade classmates were discussing where they would attend middle school the following year, a number of his classmates had not just school plans in mind, but career paths. He named professions and educational tracks, enrichment plans and extracurricular activities that his friends learned of through their parents or older siblings.
"I want you to go to the school that feels right to you," I finally managed to respond. That answer apparently struck him as noncommittal or vague because he said, "But what do you want for me, really?"
Reader, my heart went to my throat. How can you sum up what you want for your child, indeed for anyone, you love dearly? "All of the good and none of the bad" might have sufficed as an answer when he was a toddler, but he's old enough to recognize how much of life floats somewhere in between those extremes. And that the "bad" gives depth and strength to the "good," making it better.
Since that day, I've answered in bits and pieces about what I want for him. Not surprisingly, the most encompassing visions of that come from scripture, from stories that show God caring for and nurturing God's children—the ultimate parenting and interpersonal relationships book, if you will! The Bible shows us generations of people whom God loved, called and equipped to bring about wholeness for others and share the good news of Jesus Christ. We recognize God's eternal love, that we are and always will be forgiven, that we—each and every one of us—are uniquely and wonderfully made, that we all serve a purpose in making the world a better place, that we deserve rest and joy, that relationships and community can give us strength, and that what God wants for us is more than we could ever dream of for ourselves.
—Sharon Dunne Gillies, Managing Editor
Already a subscriber? Log-in to read this issue.
Features
Hope as a Way of Life: Hispanic Latin Presbyterian Women Celebrate Their Tenth National Conference
Magdalena I. García reflects on the joyful, inspiring, creative and worshipful experience of attending Encuentro, the gathering of Hispanic Latin Presbyterian Women.
Assured of God's Love: "I was in prison and you visited me"
Rosalyn McKeown-Ice describes her experience of leading a prison ministry at an incarceration and addiction treatment facility. She shares what she learned about the individuals working towards sobriety and a relationship with God rooted in love, and ways congregations, presbyteries or PW groups could support these often-ignored members of God's family.
PW Resources
Fellowship of the Least Coin
Liza B. Lamis, executive secretary of the International Fellowship of the Least Coin, celebrates the unique ways that the FLC prayer movement continues to bring together individuals around the world, and shares projects receiving grants through our least coins.
Celebrate the Gifts of Women
"Favorecida"
Vilmarie Cintrón-Olivieri contributes a liturgy and program suggestions for your 2023 observance of Celebrate the Gifts of Women.
Anna H. Bedford Bible Study Resource
Danelle Crawford McKinney offers reflections and questions for use in studying Lessons Five and Six of the 2022–2023 PW/Horizons Bible study, Celebrating Sabbath: Accepting God's Gift of Rest and Delight by Carol M. Bechtel.
Departments
Devotion
Caring in the Present
Cecilia Amorocho Hickerson
Unpacking the Theme: Scripture Study
What Will This Child Become?
Patrick D. Heery
After the Offering
Project Vida: Daily Care with a Long-term Vision
Rhonda Mawhood Lee
Faithful Parenting
Tending the Grove
Melanie Marsh
Building Inclusive Community
The Gift of Family
Micah Rose Emerson
Working for Justice and Peace
Advocating to End Violence Against Women
Magdalene Lewis
Supporting Mission
Kitchen Table Talks
Kay Woods
Books
Pages Worth Turning
Mosaic
News and Information about Presbyterian Women and the Presbyterian Church (U.S.A.)
Stories from the Ages
A New Resolution for a Seasoned Practice
Hillary Moses Mohaup