Horizons: September/October 2019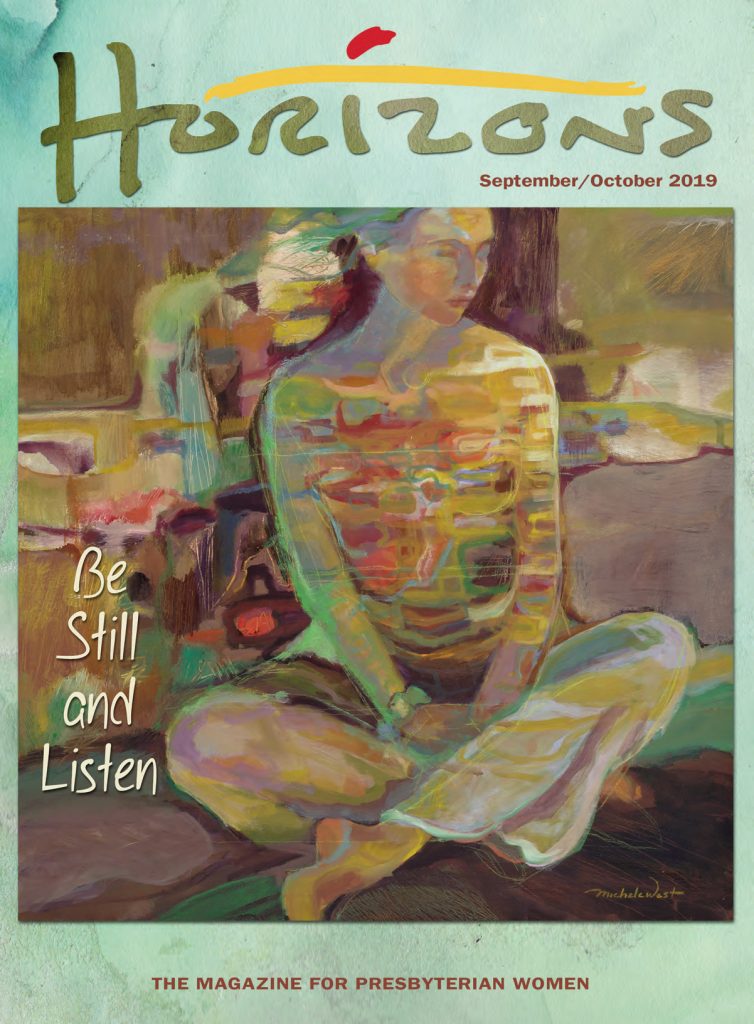 Raise your hand if you like discomfort.
No one?
Raise your hand if you like boredom.
Still no one?
While we can't see the show of hands, it's pretty safe to assume that most people aren't eagerly lining up to learn about three easy steps to bring more discomfort into their lives. We live in a time when it's all too easy to hear news about violence and tragedy, and that alone is a big source of discomfort, sadness or rage. It's also all too easy to avoid the resulting despair with a comfortable alternative—books, television, calling a friend.
However, the uncomfortable truth is that our discomfort and even our boredom have value. If we can sit with those less than desirable feelings for just a bit, we might find ourselves on the path to feeling a little better, being more caring, finding a deeper connection to God and discovering ways we can share God's love with the world.
Whether we're practicing mindfulness or talking with a loved one, it's easy to get distracted. We start thinking about to-do lists, what a certain comment really meant, what that buzzing noise is, and so on. But if we can set aside the tendency to follow every rabbit trail, we can find ourselves nourished by the moment we set out to have.
When we're taking time for silent prayer, reflection or meditation, there's always a temptation to think through (or relive) something. But that one thing rarely makes us feel better; there's always something else trying to hook our attention. Giving ourselves the gift of relishing space and time—perhaps even without a packed-full agenda—is a gift beyond measure.
In this issue, writers and artists will invite you to stillness and authentic listen-ing. Amanda Mbuvi reflects on how she started practicing Sabbath, exploring different models and finding one that left her more space for the joy of being—being a child of God, being in community and just being in general. Laura Mariko Cheifetz suggests ways we can build stillness and reflection into our days. She talks about how those moments are equally valuable in themselves and for how we'll feel after them. Stephanie Pat-terson invites readers to consider how whiteness is often the voice we hear in our culture, and how decentering that single perspective can be a blessing for all of us.
You'll also hear from Ruth Román-Meza and Danelle Crawford McKinney, who share highlights from the Hispanic Latina Presbyterian Women's Gathering (Encuentro) and the Native American Women's Gathering, respectively. Reading about the joy they experienced by setting aside time to be in community and pursue spiritual growth will bring a smile to your face and your own cherished PW memories to heart.
May this issue inspire you and equip you with the tools to look forward to stillness. May it brace you for pushing through discomfort and boredom. And may it strengthen you, a beloved part of Presbyterian Women's community who witnesses to the promise of God's kingdom. 
Already a subscriber? Log-in to read this issue.
Features
Relearning Stillness
Laura Mariko Cheifetz describes a few of the elements of modern life that make stillness and reflection so hard to come by. She names just a few of the reasons a little more stillness would help us all and offers a few tips for how to carve out some time just to be.
A New Perspective: Sabbath as Discipline, Invitation and Transformation
Amanda Mbuvi shares how her observance and understanding of Sabbath evolved, highlighting a few of the assumptions she shed that allowed her a better understanding of the original intent of Sabbath.
Decentering Whiteness in a Multiracial Society
Stephanie M. Patterson reflects on her experience of being a woman of color in a culture where white voices and experiences are considered the norm. She invites consideration of what we could all gain from intentionally creating a center that is more diverse.
We Have This Hope: The Record-Breaking and Restorative Native American Women's Gathering
From careful planning to generous gifts, from inspiring workshops to a special guest, there were many reasons the Native American Women's Gathering drew a record-setting crowd. Danelle Crawford McKinney describes just a few of the reasons this event will be remembered fondly by the attendees.
Agents of Transformation . . . Proclaim the Good News of Liberation: Hispanic Latina Presbyterian Women Worship and Witness at Encuentro
Ruth Román-Meza offers a glimpse at the worship, community, education, advocacy and celebration that made the ninth gathering of Hispanic Latina Presbyterian Women such a memorable event.
PW Resources
2019 Thank Offering Recipients
2019 Thank Offering Dedication Service
Bible Study Resource
Danilie C. Hilerio-Villanueva offers reflections and questions for use in studying Lessons Three and Four of the 2019–2020 PW/Horizons Bible study, Love Carved in Stone: A Fresh Look at the Ten Commandments by Eugenia Anne Gamble.
Departments
Devotion
Not Just Hearing, but Listening
Cecilia Amorocho Hickerson
Unpacking the Theme: Scripture Study Belief During Desperate Times
CEmbracing the Gift of Tension
Layton E. Williams
Faithful Parenting
Modeling and Cherishing Presence
Amy Starr Redwine
Stories from the Ages
The Practice of Listening
Hillary Moses Mohaupt
Working for Justice and Peace
It's an Epidemic! We Can Intervene!
Marilynn Collins
Supporting Mission
Your Generous Response
Cheri Harper
Mosaic
News and Information About Presbyterian Women and the Presbyterian Church (U.S.A.)
Books
Pages Worth Turning
Strengthening the PC(USA)
Space
Cindy Kohlmann