Horizons: September/October 2022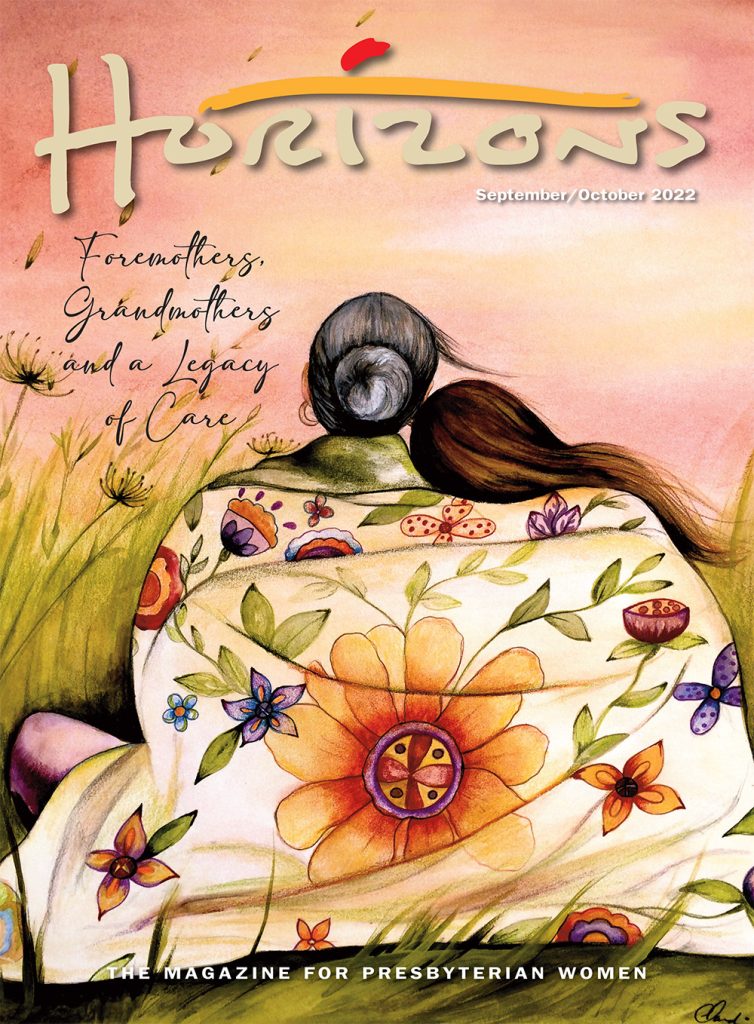 September/October 2022
Foremothers, Grandmothers and a Legacy of Care
In the introduction to the 2021–2022 PW/Horizons Bible study, What MyGrandmothers Taught Me: Learning from the Women in Matthew's Genealogy of Jesus, Merryl Blair talks about being shaped by her ancestors' stories as much as their DNA. In the subsequent lessons of the study, she suggests ways that particular traits or wisdom from Jesus' foremothers show up in his life and ministry. Merryl also invites those using the study to consider their own family stories, strengths and values.
Of course, "family" can mean so much more than shared DNA or appearing in one's family tree. "Mother" might mean the person who gave birth to us, someone who raised us or a person who stepped in to fill a gap created by difficult circumstances. "Grandmother" might mean a parent's mother or one of the matriarchs of the church. We have our birth families, the families who raise us, our church families, our friends/chosen families. And, as the stories of our biblical foremothers suggest, not all life stories are joyful ones. Regardless of who and how we consider our foremothers, their lives shape who we are today.
To help open the conversation around these relationships and stories, writers and artists contributed to this issue, sharing their joys, struggles and hopes around the women in our lives who serve as role models, caregivers and loving guides. Writers offer reflections on their mothers, grandmothers or foremothers who loved, nurtured and equipped them in ways both expected and surprising. They share an understanding of what our foremothers wished for us or what their assurances helped us become.
Through these pages, consider the ways that you have been shaped by the women in your genealogy or support system. Take the time to recognize these stories and these individuals and give thanks to the eternal God who abides in all of us.
Already a subscriber? Log-in to read this issue.
Features
My Grandmother's Braids: Interwoven Ancestral Memory of Faith and Resistance
Yenny Delgado celebrates her grandmother's life, legacy and lessons, reflecting on the ways that her grandmother taught her about work, protest and self care.
After the Safeguards Are Gone: Life Following the Dismantling of Roe v. Wade
Rev. Shanea D. Leonard outlines what our denomination believes about abortion as a part of reproductive justice, and how individuals and congregations can respond to support individuals making decisions about whether and when to have children.
When Mother's Day Hurts: Seeking a Care-full Path
Bethany Peerbolte offers insights into some of the reasons Mother's Day and celebrations of mothers and mothering can be difficult. She names specific ways that congregations can support individuals coping with complicated feelings around this day.
How Do You Support Presbyterian Women?
Carol Winkler reflects on why, of the many ministries to support with a financial gift, she chooses Presbyterian Women. And she shares how to make giving to PW automatic!
PW Resources
Anna H. Bedford Bible Study Resource
Danelle Crawford McKinney offers reflections and questions for use in studying Lessons Three and Four of the 2022–2023 PW/Horizons Bible study, Celebrating Sabbath: Accepting God's Gift of Rest and Delight by Carol M. Bechtel.
Departments
Devotion
Woven Together
Cecilia Amorocho Hickerson
Unpacking the Theme: Scripture Study
Can You Hear Me NOW?
Rev. Nancy J. Benson-Nicol
Working for Justice and Peace
Affirming the Right to Reproductive Justice
Faithful Parenting
A Quiet Witness
Melanie Marsh
Mosaic
News and Information about Presbyterian Women and the Presbyterian Church (U.S.A.)
Supporting Mission
Hands-on Mission Workday
Marilyn Stone
After the Offering
A Healing Mission
Rhonda Mawhood Lee
Building Inclusive Community
Caring Lessons
Micah Rose Emerson
Books
Pages Worth Turning
Stories from the Ages
Strands Woven Together
Sue Mummert
Strengthening the PC(USA)
Strands Woven Together
Sue Mummert