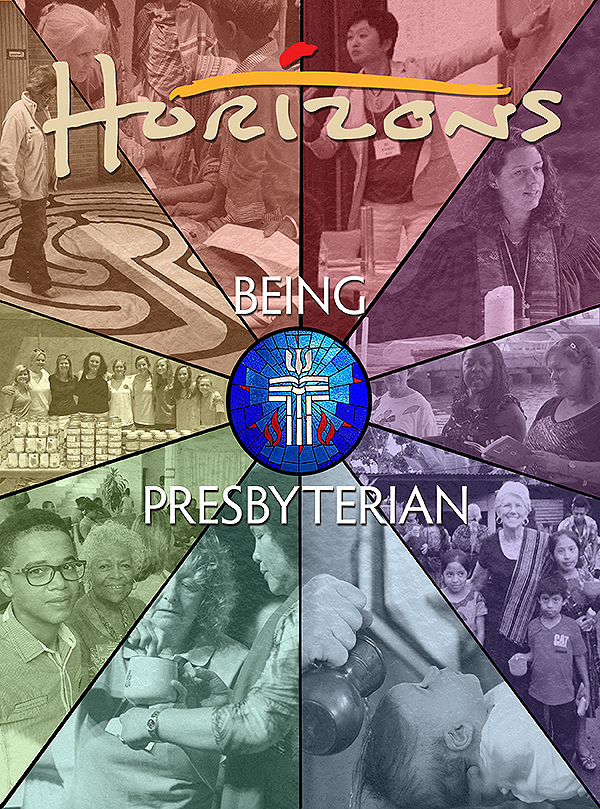 Being Presbyterian
"They don't look like Presbyterians to me."
These words may have been uttered a time or two, but probably weren't heard by as many (and in such fun!) as when Fozzie delivered the line in The Muppet Movie. En route to Hollywood, Fozzie and Kermit come across the seemingly abandoned Trinity Presbyterian Church. Hearing music, they go inside to find Dr. Teeth and Electric Mayhem jamming, including Animal pounding on (then eat-ing) the drums, and Janice wailing on electric guitar.
It's subtle Muppet comedy at its finest, but it's also a prompt to consider what is Presbyterian and what isn't. If we start with the clichés and quips about Presbyterian life, we'd likely consider "decently and in order," "everything by committee" and "the frozen chosen." These phrases may be a bit silly, but at their core represent a depth, intentionality, spirituality and theology that are a full-time, lifelong journey. 
When you reflect on what it means to be Presbyterian, we hope this issue helps you consider how you would answer Fozzie's musing. "This, Fozzie, is what a Presbyterian looks like! And here's what informs my faith." We hope that it helps you feel connected to others who call themselves Presbyterians, Christians and people of faith. And we hope that this issue gets to the heart (and head) of what it means to be Presbyterian.
Already a subscriber? Log in to read this issue.
Features
(More Than) The Smart Ones
Jan Edmiston explores the public perceptions of Presbyterians, including the emphasis on engaging the mind. She celebrates the diverse embodiments of Presbyterian worship and invites us to live into that diversity to grow more fully as God's people.
Agents of God's Mission
The Book of Order is foundational to how Presbyterians organize, worship and engage the world. Barry Ensign-George reflects on the first entry in The Book of Order—F-1.01–F-1.04, on the mission of the church—and the amazing fullness and relationships possible in joining in God's work in the world.
Read article.
Have Women Broken the Glass Ceiling in the PC(USA)?
Elizabeth Hinson-Hasty examines Gender and Leadership in the PC(USA), a report about the differing experiences of and opinions on women and men in leadership in the church. Elizabeth identifies meaningful threads for discussion and improvement in our own communities.
Remembering Women of the Reformations
Around the world, people of faith will celebrate the 500th anniversary of the Protestant Reformation. Haruko Nawata Ward offers the context of the many reforms that made the Protestant Reformation possible and the bold women who were vital, yet silenced, parts of the reformations.
Advocate, Educator, Groundbreaker: Ofelia Ortega Suárez
Kathy Melvin highlights the incredible accomplishments and witness of Ofelia Ortega Suárez, the first Presbyterian woman ordained in Cuba. from her commitment to expanding what was possible for women in ministry to her smalland large-scale ecological work, be inspired by Ofelia's determination to answer her call.
Repair and Transformation
The PC(USA) has committed to exploring, repairing and transforming its historic complicity in racist practices, in a season of jubilee—from 2016 through 2018. Larissa Kwong Abazia shares insights and steps for engaging issues of race, racism, ethnicity and ethnocentricity in your church, PW group or mid-council.
The Test Is in the Taste
In celebration of the Protestant Reformation's anniversary, Joyce Shin contemplates how the spirit of reform could strengthen our ecumenical relationships. Join her in a reflection of what it meant (and means) to be invited to the table.
PW Resources
Planting a Seed: Supporting PW Through Planned Giving
Karl Mattison
Mission Pledge
And So We Will
Carissa Herold
Departments
Devotion
Decently and In Order
Cecilia Amorocho Hickerson
Unpacking the Theme: Scripture Study
Church Membership, Joyful and Headlong
Sarah J. Cairatti
Building Community
Building a Long-lasting Community
Carol Gruber
Books
Pages Worth Turning
After the Offering
Villa International Atlanta
Alice Wyatt
Supporting Mission
An Amazing Invitation
Liz Sweet and Dawna Fitzwater
Working for Justice and Peace
Reading Outreach Program Ensures No Child Left Behind
Yvonne Hileman
Mosaic
News and Information About Presbyterian Women and the Presbyterian Church (U.S.A.)
Stories from the Ages
Being a Connectional Church
Hillary Moses Mohaupt
Strengthening the PC(USA)
Connected and Caring
Carol Winkler