Horizons: November/December 2020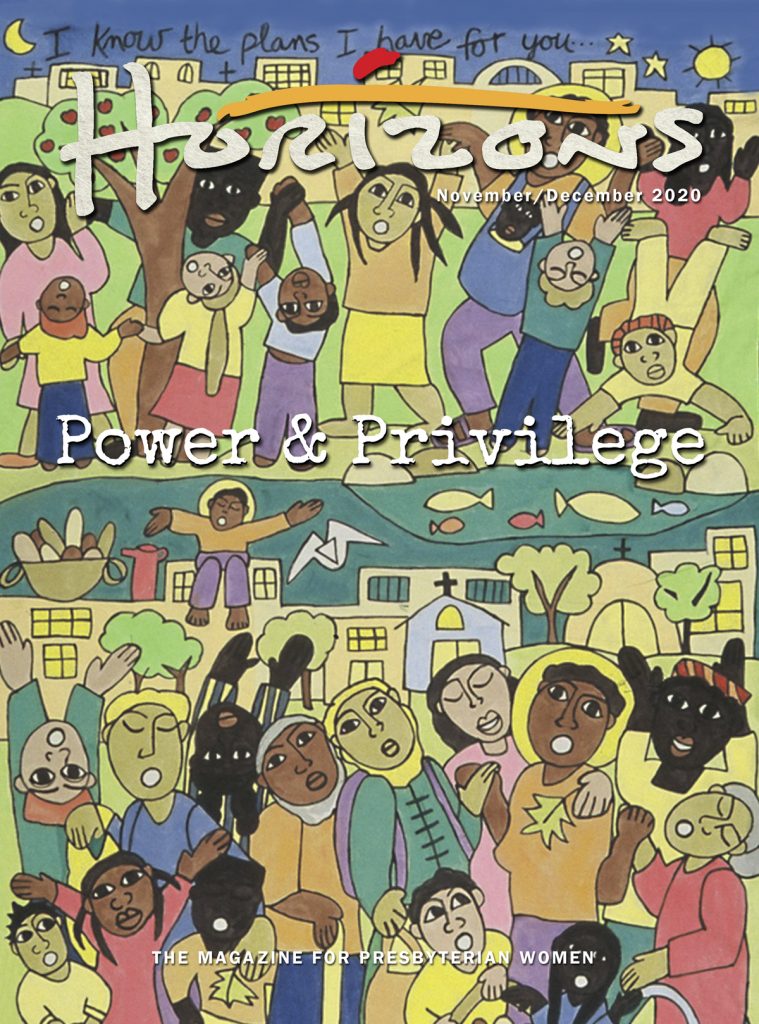 November/December 2020
Power & Privilege
In an episode of The Powerpuff Girls, Princess Morbucks starts on a path of destruction just to prove she has sufficient strength and weapons to warrant being named the fourth Powerpuff Girl. The crime-fighting trio of superhero kindergarten sisters—Blossom, Butter-cup and Bubbles—keep busy mitigating Princess Morbucks's attempts to annihilate Townsville and its people. Finally, Blossom tells Princess Morbucks, "Being a Powerpuff Girl isn't about getting your way or having the best stuff or being popular or powerful. It's about using your own unique abilities to help people and the world we all live in."* Blossom's wise words startle Princess Morbucks, who is used to buying, bullying or demanding her way into anything she wants.
In that moment, the difference between privilege and power is incredibly clear. "It's about using your own unique abilities to help people and the world we live in." Although none of us has to directly counter an angry toddler named "Morbucks," we all deal with the tension between what society values and what is actually of value.
We all have power—skills and gifts that are bestowed by our Creator, cultivated by mentors and loved ones, and developed by each of us when we learn to trust our gifts for the good of all. Just read Ephesians 4:10–14! And while we are all given the opportunity to share our gifts—in a way that society values or in a way that is actually of value—we are also given the opportunity to choose.
With gifts and choice comes privilege, as each of us also has some amount of privilege. While it's easy to think only the Princess Morbucks-types have privileges, our education, wealth, respect of peers, age, appearance, race, gender or even who we count as friends bestow certain privilege.
Setting aside cartoon heroines, the Bible offers numerous stories of might and prestige being upended; the under-dog emerging as a hero; the quiet person bravely following God's unexpected command. And in each case, they break apart the understanding those around them had of God. We see faithful people who choose to put their full trust in God, finding ways to share their gifts in ways that are pleasing to God. "It's about using your own unique abilities to help people and the world we live in."
The contributors to this issue explore a number of these biblical stories, as well as stories from history. You'll read about brave individuals who harnessed their power and privilege (or perhaps set it aside) in service of the well-being of others. You'll learn about the many embodiments of power, and how you can use it in ways that honor our Creator God. And you'll see the amazing ministries, relationship and growth made possible by the Purposeful power of Presbyterian Women.
* The Powerpuff Girls, "Stuck Up, Up, and Away," June 25, 1999.
Already a subscriber? Log-in to read this issue.
Features
Embodying Genuine Powerfulness: Body-Based Practices for Healing
Society and Ourselves
Anna Kendig challenges a few common misconceptions about power, showing how cooperation and flexibility create a healthier power dynamic. She also guides readers through two spiritual practices to ground us in our interdependence.

PW Resources
Nominees to Presbyterian Women's 2021–2024 Board of Directors
Get to know the faithful, committed, creative individuals who will serve as Presbyterian Women's 2021–2024 national leadership.
Celebrate the Gifts of Women God Disrupts Us with Love
Jennifer L. Lord offers a worship service for your 2021 observance of Celebrate the Gifts of Women Sunday.
Fellowship of the Least Coin
Liza B. Lamis, Executive Secretary of the International Fellowship of the Least Coin, celebrates the unique ways that the FLC prayer movement continues to bring together women around the world, and shares projects receiving grants through our least coins.
Anna H. Bedford Bible Study Resource
Joyce MacKichan Walker offers insights and questions for use in studying Lessons Five and Six of the 2020–2021 PW/Horizons Bible study, Into the Light: Finding Hope Through Prayers of Lament by P. Lynn Miller.
Departments
Devotion
The Power of Care, The Privilege of Connection
Cecilia Amorocho Hickerson
Unpacking the Theme: Scripture Study
The Power of Protest
Mihee Kim-Kort
What One PW Is Doing
Zooming to a New Model
Kelly Weirich
Stories from the Ages
Voices of Our Church's Leaders
Hillary Moses Mohaupt
Books
Pages Worth Turning
Mosaic
News and Information about Presbyterian Women and the Presbyterian Church (U.S.A.)
After the Offering
House of Authentic Sense Co-op and the Pandemic in Indonesia
Farsijana Adeney-Risakotta
Faithful Parenting
Facing Our Histories to Change Our Futures
Amy Starr Redwine
Strengthening the PC(USA)
Where We Stand
JyungIn Lee