Horizons: September/October 2016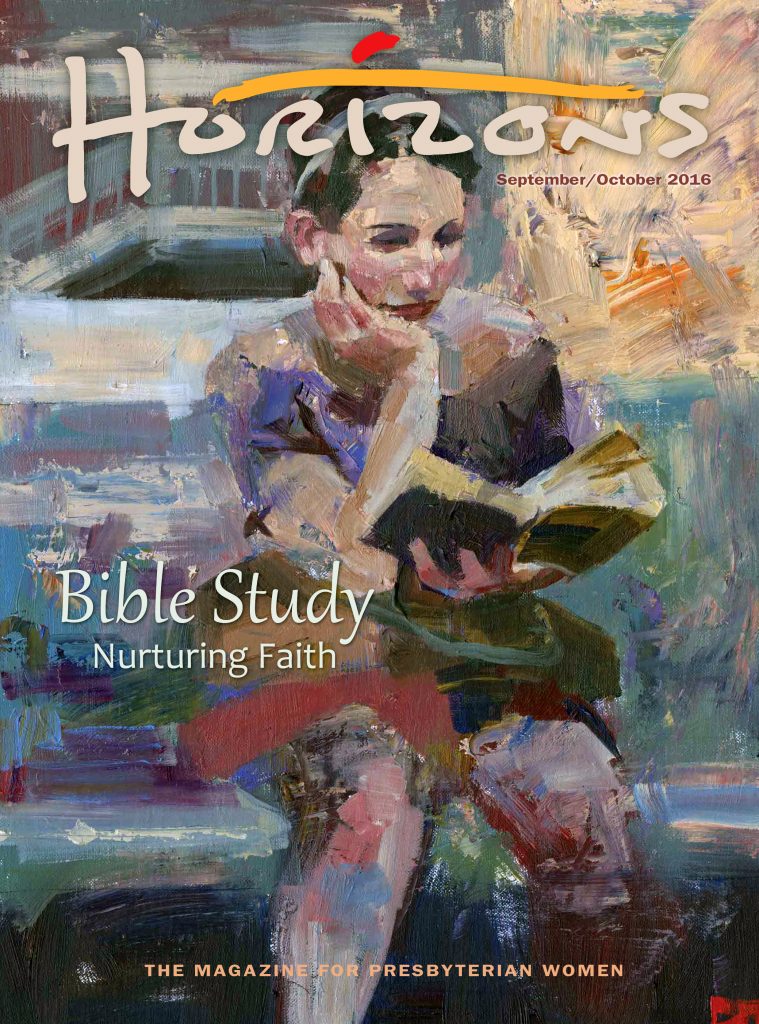 Sabbath—Rest and Restoration
God loves us so much God gave us Sabbath, a time for rest and restoration. As the writers in this issue show, there's no "one size fits all" practice for Sabbath, but there are myriad ways to celebrate it. Use this issue to help you rest, reconnect with God and strengthen relationships with those you love.
Features
An Old Invitation for a New Day
Carol Bechtel explores the biblical foundations of Sabbath, the modern-day tendency to ignore or diminish the benefits of Sabbath, and how much we have to gain by engaging with this centuries-long tradition.
"Beloved Congregation, Stay Home on Sunday": How Practicing Sabbath Restores and Strengthens a Congregation
Kara Root shares what the regular, scheduled practice of Sabbath has done for her and the congregation she leads—Lake Nokomis in Minneapolis, Minnesota.
Sabbath Seeking: Searching for the Holy
Dee Dee Risher reflects on her experiences of Sabbath, as a child in the South and as an adult in the Northeast. She thoughtfully traces how society, culture, socioeconomic class, and more, shape the ways that we celebrate the Sabbath.
Retreating from the Margins: Creating Sabbath for the Least of Us
Angela Yarber celebrates the dream-opening, life-giving nature of retreats, small Sabbath times that can be enjoyed anywhere. She offers three models for retreats—rooted in the arts but rewarding for people of all skill levels—that require a small time commitment and minimal resources.
PW Resources
2016 Thank Offering Recipient List
2016 Thank Offering Dedication Service
Mary Cook Jorgenson
Bible Study Resource
Katie Mulligan offers reflections and questions for use in studying Lessons One and Two of the 2016–2017 PW/Horizons Bible study: Who Is Jesus? What a Difference a Lens Makes, by Judy Yates Siker
Departments
Devotion
Near the Heart of God
Cecilia Amorocho Hickerson
Unpacking the Theme: Scripture Study
Sabbath—God's Solidarity with Us
Mihee Kim-Kort
After the Offering
Transitional Housing, Lasting Change
Melissa Muzzy
Supporting Mission
Ferncliff Tour and Mission Strategies
Eunice Brabec
Working for Justice and Peace
Human Trafficking, Human Rights and the Church
Louise Davidson
Mosaic
News and Information About Presbyterian Women and the Presbyterian Church (U.S.A.)
Books
Pages Worth Turning
Stories from the Ages
An Invitation To Listen
Hillary Moses Mohaupt
Building Community
Gatherings Forge Friendships
Carol Gruber
What One PW Is Doing
Called To Stand Beside Women of the Dakota Presbytery
Sharon Falck
Strengthening the PC(USA)
Sunday Dis-Comfort
Larissa Kwong Abazia