Horizons: January/February 2017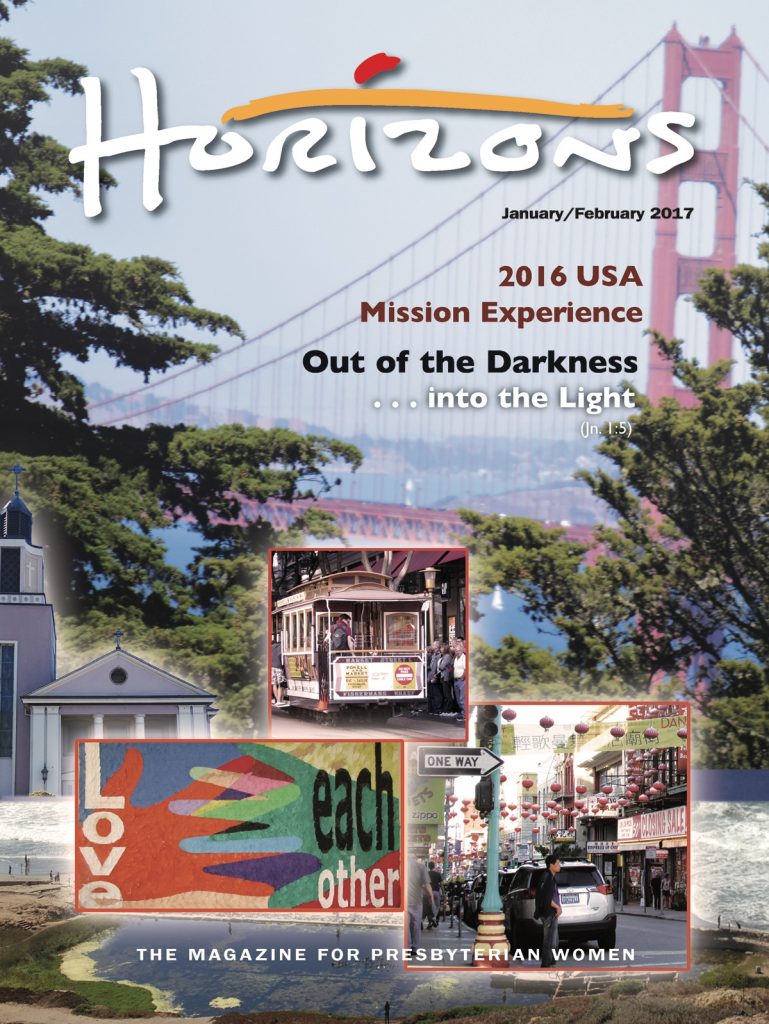 2016 USA Mission Experience
How to sum up an area as rich and diverse as the San Francisco Bay Area the millions of stories of people who call this amazing place home? How to sum up an experience that breaks open hearts and reinvigorates a sense of purpose?
Certainly, those are bold aims. Yet, they're ones that this issue of Horizons will at least begin to pursue. PW's USA Mission Experience started for the very purpose of studying a region's challenges, as well as celebrating its strengths, and doing such in community. Each synod sends one participant, who subsequently shares her experience with her synod. And the caring, faithful nature of Presbyterian Women means that women respond—from the prairies of Kansas to the cranberry bogs of Maine—by doing what they do best—finding ways to make a difference, perhaps by local mission, support for the visited programs or advocating for change at a national or global level. How will you illuminate the darkness with the light Jesus brought to the world?
Already a subscriber? Log in to read this issue.
Features
Safety and Wholeness for All: Domestic Violence Responses and Interventions
Beverly Upton spotlights San Francisco's efforts to respond to and end domestic violence. She describes the ways segments of the population suffer domestic violence in complex or unrecognized ways, and how this can shape ministries that respond to domestic violence.
A Coalition of Care to End Trafficking
Brian Wo describes how the Bay Area Anti-Trafficking Coalition has grown into a neighborhood watch (and response) for human trafficking in the Bay Area, coordinating intervention, aftercare and prevention work.
Read article.
Responding Faithfully to the Immigration Crisis
Deborah Lee invites readers to consider the immigration crisis as a humanitarian crisis that begs a faithful and compassionate response. She suggests four ways that individuals and faith communities can respond to this issue.
Read excerpt.
Improving and Saving Women's Lives in San Francisco: International Rights at the Local Level
Emily Murase celebrates the progress for women's rights and safety thanks to local implementation of the global vision outlined in CEDAW, the Convention on the Elimination of All Forms of Discrimination Against Women.
2016 USA Mission Experience
Learn about the goals of the USA Mission Experience and more about the San Francisco Bay Area, in addition to getting contact information for the USAME participant from your synod.
PW Resources
Bible Study Resource
Katie Mulligan offers reflections and questions for use in studying Lessons Seven and Eight of the 2016–2017 PW/Horizons Bible study, Who Is Jesus? What a Difference a Lens Makes, by Judy Yates Siker
2017 Birthday Offering Recipient List
2017 Birthday Offering Dedication Service
Minna Pritchard
2016 Horizons Index
Departments
Devotion
Out of the Darkness . . . Into the Light
Cecilia Moran
Unpacking the Theme: Scripture Study
The Light Shines
Betty Delaney
After the Offering
Emmaus House—Safety for Women
Claudia Hamm
Read article.
Stories from the Ages
Meaning and Mission
Hillary Moses Mohaupt
Working for Justice and Peace
The Unique Faces of Advocacy
Wanda Beauman
Supporting Mission
Mission and More at Ferncliff
Toni Spieth
Read article.
Mosaic
News and Information About Presbyterian Women and the Presbyterian Church (U.S.A.)
Books
Pages Worth Turning
Building Community
A Gathering Across State (and National!) Borders
Carol Gruber
Building Community
The Other Side and the Best Discomfort
Amy Starr Redwine
Strengthening the PC(USA)
Bagged Lunches to Pizza Parties: A Homeless Ministry Building Relationships
Jan Edmiston