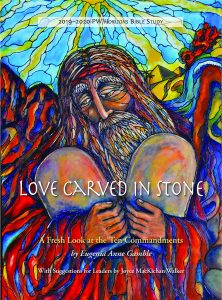 Love Carved in Stone: A Fresh Look at the Ten Commandments
By Eugenia Anne Gamble
Suggestions for Leaders by Joyce MacKichan Walker
Welcome to the 2019–2020 Presbyterian Women/Horizons Bible study, Love Carved in Stone: A Fresh Look at the Ten Commandments. What would it mean to consider the Ten Commandments not as a harsh list of what not to do but, instead, as a "love letter" from a loving God? A fresh embrace of the Ten Commandments (or Words), author Eugenia Gamble suggests, may ultimately contribute to the restoration of ourselves and our communities and the furthering of the gospel in the world. "Moral behavior matters, not simply because immoral actions can anger or disappoint God, but  because principled behavior is how love becomes real, both toward God and in community." Love Carved in Stone is a Bible study that helps us reframe the way we look at and live in the world.
Why the Ten Words? The author notes that nowhere in the Hebrew text does the word for "commandment" appear. She says, "In the Bible, these utterances are called just what they are: 'words.' I've chosen to use the term 'Ten Words' because it is the biblical form and opens us up to looking at the Ten Commandments in fresh ways."
Each lesson begins with an exploration of one of the Ten Words in its biblical context. From there we consider a moment from Jesus' life that shows us how he lived out that Word. We then consider the Word for our own lives and contexts. We conclude with an invitation to pray with the Word in our circles or study groups and in our personal devotions.
Other Love Carved in Stone Resources
Love Carved in Stone Bible Study
English edition • HZN19100 • $10

Large-print edition • HZN19150 • $15

Ecumenical edition • HZN19102 • $10

Spanish edition • HZN19110 • $10

Audio edition • HZN19172 • $15
Companion DVD, HZN19103 • $20
Workshop for Leaders, HZN19101 • FREE
Joyce's Sample Hearts for the Workshop for Leaders
Photocopy these hearts onto red copy paper and use them with the Connect activity on page three of the Workshop for Leaders. These are the same hearts that Joyce uses when she leads the Workshop for Leaders.
Promotional poster, HZN19410 • FREE
Promotional flier, HZN19411 •  FREE
Charm/pendant, HZN19300 • $10
Bulletin Cover, FREE DOWNLOAD
Page Number Guide, FREE DOWNLOAD
Additional helps in Horizons magazine beginning with the July/August 2019 issue. Horizons magazine subscriptions — Call toll-free 866/802-3635 or subscribe online.