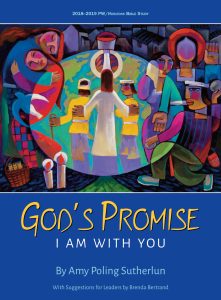 God's Promise: I Am with You
By Amy Poling Sutherlun
Suggestions for Leaders by Brenda Bertrand
Welcome to the 2018–2019 Presbyterian Women/Horizons Bible study, God's Promise: I Am With You. In nine lessons, this study traces God's recurring promise of presence from Genesis through the Gospels—from the beginning to the end of the age. God's "I am with you" promise is spoken in varied circumstances and to many different people throughout scripture. Some instances may be quite familiar, while others might surprise you.
Throughout this study, participants will reflect on how the promise of God's presence speaks beyond the pages of the Bible, to their own circumstances. Individually and as a community, we will be encouraged to both see and seek God's presence with us in the extraordinary and the ordinary experiences of our lives.
The author of Hebrews asserts, God "has said, 'I will never leave you or forsake you'" (Heb. 13:5). This study will confirm that God has, indeed, made and kept that very promise, again and again.
Other God's Promise Resources
Companion DVD, HZN18103 • $20
Workshop for Leaders, HZN18101 • FREE
Promotional poster, HZN18410 • FREE
Promotional flier, HZN18411 •  FREE
God's Promise bookmarks, FREE DOWNLOAD
Additional helps in Horizons magazine beginning with the July/August 2018 issue. Horizons magazine subscriptions — Call toll-free 866/802-3635 or subscribe online.