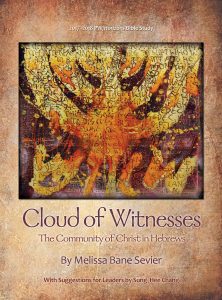 Cloud of Witnesses: The Community of Christ in Hebrews
By Melissa Bane Sevier
Suggestions for Leaders by Sung Hee Chang
The Letter to the Hebrews is a significant book of the Bible, and is also significantly different from every other book in the Bible. It consists of thirteen chapters, all of which are packed with theology, metaphor, comparisons, and spirituality. Therefore, I've decided to approach the letter thematically, not sequentially. We will explore nine major themes, relate those themes to other parts of our faith tradition, and tie them together with the overarching motif of community. The community for which the letter was written interacts, in a sense, with all the communities of which you are a part, because you bring those groups with you wherever you go—they have helped to form you into the person you are. The community in which you study and worship, your family and friends, social and therapy groups . . . all are part of you. Our prayer is that the study of community in Hebrews will help us strengthen our own communities.
Other Cloud of Witnesses Resources
Cloud of Witnesses Errata, DOWNLOAD
Cloud of Witnesses Bible Study
Workshop for Leaders, HZN17101 • FREE or PRINTABLE PDF • FREE
Main Points and Lesson Summaries by Susan Jackson Dowd, PRINTABLE PDF • FREE
Companion DVD, HZN17103 • $20/set
Bulletin cover, PRINTABLE PDF • FREE
Promotional poster, HZN17410 • FREE
Promotional flier, HZN17411 •  FREE
Cloud of  Witnesses coloring pages, PRINTABLE PDF • FREE
Additional helps in Horizons magazine beginning with the July/August 2017 issue. Horizons magazine subscriptions — Call toll-free 866/802-3635 or subscribe online.