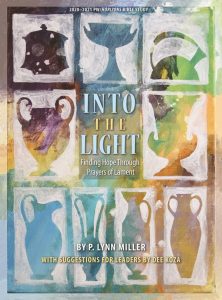 Into the Light: Finding Hope Through Prayers of Lament
By P. Lynn Miller
Suggestions for Leaders by Dee Koza
Welcome to the 2020–2021 Presbyterian Women/Horizons Bible study, Into the Light: Finding Hope Through Prayers of Lament. In this nine-lesson study, Lynn Miller revives lament as a proper theological response to the difficult situations of our world. One of the foundational points of the study is that, in scripture, lament usually leads to hope. After crying out to God, the one who laments remembers God. And while that doesn't fix things in the moment—the injustice, the loss still exists—the lamenter is strengthened to face the world and to hope. And for us as Christians, hope is not just an emotional response or an attitude of pie in the sky. Hope implies movement: both God's inherent movement toward justice and our movement toward God. Recovering lament may be one of the church's most timely gifts to the world.
Download instructions for video sharing on Zoom.
Video recording of the Into the Light webinar presented by Lynn Miller
Grabación de video del webinar Hacia la luz presentado por Magdalena I. García
Q&As from the Into the Light webinar (coming soon!)
Other Into the Light Resources
Into the Light Bible Study
English edition, HZN20100 • $10
Large-print edition, HZN20150 • $15
Ecumenical edition, HZN20102 • $10
Edición en español, HZN20110 • $10
Descargar PDF Edición en español, HZN20111 • $10
Audio edition, HZN20172 • $15
Companion DVD, HZN20103 • $20
Companion DVD Downloadable version, HZN20104 • $20
Workshop for Leaders, HZN20101 • FREE
Promotional poster, included in the English study, also available as download in two sizes
Promotional flier, HZN20411 •  FREE
Charm/pendant, HZN20300 • $10
Bulletin Cover, FREE
Page Number Guide, FREE
Additional helps in Horizons magazine beginning with the July/August 2020 issue. Horizons magazine subscriptions — Call toll-free 866/802-3635 or subscribe online.
---
Click the following to access Lynn Miller's slide presentation on Tears: Click here to download the PDF