What My Grandmothers Taught Me: Learning from the Women in Matthew's Genealogy of Jesus
By Merryl Blair
Suggestions for Leaders by Magdalena I. García
Welcome to the 2021–2022 Presbyterian Women/Horizons Bible study, What My Grandmothers Taught Me: Learning from the Women in Matthew's Genealogy of Jesus.
Tamar, Rahab, Ruth, Bathsheba, and Mary—Matthew names these women for a reason. How might Jesus have heard the stories of his grandmothers? What might the young Jesus have felt as he heard about his family? What might the stories of these women have added to his sense of identity, as part of a particular family in a particular time and place?
Have you thought about Jesus' grandmothers? What can these Grandmothers-of-the-Faith teach us? Their stories will lead us into the gospel, the good news about Jesus Christ. By exploring these stories together, we will have a richer idea of what the good news is.
Merryl Blair teaches at Stirling Theological School in Melbourne, Victoria, Australia, and is active in the worldwide ministry of women of faith.
Q&As from the "An Evening with Merryl Blair" webinar
Click the below image to view a recording of "An Evening with Merryl Blair"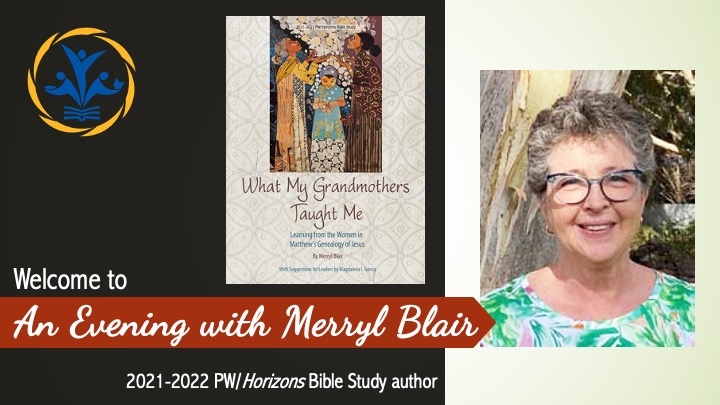 Other Matthew's Genealogy Resources
Matthew's Genealogy Bible Study
English edition, HZN21100 • $10.00
Large-print edition, HZN21150 • $15.00
Ecumenical edition, HZN21102 • $10.00
Edición en español, HZN21110 • $10.00
PDF download of Edición en español, HZN21111 • $10.00
Audio edition, HZN21172 • $15
Companion DVD, HZN21103 • $20.00
Companion DVD Download, HZN21104 • $20.00
Workshop for Leaders, HZN21101 • FREE DOWNLOAD
Reflecting on the Art • FREE DOWNLOAD
Bulletin Cover • FREE DOWNLOAD
Promotional poster, HZN21410 • FREE DOWNLOAD
Promotional flier, HZN21411 • FREE DOWNLOAD
Charm/pendant, HZN21300 • $10.00
Additional Resources via PW Blog
Additional helps included in the Horizons magazine beginning with the Summer 2021 issue. Subscribe (or renew) subscriptions  — Call toll-free 866/802-3635 or subscribe online.